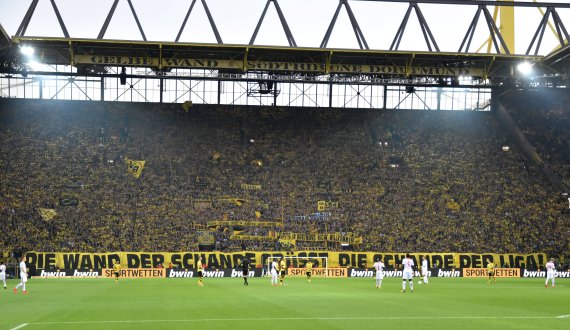 Necessity is the mother of invention. And so Marc Roufeil from the international sports technology community Sports Tech World Series (STWS) opens the Sportstech conference at ISPO Munich Online 2021 with the words: "It's been a difficult year. But an innovative one - and it offers exciting opportunities for all of us."
Why Roufeil introduces the conference this way is obvious. Corona affected all of sports in 2020. But for the Sportstech division, it was actually a win-win, as the examples of football clubs Ajax Amsterdam and the development at the Johan Cruyff Arena, as well as Valencia FC's Innovation Hub, alone show. Both are pioneers in parts, but are above all representative of the entire sports and football industry.
"The year helped us to take bigger steps than we would have otherwise," therefore also says Sander van Stiphout, Director International of the Johan Cruyff Arena of Dutch record champion Ajax Amsterdam, who is working to improve the stadium experience. Even if he does of course qualify that his statement only applies in this way to very few sectors and an empty stadium is of course also fun for very few footballers.
At AFC Ajax, however, they are working to ensure that at least the latter will soon change - with various means aimed at making stadium attendance safe even in Corona times:
Investigating the behaviour of aerosols in the stadium with TU Eindhoven.

UV-C lights like in hospitals in the changing rooms to get them clean safer and faster

Tools to monitor the social distancing in the stands

among other things with sensors and with the help of broadband technology
As long as the stadium visits are not yet possible, the club in Amsterdam is still advertising with social relevance: for example with posters with the inscription "FF Vrijlopen". Freewheeling means that in football - keeping your distance in life with Covid-19.
Ajax is also working on a new stadium experience for fans - if they are not allowed in. "We have a number of partners there who all contribute a small piece to the solution," says Max Reckers, Performance Technology Consultant. The club's own app, for example, looks completely different on match days than on normal days. Fans can enter the stadium with their smartphone next to the players via virtual reality, and they can also watch live streams.
And if they are allowed back into the stadium themselves, then in future this will no longer be done with paper tickets and money, but of course everything will be done via the app in the interests of health protection: parking, tickets and food. This also helps with the Corona contact tracing - every user is then known and reachable and the club can also curb the black market with it.
Spanish first division club FC Valencia is working with similar solutions, Franco Segarra, Digital Innovation Director of the club, reported at ISPO Munich Online. He is particularly impressed by the augmented reality solution, which suddenly brings the players close to you. This could definitely be used later as a second screen in the stadium.
The industry giants FC Bayern München, Real Madrid and FC Barcelona are setting an example with their Innovation Hubs or Digital and Media Labs, and FCB is also cooperating with the Munich start-up conference Bits & Pretzels, among others. The aim is to connect startups - especially from the sports, foodtech and media sectors - with FC Bayern and support them in their digitalisation plans.
That's Valencia's plan too, although Segarra stresses: "Not every innovation is digital - and not everything digital is innovative." The VCF Innovation Hub is therefore ultimately based on four so-called "Main Verticals":
Medical (e.g., injury prevention, nutrition, regeneration)

Academy (e.g. player tracking, scouting, sports performance, eSports)

Smart Stadium (e.g. 5G, Paperless Ticketing, Payments, Mobility, Eco/Sustainability)

Fan Management (e.g. AR/VR, Social Media, AI, Gamification, Blockchain)
At Valencia FC, they don't bring together the global market leaders, but "rather start-ups from the local environment and try to give them space to shape things with us and influence each other," says Segarra. The club is currently working with twelve companies in the Innovation Hub, including nine start-ups: for example, for social listening, an AI and an AR start-up, e-learning companies and two medical start-ups.
They are also working on a transport concept with Hyperloop. The Estadio Mestalla is one of the oldest in Spain, but it also offers a lot of room for change. Franco Segarra is really pleased with the development of his Innovation Hub, but: "The real challenge in a football club is: how can you innovate while preserving tradition?" asks the Digital Innovation Director.
Because in the end, if that's possible anytime soon, there's an 80-year-old sitting next to a 14-year-old in Valencia's stadium. With different interests and very different digital hurdles.