Grand Textile specializes in functional fabrics and knits for sportswear, outdoor and baselayers. Presented is a nylon & spandex fabric combining different yarns and treated with the patented "Color Max" finish. Due to the different yarns on face side, the color is absorbed differently during the dyeing process. The result is a unique pattern and color combination. The Color Max finish is currently manufactured exclusively in Taiwan. The fabric was awarded best product for fall / winter 2021/22 at the ISPO Textrends in the category street sports. In addition, Grand Textile focuses on sustainability: for example, the company continues to expand the share of recycled polyester yarns and all chemicals are bluesign approved. In 2020, approximately 7.5 million meters of recycled poly fabrics were produced, an increase of 80 percent compared to the previous year.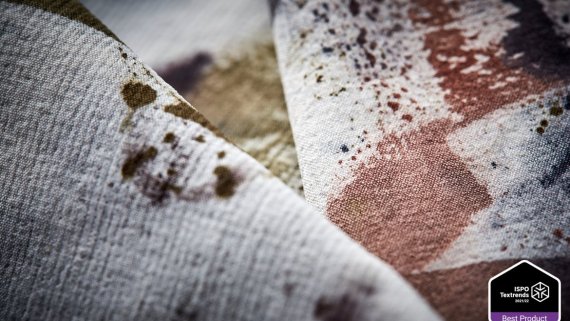 Recent year, Grand Textile decide to build a factory in Vietnam and find a solution to reduce the waste of freshwater in the dyeing process. 
Grand Textile is the first manufacture to build a factory with a close loop system in Vietnam. In dyeing process, after the biochemical and physical wastewater treatment, they pump waste water that can't be reused in 5 different ponds and filter the water by nature. The procedure normally takes 14 to 20 days, the ponds will filter out clean water and the water can be reused. Every pond is a different biological habitat and living different plants and microorganisms which help to filter the water and make it reusable. This facility has a capacity of 9,000 tons and a second one is built underneath in case of emergency. they also collect rainwater which is recycled through gutters and reservoir and then pumped into the system. Meanwhile, Grand Textile use biomass as rice husk, bagasse and coffee husk for energy.