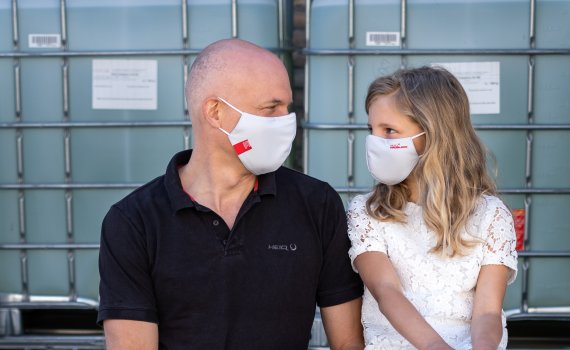 In a very short time, HeiQ, the Swiss specialist in textile finishes, has managed to bring to market an antiviral finish for textiles that is enormously fast-acting, harmless to health and sustainable. Given the speed at which the pandemic spread, this was a real challenge, which was promptly recognized with the Swiss Technology Award 2020. More than a billion face masks with HeiQ Viroblock have now been sold worldwide, including through the company's own web store, which the B2B company HeiQ quickly set up in response to the high demand. But the potential is much greater, Carlo Centonze, co-founder and CEO of HeiQ is convinced, for example for HeiQ Viroblock sprays, which can also be used in retail to disinfect clothing that has been tried on.
"HeiQ Viroblock (NPJ03, as the formulation is called), is a patent-pending formulation that combines HeiQ's advanced silver - which we have been developing knowledge since the inception of HeiQ 15 years ago - and a liposome vesicle component. All the ingredients are carefully selected from the international nomenclature of cosmetic ingredients (INCI) so you can rest assured that the chemistry doesn't add any skin irritation or allergens to the fabric. Normally silver-ions always have certain antimicrobial efficacy, but it works slowly on viruses by itself. Traditionally antimicrobial was targeting odor control on textiles so it doesn't need to work very fast. But in the case of a virus, we want to deactivate it in minutes, so the silver alone wouldn't be enough.
That's why we combined it with our liposome vesicle technology. It has a very similar structure as the virus shell but contains no cholesterol, while virus shell contains a lot of cholesterol. The liposome vesicle draws away cholesterol from the virus in seconds so its shell is lysed (cracked-open). Thus, the virus RNA can be oxidated and destroyed by silver-ion much more rapidly. It sucks out the cholesterol from the viral shell and thus expose the virus for a much more rapid action by the silver ions. We have tested the technology against Coronavirus 229E and Sendai virus (which is an enveloped virus, just like those in the coronavirus family), the efficacy is shown within 2-5 minutes."