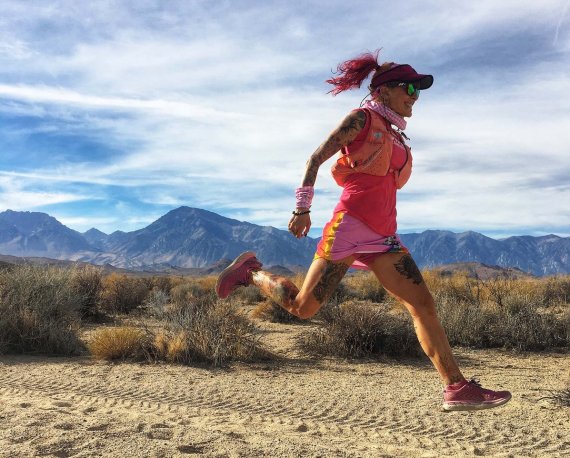 Catra Corbett is one of the rock stars of running. Known as the Dirt Diva on the trails, the ultra runner from California still holds course records that she set years ago. For example, on the John Muir Trail, 424 miles, or just over 682 kilometers, which she covered in 12 days, 4 hours and 57 minutes in 2004. She is one of the few people and the only American woman to have completed over 100 races of 100 miles or more. Yet she had a troubled past: Corbett came to running to get over her drug problems. Running is an addiction that is definitely better for her body. She has been running every day for over nine years. With her three dachshunds or by herself.
ISPO.com: Ultrarunning distances are damn long. How do you manage that?
Catra Corbett: Many people's heads get in the way. The distance to be covered, say 200 miles, sounds so daunting as if you couldn't do it on foot. As a runner, you then ask yourself, how am I going to do this? But then, when you're in the middle of running the race, you're always thinking from one aid station to the next. Now 20 miles, then eat, drink, rest, take a breath. Then 15 miles on to the next and so on. You can't think too far ahead, always to the next step.
I've also taken many runners who were already about to give up with me and motivated them to run to the next aid station, and then to the next until they did make it across the finish line.
Often a short power nap makes all the difference too. Your mind is sharp again after that. Such knowledge comes with experience, after all I have completed over 160 runs over 100 miles by now.
Sometimes it also helps to say that my little dachshund TruMan has done the 50k too. If he can do it on his short little legs, why can't you.
What do you think makes the ultrarunning scene so special?
In one word, the community. At the races, the community of participants is something very special, it's almost like a family. In many long races, for example 200-milers, the race directors also explicitly point out that you should look out for each other on the course. That makes sense, of course, because if something happens you have to rely on each other, even if everyone is wearing GPS trackers. A distance of 20 miles to the next aid station, for example, is not easy to cover with an injury. So the runners always help each other.
How do you deal with injuries yourself?
I'm lucky and I've never been seriously injured while running. I think it's because I started weight training before I started running and I've never stopped. I still do three to four sessions with weights every week. Because the older you get, the harder it is to keep muscle mass and that's ultimately what protects you and your joints from injury.
I'm 56 now and not as limber as I was in my thirties and forties. That's why I do 15 minutes of stretching every day, something I never used to do. At the same time, I also know that I can't run the distances I run today forever. But that doesn't matter. If I can't run anymore, I just go hiking or mountain biking.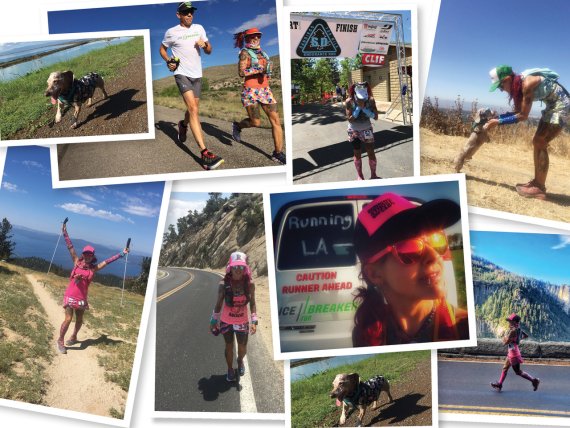 What advice would you give to people who want to get into ultra running or try longer distances?
My advice would be to just have fun and treat your first ultra race as a kind of training. Learn everything you need to know about nutrition beforehand, because your body uses a lot of energy at these distances and you need to replenish it during the race.
Also, a lot in running is decided by the mind, especially on long runs you often set limits for yourself. My head works differently, always asking after each race: what do I do next? After my first marathon I ran my first ultra, so 50 kilometers, then 50 miles and finally 100 or 200 miles.
After your first ultra, you also don't know if long distances are really for you because so much can happen and not everyone wants to run that long. I almost had to abandon my first 50-miler due to weather, and my first 100-mile race I had such bad blisters on my feet that almost made me quit. But with each race you learn.
You wrote a book about your career. Was that always a wish of yours?
Among my friends, I'm known for the stories that people share with me. They always said I should write a book one day. But I never had the time. Until a publisher approached me about writing a book and they suggested I work with an author: Then I said yes. 
How did you make time for running as well as writing your book, "Reborn on the Run"?
Actually, I recorded many parts of my book while running. Afterwards, I polished them together with Dan England, the author. I wouldn't have had time otherwise. I'm always on the go and on the move.
The book tells my story as a person and how I got into running. I have always been open about my past and the fact that I started running to get away from drugs. In the book, we revisited that. 
How hard was it to relive phases of your life for the book? 
Of course, it's never easy to work through the past, but I had already thought a lot about my own biography in therapy sessions and meetings. At the same time, writing is also a kind of therapy. 
I'm open with my story because I know if I can help just one person, it's already been worth talking about. I get letters from people telling me they bought the book for their children who have gone astray, just to show them that it's not just nerdy people who do endurance sports. 
What sets you apart as a runner?
I would say I am stubborn and I want to have fun when I run. Those are the two most important aspects that make me a runner. Likewise, I want to show who I am while doing what I enjoy the most. So looking stylish is also important to me while running.
I used to be a part of the goth scene and worked as a hair stylist for a long time. I brought my style with me to running. I like bright colors and now there are also a lot more colorful options in running clothes than back in the nineties when I started running and stood out everywhere. At the same time, colors are also a good safety precaution. If something were to happen to me alone in the mountains, I would be much easier for the search party to find as a bright splash of color.
What tips would you give if someone wanted to drastically change their life?
Go all in. Set small goals that you can achieve and focus on each one. Most importantly, believe in yourself and that you can achieve those goals.
Read more about Catra Corbett on her website catracorbett.com or in her book "Reborn on the Run", which is available in English and German.