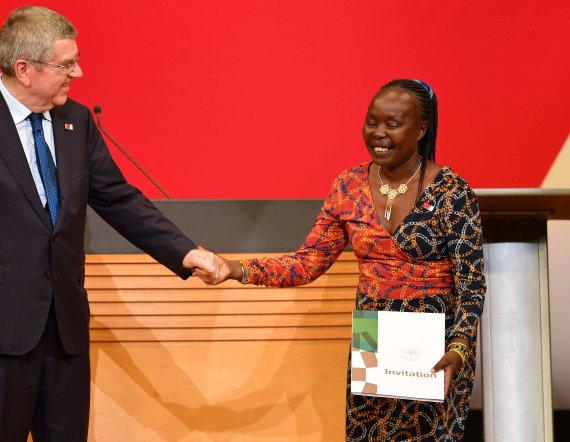 As spectators, we only ever see the obvious: the cheering goal scorer, the falling skier, the sweating runner. What has happened before the cheering, falling and sweating, usually remains hidden - unless you have caught a really good reporter, who knows more to tell than just age, birthplace and the personal best performance of the athlete.
In the case of Tegla Loroupe, this reporter would need quite a lot of time to draw a picture of the exceptional woman from the Kenyan highlands for the interested viewer. For it is not only her origins and her sporting career that provide material for a very extensive book, but also her life after sports is so full of experiences and encounters that one wonders how this person, who is only 1.56 metres tall, can handle all this. But first things first.
Tegla Loroupe grew up at an altitude of almost 3000 metres in northern Kenya on the border with Uganda - with 24 siblings. Father Losiwa had five wives and strong beliefs: Women have to work in the house or in the fields. What Tegla then did: herding cattle, milking cows, collecting firewood, dragging water and carrying her little sister Evelyn as a bundle on her back. School? No time.
But her mother - herself an orphan - and her older sister Albina campaigned for Tegla, who was usually just called Chepkite ("little one"), to be allowed to go to school. It was nine kilometres away, and so the little one was running 18 kilometres every day, on stony gravel roads, barefoot. She did not get her first shoes until she was twelve, when she was allowed to go to boarding school.
By then, she had already easily outrun the boys in competitions, which was not without consequences: At the age of 13, Chepkite was already part of the Kenyan national athletics team and competed in races in Japan - the start of a dazzling career as a multiple world record holder and marathon specialist.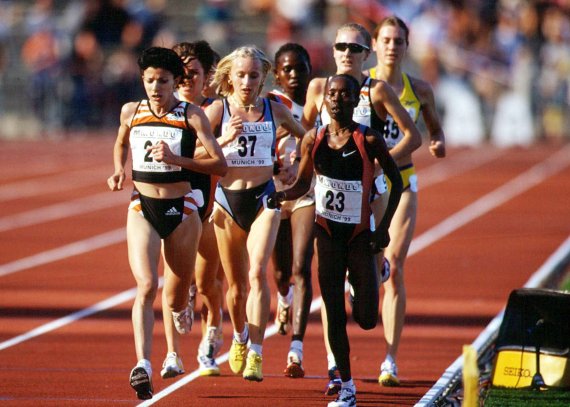 In Kapenguria, 50 kilometers away from her birthplace Kapsait, she still lives with her mother, the orphans of her deceased sister and other adopted children. The small town of Kapenguria has a place in Kenya's history, as it was here that the future founder of the state, Jomo Kenyatta, was imprisoned after the Mau Mau Uprising in 1953.
Not far from this historic site is a part of Tegla's life's work: the "Peace and Leadership School", which is not only intended to provide education, but also to offer girls protection from abuse, forced marriage and genital mutilation, which is still widespread in rural Africa.
The school is intended to catch children and young people whose parents have been robbed of them by armed cattle theft, tribal feuds, war, hunger and AIDS and it is intended to be a springboard for a sporting career, as Tegla Loroupe herself used it.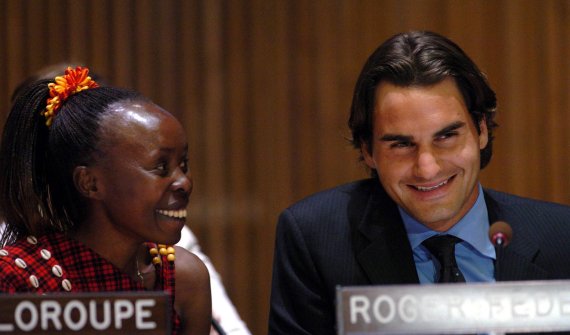 Two sentences from her mother helped her on this amazing journey: "You can endure pain, so one day you will be the best." And, "If you own property yourself, you are not the property of a man." Even as a little girl, she had wanted land and said to her father: "You have so much land. When I grow up, I want a piece of it." He just laughed, she said.
After her victory in the 1994 New York Marathon, she sent a neighbor's son, who was diagnosed with a brain tumor, to a specialist in Bombay, and adopted the six children of her sister Albina, who died at 33.
In 2003, she had the idea for the Tegla Loroupe Peace Race: a ten-kilometre road race that would bring together warriors from rival tribes in a sporting competition. Running instead of fighting: often the simple ideas are the best. The proceeds of the event went to the Tegla Loroupe Peace Foundation, Kenya's president awarded her an honorary doctorate, the United Nations appointed her an ambassador, the International Olympic Committee (IOC) also honoured her - today she poses in photos with the King of Spain, Barack Obama, Emanuel Macron, George Clooney, Usain Bolt and many other stars.
She is ambassador of the World Athletics Association IAAF, member of NOK Kenya and of Laureus Academy, ambassador of the development aid organisation Oxfam, works voluntarily for the children's aid organisation World Vision and was chief de mission of the Refugee Team at the 2016 Olympics in Rio de Janeiro - a position she has taken over again at the 2020 Olympics in Tokyo.
At the VIP dinner of ISPO Munich 2020, Klaus Dittrich, former chairman of Messe München, presented the ISPO Cup to the marathon legend and current UN Ambassador for Sport.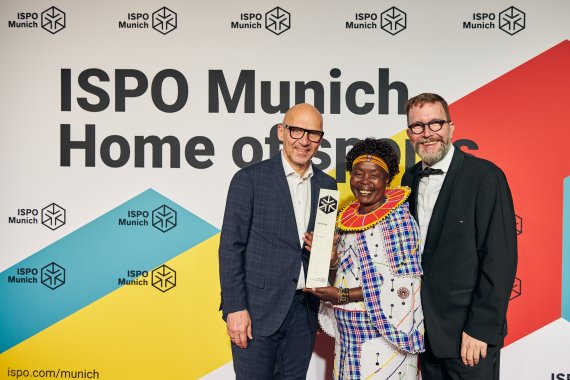 However, the most important project of this small but energetic woman remains the peace school in her home country Kapenguria, where meanwhile about 400 orphans are being cared for.
Tegla Loroupe, whose name also appears on the country's so important intercity buses, once said: "This is not a normal school. The children come from different warring communities. They learn together, they do sports together. This helps them understand that they are all equal. And that's what they teach their parents."
Type of sport:
Long distance, marathon, half marathon
Height:
156 cm (5 ft 1 in)
Nationality:
Kenya
Birthday:
9. May 1973
Born in:
Kapsait
World records:
20.000 metres (1:05:26,6 h),
25.000 metres (1:27:05,9 h)
30.000 metres (1:45:50,0 h)