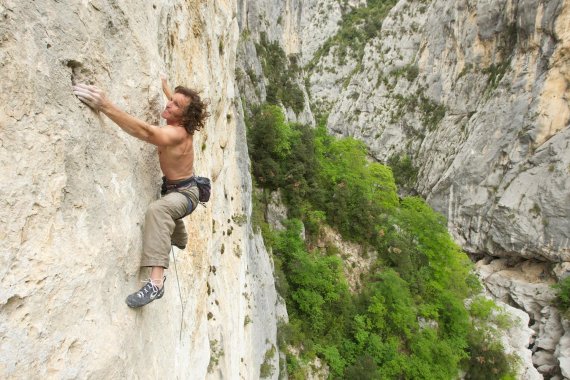 By now, there is a climbing or bouldering studio in every larger city. Among them are also some bouldering halls 2.0, as I would call them: Boulderwelt West in Munich, for example, where I often train: Two floors host not just bouldering, but also core and yoga training, as well as a large children's area with a corresponding daycare program.
So, yes – climbing remains the core sport, but is also becoming a component of a fitness product range. In this example, but also in the greater context.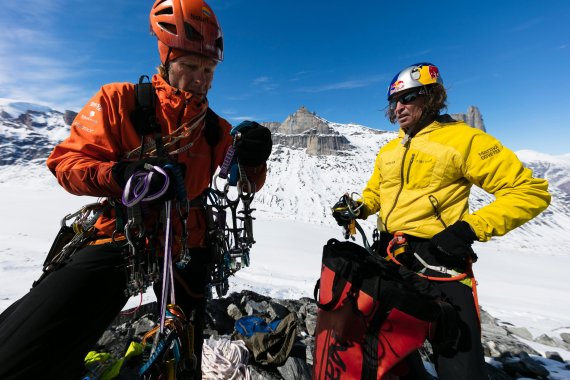 Today, climbing in consumed
Naturally, this also means that the approach of today's climbers is very different than maybe even ten years ago. Previously, the approach was frequently through nature, but also contention with the history of free climbing. Today, you go to the studio and consume climbing.
In the first step, many aren't the least bit interested in really learning more about climbing and its origins. In some cases, that might come later. And I see it as our task, by that I mean the older, more established generation, to make sure that the history of climbing isn't lost.
Actually, I have to note that it's gotten a lot more quiet in many climbing regions outdoors and in the Alps than it used to be. Of course, there are many more developed cliffs, and the onslaught to a small few has thus evened out.
Back then, it was like this: An article on a region in Southern France appeared in a technical magazine – the next holiday, it was completely overcrowded. With international climbers, at that.
Climbing and bouldering offer a lifestyle
Today, there's a variety of climbing regions in the Alps and in most European countries, and therefore sufficient space for everyone who dares the step outside the studios.
As company founders, Uwe Hofstädter and I established Red Chili for precisely this new target group and this segment of climbing. We want to offer precisely what someone needs, even hall climbers and boulderers: the perfect climbing shoe for their individual performance level, chalk, a chalk bag or boulder bag, and clothing that they feel comfortable and can move in.
Climbing, but especially bouldering, is hip and associated with a corresponding lifestyle. That is why Red Chili climbing fashion is much more than just clothes you wear for your sport. It's an expression of a sense of life, of a lifestyle.
We as a company have 20 years of roots in climbing, in exactly this segment. That is why we were prepared for the latest development, but were pushed to our limits with international distribution and expanding the product portfolio. Through the collaboration with Edelrid , we've found a fantastic distribution partner.
Image as a climber is fashionable
Climbing may also become interesting for all of the major corporations someday, like what happened in the fitness sector with Reebok for example. Five Ten is soon to be integrated into Adidas' outdoor business, it was said recently. What that ultimately means for the climbing brand, which Adidas bought for 25 million dollars in 2011, remains to be seen.
Fundamentally, it is still fashionable to be able to appear and be perceived as a climber in the social environment: The sport stands for independence and freedom, being outside, and setting out. Even if a majority of consumers won't leave the halls and studios.
Climbing is positively cast, free from scandals and topics like doping. Bouldering, especially, also stands for a particularly high social factor.
Bouldering is fun right away
In general, bouldering has made it possible for many people to get started who did find climbing fascinating, but were still kept away by the necessary safety equipment and learning safety techniques.
Now you can go to the bouldering studio and have fun right away, even without any prior knowledge. This new accessibility is essentially the foundation of the climbing boom – which will definitely hold on for at least another ten years.
Climbing requires training
What you absolutely should still note: The transition from bouldering to climbing with safety equipment and rope is an extremely formidable one. It's a serious sport that requires training to match it.
I myself see that this is not nearly always the case, more often in halls, and witness appalling mistakes. This is the responsibility of the hall operator in the first step: making sure that every climber has the right degree of training to ensure their own safety and the safety of others.
I nevertheless have a low opinion of mandatory rules and laws in halls, like what safety equipment to use: For me, climbing is still too closely associated with the privilege of personal freedom and independence. For me, the fascination of climbing represents something very special, not depending on rules and regulations that reign in many other sports.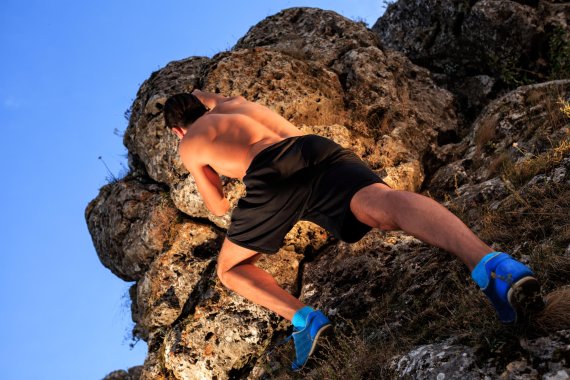 The climber has to remain mature – and not hand off responsibility for their actions at the register. They practice a sport in a conscious manner, regardless of their performance level, and know how dangerous being a slouch can be. That is why they choose their equipment deliberately, according to their ability and experience.
Open to safeguarding by machines
Sure, there's still a backlog of demand and a need for education here. I would consider it sensible if, in the climbing studios, the personnel were also up on the walls to give people tips and, if necessary, correct them – to avoid accidents.
I'm quite open to the next logical step in safeguarding technology: robots that can secure a lead climb. Naturally, the tradition-steeped sport of climbing is also changing. As long as the idea and the fascination aren't lost, from a purely technical standpoint, it doesn't matter to me whether a partner or a machine secures me.
The Crowd's knowledge is the foundation of your success as an entrepreneur: You too can benefit from the experience of the community at ISPO OPEN INNOVATION! >>>
What speaks for the partner is, quite obviously, the social aspect – just what has also made bouldering halls so successful. Everyone immediately finds a connection and an environment; nobody's a lone wolf, and instead quickly become a part of a community. I hope this trend doesn't evolve backwards due to technical progress.
It's always fund to get talking with other climbers and give them tips – or even notify them of a mistake once in a while. In my home bouldering hall, pretty much everyone on my times knows me by now!
About the author:
As a climber, Stefan Glowacz has conquered the most difficult routes all over the world – the 52-year-old also works as an entrepreneur with his company Red Chili, which now belongs to Edelrid. Hardly anyone knows the sports of climbing and bouldering, in all of their facets, as well as he does. 
Video: The Outdoor Trends of the Year