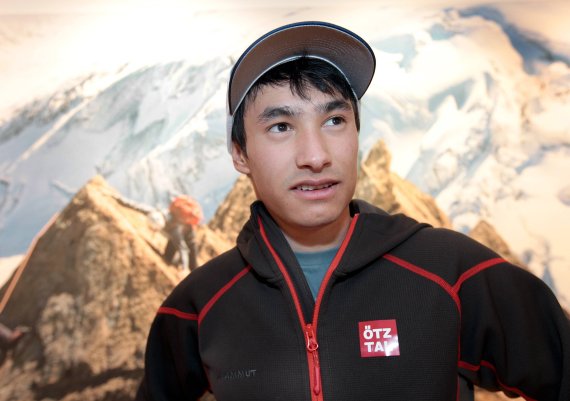 It is now certain how did David Lama die, together with his comrades Hansjörg Auer and Jess Roskelley, were caught and killed by an avalanche in the Canadian Rocky Mountains on April 16.
On Sunday, rescue teams were able to recover the bodies of the three climbers. At first this was not possible due to the danger of avalanches. This was announced in a press release by the state operator of the Canadian national parks, Parks Canada.
"Parks Canada expresses our sincere condolences to their families, friends and loved ones. We would also like to highlight the impact this has had on the narrow local and international climbing communities. Our thoughts are with families, friends and all those affected by this tragic incident," the agency said in an email statement.
The authorities had previously assumed that the climbers had died. However, the Austrian Foreign Ministry did not want to confirm the death until the bodies had been recovered and identified.
Lama's parents publish statement
The father of JessRoskelley, John Roskelley,said in an interview with Spokesman Review that the trio had climbed a difficult route on the eastern side of Howse Peak known as M16.
Howse Peak is located in Banff National Park and, at 3295 metres, is the highest mountain in the Waputik Mountains, a sub-region of the Canadian Rockies. David Lama accident apparently occurred during the descent.
Lama's parents published a statement on his official website on Friday: "David lived for the mountains and his passion for climbing and mountaineering has shaped and accompanied us as a family. He always followed his path and lived his dream. We will accept what has now happened as part of it."
David lebte für die Berge und seine Leidenschaft für das Klettern und Bergsteigen hat uns als Familie geprägt und...

Posted by David Lama on Friday, April 19, 2019
Lama was born in Innsbruck in 1990 as the son of a Nepalese and a Tyrolean and is considered one of the greatest stars of the climbing scene. In 2012, he managed the first free ascent of the compressor route on the Cerro Torre. In 2018 he succeeded in the first ascent of the 6895 metre high Lunag Ri in Nepal over the west pillar.
Hansjörg Auer, born in 1984, became famous for his free solo ascent of the Marmolada south face in the Dolomites. Jess Roskelley had been the youngest climber to climb Mount Everest.
Death of climbers shocks alpinist community
David Lama avalanche misfortune, as well as other two top climbers caused great grief and horrified reactions in the alpinist community.
"We accept the loss that unexpectedly occurs in return for the bonds of friendship created by the experience of living in the majesty of nature," wrote US rock climber Conrad Anker on Facebook.
We choose to play by the rules of the mountains because they are our calling. We accept the loss that strikes unaware in...

Posted by Conrad Anker on Friday, April 19, 2019