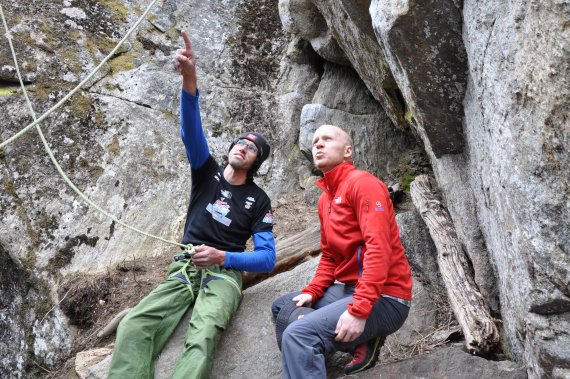 Hansjörg Auer was one who just did it. If you want to learn paragliding, you usually need a multi-day course with a final exam to get your pilot's license. Hansjörg Auer started paragliding this way: He borrowed his brother's glider and took off. In general, the professional alpinist from the Ötztal has made things this way. He became famous in 2007 with his free solo ascent of the 37 pitches of the "Path through the Fish" on the Marmolata south face in the Italian Dolomites.
When asked how he managed to lead a life marked by alpine extremes, he once answered me disarmingly honestly: "I'm an egoist." Auer has done extreme and physically as well as psychologically demanding things on the mountain with the same regularity that brings others to the beer garden. He was celebrated in the scene in 2018 for his first and solo ascent of the west wall of Lupghar Sar in Karakorum. He has undoubtedly left his mark on modern alpinism.
Yes, an egotist, he was. And that's what he had to be when he left alone again, at home in the Ötztal or somewhere in the world. His mother then lit a candle in the church again, which was only allowed to go out when her son was home safe again. Sponsors, publicity, these were for him always and above all means to an end to do what he loved.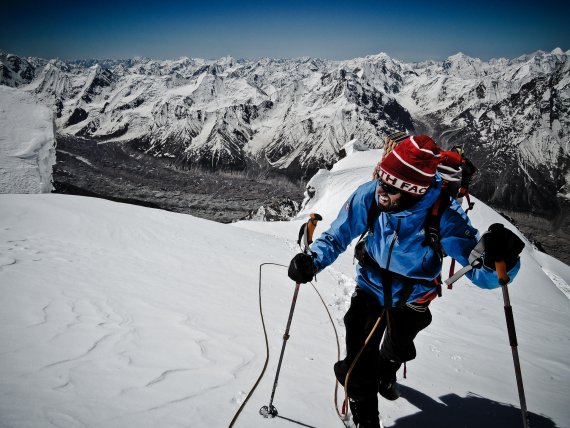 In contrast to David Lama, who died in the same accident with him in Canada and who had placed himself under the care of the Red Bull Empire, Auer had never afforded himself a manager. Instead, he had good old friends to get advice from. Auer always wanted to explore boundaries and do his own thing. Although he was sponsored by the tourism association of the Ötztal, he once supported an action against the commercialisation of the Stuibenfall - secretly.
At first glance, he appeared to be plain-spoken and rough - but when you got to know him better, he was boundlessly cordial and helpful. When, during a visit to the Ötztal valley, he showed us a sector for an Interview in the Niederthai climbing garden that was actually secret and reserved for the locals, it was as if Thomas Müller was inviting a Bayern fan to kick in the garden. The hotel tip in the Ötztal, for the first mountain holiday with our daughter: It came from Hansjörg.
At the end of 2017 Auer had published his first book, "Südwand". In it he describes his way from a climber from Umhausen to a top alpinist who has left his mark all over the world. He also made it his way - he wrote the whole book himself. It has not become a high-gloss product, but a deeply honest look into the soul of Hansjörg Auer. There he tells of his childhood as an outsider, and for the first time the public learns of his struggle with anorexia.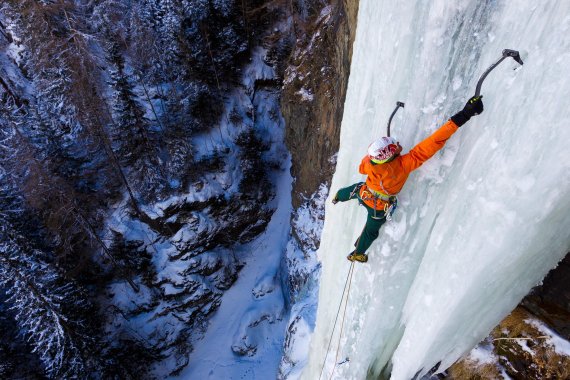 At the beginning of 2018, a GoPro video of him went through the climbing scene, in which he roped down a ridiculously small rock nose for lack of any other retreat - the talk afterwards ranged from him having balls the size of a medicine ball to being completely mad. Hansjörg Auer himself commented succinctly: "Challenging!" His Facebook videos alone are worth a visit, a wild ride with ice axe and paraglider through the whole world.
Reinhold Messner was one of the first to share the news of the avalanche in Canada via social media. In a later interview with "Bergsteiger" Auer described Messner as a role model. Messner, a pioneer of dangerous and great alpine ventures, is more than 70 years old.
Hansjörg Auer died at the age of 35.
We mourn the loss of a lovable person and an outstanding athlete.