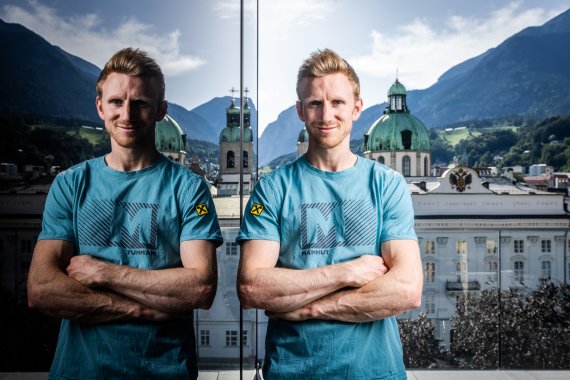 ISPO.com: In the run-up to the Olympics, there were many critical voices, especially regarding the format of the competition. How was the Olympics for you in retrospect?
Jakob Schubert: I have to jump in a bit earlier: As part of the International Athletes Commission, I knew there wasn't much chance of a medal because the IOC only wanted to award a medal for sport climbing for now. They didn't want to leave out lead, bouldering or speed, so the one medal decision in Tokyo was a combination of the three disciplines. From this point of view, the decision is understandable. That also meant: Even if you had to learn something completely new because of the differences, most athletes wanted to be at the Olympics in any case and started to train for all three disciplines in climbing.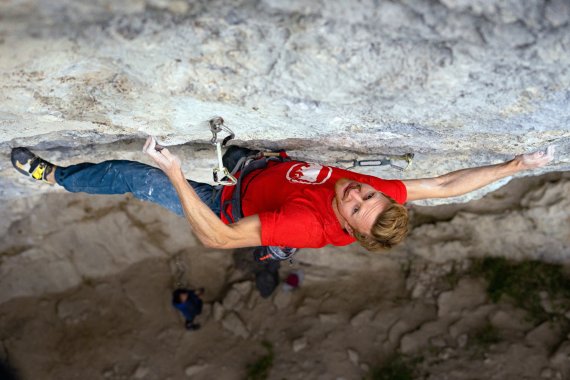 How do you prepare for a competition like this?
Bouldering and lead climbing are very related, and most of us competitors have trained before. For example, I compete in both disciplines in the World Cup. On the other hand, you have the specialists who concentrate fully on speed. So we bouldering and lead climbing specialists had to learn speed climbing, and the speed climbers the other two disciplines.
Even though it was special, the speed training was a lot of fun for me as an additional challenge. Even when I realized that I would never become a world-class climber.
But it was also much more important to stay top in bouldering and lead climbing or to become even better and to simply become less bad in speed. (laughs)
The multiplication of results made it extremely important to do well in your own parade discipline. This was also evident in my case: my first place in the lead competition earned me my medal.
Although the two rounds before were extremely frustrating for me and Bassa Mawen's bad luck due to injury turned the evaluation upside down again.
What was it like for you to get the medal?
I reached the top in the lead and thought to myself: "I think I won the lead". But I wasn't sure if that was enough for a medal. I only realized that later.
And before that I hadn't been able to appreciate the significance of an Olympic medal with all its history. When you were a child, you saw how the stars got their medals back then. That's even more special now.
What do you remember about the Games in general?
Life in the Olympic Village was really something special. That fascinated me a lot. The medal receptions when someone won, or the cheers from the houses when someone won or decided. There are so many sports-mad people in one place, from so many different countries, cultures and sports.
We had all the streams in the apartment, where you could also follow every live decision directly. So you watched and followed more sports that you never watched before. Even if you didn't come into contact with so many athletes and experience competitions like you might have otherwise. That's why I would like to be there again in Paris.
How does the almost seamless transition to the World Championships feel now?
With the Olympics as highlight the World Championships this year for once were just secondary. That's why many of the stars, for example Adam Ondra, Alex Megos or Janja Ganbret won't start at the World Championships. I also thought about it, but then I thought, I want to take this with me. An event like the Olympics is mentally very challenging, that's why I needed a short break to come down. But all the training I had before the Olympics wasn't completely lost.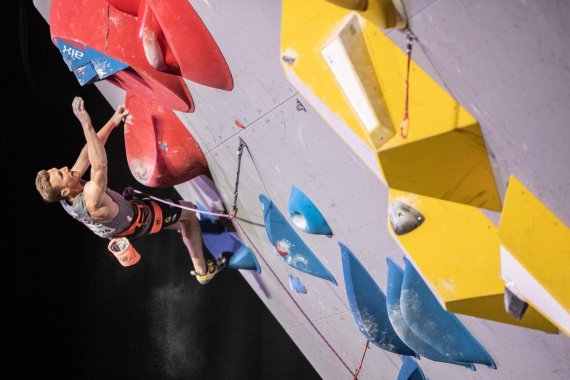 How do you train the mental, especially in demanding situations like on the big stage?
Especially when it comes to concentration, frustration and also nervousness and all that, it helps a lot if you have a lot of experience. I have had many competitions where I was under extreme pressure. For example, the home World Championships in Innsbruck 2018, which was the most important event of the year at the time and an absolute highlight for me. I really wanted to deliver there. It helps a lot when positive experiences from the past signal "somehow my body always manages to deliver in such situations, so I don't need to worry now".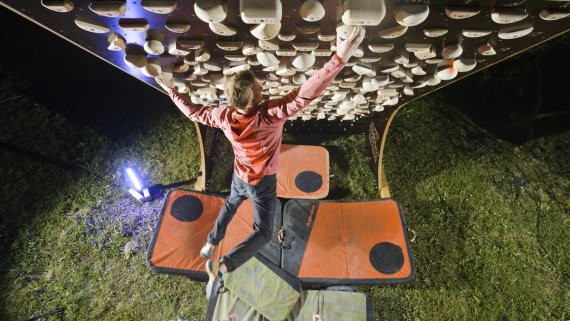 Especially in bouldering it is extremely important that you leave frustrations to the left:
During the round it's often the case that you don't manage two boulders and you want to go straight home because it's so annoying. But maybe the final will be decided in the next two boulders. Then you learn how important it is to never give up in a competition.
That is also something I had to learn in the last years. If I didn't make a boulder in a round, I prefer to talk to someone who did it, so that I can finish it in my head and know "ah, that's how it would have gone". Simply because that's what's on my mind, as a full-blooded climber. Actually, you shouldn't do that though.
The ideal would be to just completely forget what happened before and approach each boulder as if nothing had happened before. That's difficult, of course, and I don't always manage it, but at least that's the goal.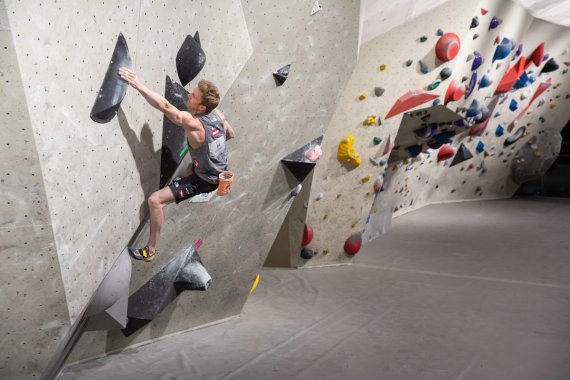 What's it like out on the rock without the pressure of competition? Do you have to keep coming back until you've done a route?
Yes, actually I do. If it's a prominent route or a prominent boulder that you've seen others do, then I usually can't let it go. I usually keep trying until I've done it. With routes in the lead I have mostly succeeded, with bouldering not always. Now I can think of one or two boulders that still annoy me because I didn't manage them.
It's not only about the physical, but also about the climbing intelligence to be versatile. From that, I always feel like I want to complete something, and if I don't, then there's something in there that I'm not that good at and then I want to get better at it.
Sometimes it's totally exciting to find out why you can't do a boulder, especially if at first glance it looks like it would actually suit you. Then it's often a good learning process. Sometimes you work on a boulder in a team and then everyone makes it in the end. This social aspect is also the great thing about our sport.
Indoor or rock, what do you like most about one, what about the other?
I would say that I'm also a rock climber, but of course I spend a lot of time in the gym when I'm preparing for competitions like the Olympics. On the rock, sometimes it's not just about training or climbing through something. Sometimes it's just about having a nice day with colleagues or my girlfriend and enjoying the nature and the place.
In the gym you don't want to do the same route for weeks, on the rock that's often no problem. You spend a lot of time tweaking and optimizing yourself, because a route is so close to the limit that you can only climb and complete it if everything fits down to the smallest detail. Then you realize what it really means to climb such a route: How do I approach it, when do I need to rest and for how long, can I make the move a bit more efficient?
These are all things that make you a better climber and where you also learn something for the hall or the competition. And on the other hand, a lot of indoor training in the run-up to competitions naturally also supplements the performance that you can then bring back to the rock.
What walls or projects do you have coming up next?
This year I still have a few projects that I definitely want to tackle. After the World Cup, for example, I plan to fly to Mallorca for a month and do a lot of deep water soloing, which I've hardly ever done in the past. I'm really looking forward to that now, just climbing as hard as possible above the water.
And in the winter I'm going to do some other stuff, maybe back to Spain, for example to Siurana, where there are still a lot of routes I want to try. Then I'd like to go back to Flatanger, where I've been twice in the past, but that was a long time ago.
One of the most beautiful places and best rocks. I'm really motivated and there is so much to do.
What is it about climbing for you?
The great thing about climbing is that there are endless possibilities, whether it's bouldering, lead climbing, multipitch or deep water soloing. Sometimes that makes it so hard to compare to other sports. Climbing is something I will do my whole life, even if I don't compete my whole life. And there are so many walls and routes in the world that I haven't seen yet that I still want to do.
It never gets boring. Every day I feel like I can learn something new.
I'm constantly doing some new move that I've never managed to do before, or have a new hold in my hand on the crag that I never imagined that kind of hold even existed.
And what has always suited me so well is that it is an extremely social sport. Climbing is something you do together. You're in the gym together when you're solving a bouldering problem with your friends. I just like to go to training because I know that I have the best time there with my colleagues. You can see that quite well in the Free Wall video with my WG colleagues.
Bouldering or lead climbing, if you had to, what would you choose?
If it's purely about competition climbing, I would of course say lead climbing, because I'm more successful there and of course it's fun to win.
But bouldering is also a lot of fun, you can hang out with your colleagues even more, whereas with lead climbing you take turns, stand alone at the bottom or are on the wall. And in bouldering, there are three or four of you, cheering each other on. It just both have their things that I love and luckily I never have to choose.
More about Jakob Schubert at https://www.jakob-schubert.com.