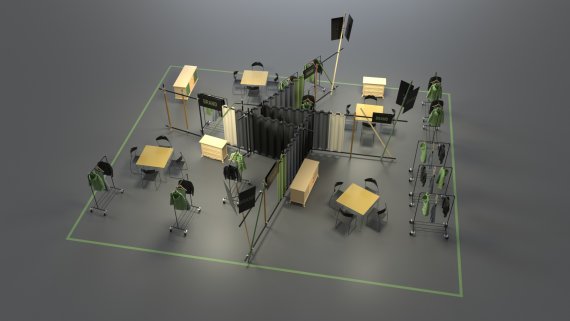 We celebrate the coming together of the community. Together we celebrate what unites us: The outdoor lifestyle. Experience-rich, with attitude, meaningful, sustainable and with a lot of joy.
We plan an entertaining program with different formats. We get to know solutions, learn about new possibilities, how outdoor can be a solution for many challenges and deepen our relationships - within our industry and beyond.
These options are available to you as an exhibitor at OutDoor by ISPO:
With just a few clicks you can invite interesting customers and business partners to your booth free of charge and arrange meetings at OutDoor by ISPO in advance. Strengthen your customer loyalty now and send free visitor tickets! Now even easier with Connect by ISPO!
The Sustainability Hub is a designated area to support education, information, spark interdisciplinary discussions and create a playing field for synergies in sustainability and social innovation. Quality of information is key and makes the showcase valuable for the audience.
Your application will be checked by the supporting teams GreenroomVoice and BRANDS FOR GOOD for quality control and in case your application raises questions we will get in touch with you.
BRANDS FOR GOOD's mission is to showcase social and sustainable projects and initiatives or social engagements. GreenroomVoice will host exhibitors focusing on eco design and innovation in sustainability.
The HangOut area is the place where your brand can present itself where it is at home: in the open air. The focus here is on the sociable outdoor lifestyle.
In the HangOut Area, you as an exhibitor can present your products, services and values without indoor restrictions. The perfect location to present your equipment for outdoor adventures such as camping equipment and furniture, BBQ products, cookware or exciting outdoor games.
In short: The perfect business hub for everyone who likes to hang out and enjoy nature together.
For all exhibitors looking for a suitable meeting room for their HangOut presence, the tent experts from Nordisk and Dometic offer a wide range of tent rental options.
You can find more information about the HangOut Area and tent rental in our PDF.