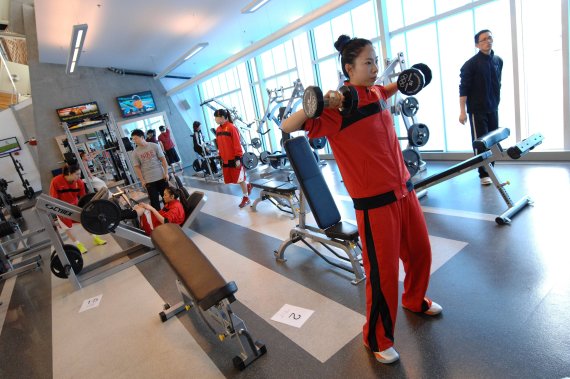 Stefan Kracht is managing director at Fiducia (www.fiducia-china.com). The management consultants are specialized China. Kracht leads a team of 120 experts in four international offices. Fiducia helps to design tailor-made corporate strategy for the Chinese market. Kracht says that it is precisely the many millenials in China and the relatively low restrictions on foreign B2C products that are playing into the hands of western sports brands. 
Why should companies expand to the Chinese market?
Stefan Kracht: Many aspects of China's B2C market make it a key growth market for Western companies - starting with its size. Chinese millennials alone represent a group of 400 million people who have a completely different picture of their daily life than their parents had at their age. They often work in white-collar jobs, earn middle-class incomes, and are increasingly demanding when it comes to product safety and quality. This, combined with the fact that B2C products see relatively little restrictions at the moment, plays very well into the hands of established Western B2C brands.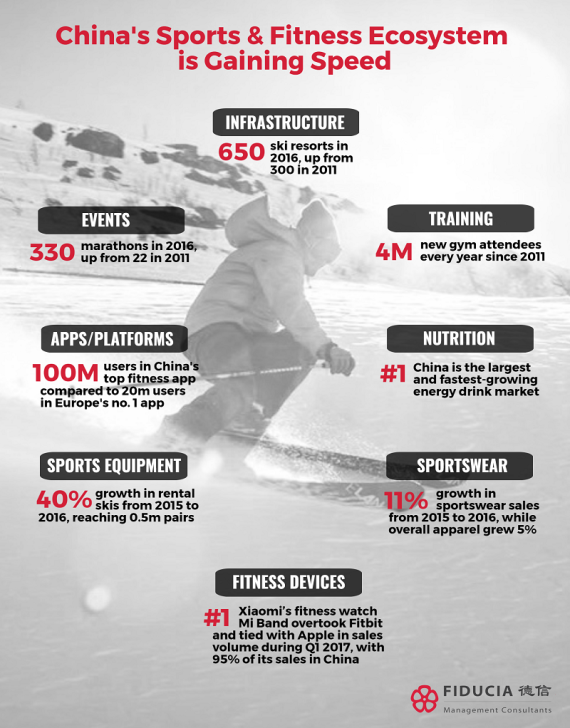 You already mentioned a few aspects, but why is it especially for sport brands so interesting to invest in the Chinese market?
We see a clear trend going in the direction of a healthy lifestyle, which helps to explain why the sportswear market is growing at twice the rate of the overall apparel market. At the government level, this is being driven by favourable policies, infrastructure investments, and sports events such as the Winter Olympics 2022.
On the consumers side, the new middle class is boosting demand for products and experiences associated with a balanced, active lifestyle. The numbers speak for themselves: 330 marathons took place in China in 2016, compared to only 22 in 2011, and the country's largest fitness app has over 100 million users.
Do you see this also in the cities?
In any large Chinese city, you can see fitness studios, bike shops, hiking shops, and other specialty retailers popping up everywhere at a fast rate to cater to this growing market. Most major sporting goods players are already trying to claim their share of the local market.
They are experiencing slowing growth in Western markets and see the potential for double digit growth in China. For companies who haven't made the jump yet, the time to enter the market is now, when not many local sporting goods players are able to fully meet consumers' needs nor the requirements of their own government's plan.
What are the first steps for a company to take, if they consider entering the Chinese market?
At the earliest stage, we usually consult to make clients aware of high-level requirements and risks. The first one would be, that you have to enter China with a very solid mid- to long-term commitment. You can't do this as a side project. The market is extremely competitive and differs in many ways to Europe or North America.
It is important to know your position and strengths, while being aware of your disadvantages vis-a-vis local players in terms of market access and market understanding. If you're not familiar with local best practices in terms of marketing, sales, and distribution, it is key to address these points early on with an experienced advisory. This will save you time and resources along your route-to-market.
Can you give us an example of a successful entry into the Chinese market?
We recently supported a mid-sized company in going through a two-phased market entry, a strategy which we often recommend. The first phase allows you to verify your business potential in China with limited investment and risk, and the second phase allows you to scale up the business and achieve long-term growth in China.
Can you specify the two phases?
Phase 1: Our client started off with a cross-border e-commerce set up, serving the Chinese market through an entity in Hong Kong. The reason to go through Hong Kong is that the company set up is fairly straightforward, quick, and requirements are low. Why not do this directly from Europe? In Hong Kong you find the right partners. T-Mall Global, China Post, and Tencent, all have offices in Hong Kong, for example. Additionally, Hong Kong offers many logistical advantages, such as bonded zone warehousing.
 
Phase 2: The second step was to set up a wholly foreign-owned enterprise (WFOE) in China. The reason for that is that cross border e-commerce has its limitations. You need a WFOE to sell, hire people, and invoice customers in China, so it is the only long-term solution for higher volumes. Having a China entity will also give you a competitive edge in terms of faster delivery, returns, and customer service. Additionally, there are tax advantages for WFOEs, since the government is trying to encourage this setup.
This is one case study, but there are of course a range of corporate setup options that could be suitable depending on your company setup, product offering, and resources.