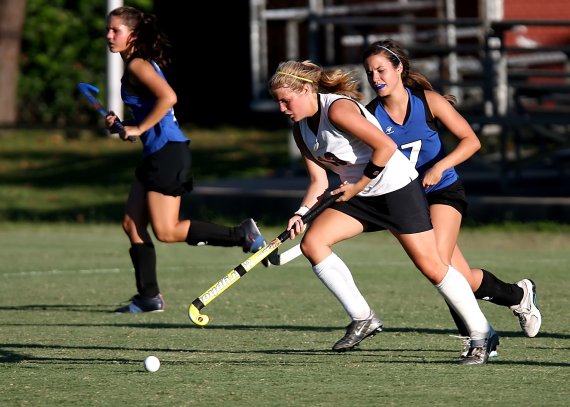 In the study "Keeping Girls in the Game: Factors that Influence Sport Participation", the Women's Sports Foundation, in cooperation with the Dick's Foundation, investigates social influences on children's sporting activities and reasons for giving up sport.
Based on a US-wide survey of boys and girls between the ages of seven and 17 and their parents, the study concludes that there are still societal barriers for girls in sports in the US.
While 34.5% of the boys have never done any sport, the figure for girls is 43.1%. Only 36.4% of the girls are currently engaged in sports, among the boys the figure was 45.6%.
Gender stereotypes fuel this trend: Almost a third of the parents surveyed (32.2%) believe that "boys are better at sports than girls".
In addition, there is a lack of female role models in sport. 68% of the children who do sports have male coaches. Parents hardly encourage their daughters to emulate sports greats: only 13% of the girls currently doing sports are motivated to do so by their parents.
Curious: Although sport has a positive influence on academic careers according to several studies, 30% of those surveyed - both children and parents - answered that a greater focus on good school grades is the main reason for quitting sport. Nearly three-quarters (73%) of parents of children who stopped exercising did so because they felt that sport hindered their child's academic career.
The parents' income also plays a role: In low-income households (up to USD 49,999 per year) only 24.6% of the girls currently participate in sports. 57.5% have never taken part in organised sport.
The study suggests a number of measures to encourage girls to be more active in sports: For example, the sports industry must find new ways to promote the whole range of sports. Programmes and youth clubs should specifically encourage girls to participate.
Parents should encourage their daughters' sporting ambitions emotionally and materially. Be it through a positive attitude towards sports, watching and supporting sports events of their daughter or training together. The study also encourages mothers to become more actively involved as trainers in their daughters' teams.
In addition, the positive role of sport on adolescents and their academic careers should be more clearly communicated to children and parents, and funding for programmes for children from lower-income households should be increased.
"Our research partnership with the Women's Sports Foundation has helped us to understand the barriers of girls' participation in sports and has motivated us to continue to support girls' sports programs," said Aimee Watter, Executive Director of the Dick's Foundation.
"Having a clearer understanding of the factors that keep girls on the sidelines is critically important. [...] And everyone benefits when more girls are in the game," said Deborah Antoine, CEO of the Women's Sports Foundation.