In Nicola Zanella's opinion a big mistake and the 47-year-old Italian knows what he is talking about. For more than a decade the surfer rides the waves in the far East and even ventured to North Korea with his board.
In an interview with ISPO.com Zanella talks about his work as coach for the Chinese national surf team, the hottest surf spots in China and why he is still alone there most of the time.
ISPO.com: Mr. Zanella, you have been a surf pro for many years...

Nicola Zanella: Wait a moment. It's great to have the chance to clarify this. I'm not a pro surfer, I never said this. It is a thing that came up from some article last year before our first trip to North Korea, then many more papers picked it up. I'm an experienced surfer, been surfing for over 30 years, and spent most of my life chasing waves in remote coastlines and studying Chinese culture. This is how I consider myself.

Good to help you, clarifying this. So, how did it come to you to go to China and map the entire coast and its surfspots?
I took Chinese language and philosophy at Cà Foscari university in Venice, Italy, then worked as an interpreter and cultural consultant, this while running SurfNews Magazine in Italy as chief editor. During those years (2000 to 2010) I ran several exploration trips along the coastlines of China, often together with photographer and surf explorer John Callahan. With him we pioneered the Silver Dragon, the bore wave on the Qiangtang River in Hangzhou, then the islands off Shanghai and the whole southeast coast from Guangzhou to Fujian. Then in 2010 I started working at the ASP (now WSL) events in Hainan and, in 2012, I relocated to Sanya, joined an Outdoor company called Insight Adventures.
And what is your resume, is China surf worthy?
China surf worthy?! Hell yes! I had more world class surf sessions in Hainan than anywhere else on the planet.
On your Instagram account you often use the hashtag "thepeoplesrepublicofemptywaves". So why is nobody riding the waves?
There's a total of around 1000 surfers in China today and over 14.000 km of coastline. You can imagine that surfing alone is quite the norm in some spots. Especially in the first few years, 2012/13, every time a big typhoon hit Hainan I was alone out there. And I still surf alone a lot on some of the most remote pointbreaks.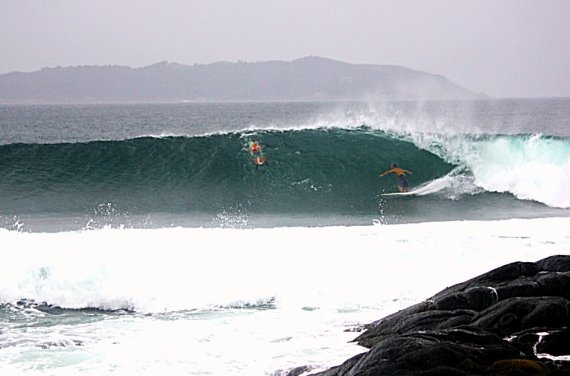 Where are the surf hotspots?
The main surf hubs right now are Shenzhen, Qingdao, Hongkong and of course Hainan island. You may have heard of Riyue Bay, where WSL holds the longboarding World Cup.
How can you make surfing relevant in China?
Compared to the size of this country and it's population of 1.3 billions, surfing will never be relevant in China.
Which actions can the industry take to boost surfing in China?
Well, China has already done more for surfing than most other nations. There are world tour events. The WSL and ISA have strong bonds with the authorities. Most brands produce here and are also distributed in the major towns and surf hubs. What the surfers need is support from the bottom. And this is what I'm trying to do. I teach surfing and I coach surfers to become competent surf instructors. I try to spread a sustainable and environmentally friendly surf culture to youngsters. In the past 4 years I taught surfing to around 15.000 students and formed around 50 certified ISA instructors.
How long will it take to talk about China as a real surf nation?
Chinese surfers already take part in international competitions, there's a surf market and there's a growing surf population. I think China is a legit surf nation.
As a host and teacher of surf camps in China, what separates the Chinese beginners from western surf newbies?
It doesn't matter what your cultural background is or how you got to surfing. Everybody reacts to their first wave in the same way. It's a big smile for everyone.
What was the funniest experience as a surf teacher in China?
The funniest is when people that never entered nor seen the ocean complain about water being too "salty" or "really wet". It happens very often and it makes me laugh (and think) every time.
You also do surftrips in North Korea. How difficult is it to realize such trips? What were the biggest issues? Is it comparable to realizing trips in China?
The North Korea trip was extremely easy to organize. I partnered with URI tours, the leading agency for touristic excursions there and they did the whole negotiation with the authorities. Getting a tourist visa is easy. Going around is easy, of course if you follow the rules. The coastline is beautiful and we have a few beaches we can go to. The waves are not guaranteed, but we have great plan Bs if the ocean gets flat. For example we go Stand-up-Paddling in rivers and reservoirs and I'm training a small group of locals to safely and efficiently run the surf school we opened at the Majon Hotel, in Hamhung. I have to share this pride with Andrea Lee and with Markus Kern, who are my partners in the SurfNorthKorea.com project and support me in this.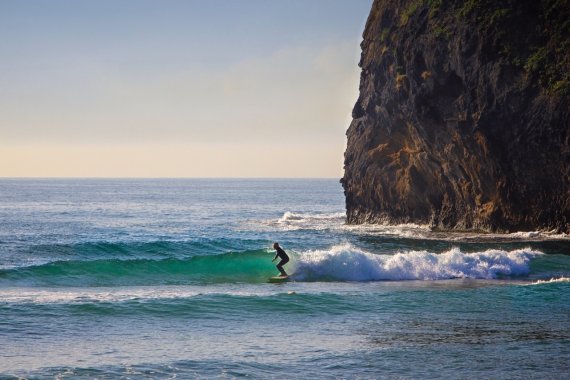 You are also a Course Presenter for International Surfing Association, what are your duties in this position?
I hold training for surfing and SUP where I certify instructors. My duty is that of spreading surf culture and water safety in a country that has just opened to the sport and to beach culture. I'm honored to do this and I try to run 2 or 3 trainings every year.
Your last and perhaps most prestigious job is the position as Coach of the Chinese National Surf Team. What was the status of the national team when you took over?
The Chinese national surf team was born in 2014 before the ISA ASIA CUP in Riyue Bay. The Chinese Extreme Sports Association recruited Peter Townend (1971 world champion and renowned coach of USA and Australia teams) and myself to take care of it. Since then, we hold regular training sessions and the team has improved a lot. Most of them have only been surfing for 4 or 5 years so they are not competitive at a planetary level. But we must start somewhere and this is it. There's a lot of talent in the younger generation, the kids that now are 10 to 15 years of age. They have all it takes to make it at an international level.
After 2 years in charge, what is your resume and what is possible with the national team?
The team took part in ISA and WSL competitions in China and we hope to take a small representative to the Tokyo Olympics of 2020.