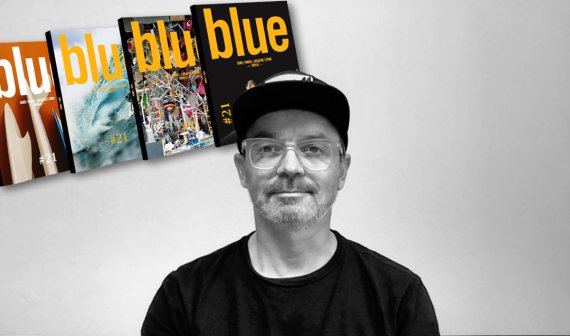 In 2022, for the first time in the history of ISPO Munich, Halls B5 and B6 will open their doors to selected consumers. Brands, customers and consumer experts will then come together at the ISPO Munich Consumer Festival in the Collaborators' Zone.
With BLUE Magazine, ISPO has now concluded the first official media partnership for the ISPO Munich Consumer Festival. The surf & travel magazine will not only accompany the event with its own coverage, but will also be present at ISPO Munich with its own Surf Lounge presented by blue, as well as presenting films from its Surf Film Festival in the Hybrid Arena.
ISPO.com spoke with blue publisher Andi Spies about the media partnership, surfing at ISPO Munich 2022, and the new hall concept.
ISPO.com: What exactly will BLUE Magazine's media cooperation with the ISPO Munich Consumer Festival look like?
Andi Spies: As the oldest German surf magazine, we have been working with the best photographers, filmmakers, surfers and surf destinations for a long time. We want to enrich the new ISPO Munich Consumer Festival with our know-how and contribute to an attractive and entertaining festival program. For example, we will show two German surf films on the big screen on one day. For this purpose, the protagonists will also be on site to present their films.
BLUE Magazine is also bringing its own booth to ISPO Munich 2022 with the SURF LOUNGE. What can surf fans and interested parties look forward to there?
The BLUE Magazine team will be in charge of the SURF LOUNGE in Hall B6 during the Consumer Festival. Here we will present a photo and art gallery as well as selected travel offers for surfers. If you are looking for inspiration for your summer holiday, this is the place to be. In addition, the Surf Lounge is a casual place to relax from the festival hustle and bustle, flip through the BLUE magazines of the past years and exchange ideas with the creators of the magazine over a cool drink.
What ultimately led to the decision for a media cooperation with the ISPO Munich Consumer Festival?
Surfing is booming, the surf schools and camps are getting more and more crowded every year, and more and more people are interested in surf culture with all its facets. For us, the festival therefore offers a stage to gain new readers and fans for our high-quality Coffee Table Magazine. Because: Print Matters! With our yearbook, we offer a counterbalance to the fast-moving digital content on the web and on social media. More and more people appreciate that.
The ISPO Munich Consumer Festival brings together brands, media and end consumers for the first time at ISPO Munich. How could the surf and travel scene benefit from this new perspective of consumer experts?
For all players in the surf business, every opportunity where I as a brand can get in direct contact with the customer is valuable. For us as magazine makers, feedback from both readers and brand partners is enormously important. At an event like the ISPO Munich Consumer Festival, both will be possible and an exchange is certainly positive for everyone involved.
After the virtual ISPO Munich Online 2021, the industry will finally meet again on site at ISPO Munich 2022. How important is personal contact, especially for the sports and outdoor industry?
I think personal contact is enormously important. Even if you can discuss a lot of things over the phone or in video calls, nothing beats a real meeting. For me, this is especially true when it comes to making new contacts. But I also like to meet long-time business partners in real life at least once a year.
Which meetings are you looking forward to the most?
The many familiar faces from the surf and snowboard scene and their personal stories. It will be exciting to hear from one or the other how they found their flow on a beach or a mountain somewhere, despite the limited travel possibilities of the last year.