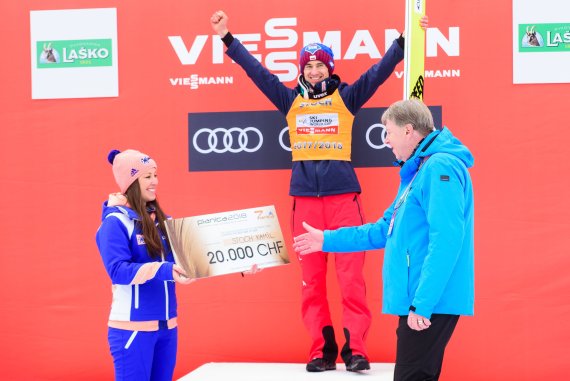 Ski jumping is one of the most popular winter sports in Europe. The 2018 "Neujahrsspringen" (New Year Jump) event in Garmisch-Partenkirchen was watched on television by 6.69 million people in Germany alone.
But, in this country at least, the sport is far from its turn-of-the-millennium golden age, of huge sponsorship deals with Milka or Audi and a television audience of 15-20 million people per jump. And when it comes to prize money, ski jumpers are simply left behind by the superstars of other winter sports, despite having significantly more competitions during World Cup winters.
"We certainly can't complain, even though there are winter sports where you get considerably more," said German ski jumper Severin Freund in an interview with ISPO.com.
As with the previous season, the International Ski Federation (FIS) allocated roughly €62,700 per singles competition in the Top 30 for the 2018/19 World Cup. The winner receives around €8,700, whereas thirtieth place gets about €87. The figure for team and mixed competitions is €61,000, which is split between the four members of each of the three best teams.
Being introduced in this season is prize money for coming top in qualifying. This is worth around €2,600, but for ski flying this increases to roughly €4,400.
| Jumper | 2017/18 FIS prize money |
| --- | --- |
| 1. Kamil Stoch (POL) | €272,000 |
| 2. Daniel Andre Tande (NOR) | €130,000 |
| 3. Johann Andre Forfang (NOR) | €119,200 |
| 4. Richard Freitag (GER) | €119,000 |
| 5. Robert Johansson (NOR) | €117,200 |
Conspicuous: Ironically, the iconic Four Hills Tournament, which for many is the high point of the season, is noticeably stingy when it comes to prize money, despite its massive TV presence. With roughly €17,500 for the winner – in addition to the small bonuses and prizes dotted throughout the World Cup – the tournament seems anything but lucrative when compared to other major sporting events.
In comparison: When Sven Hannawald celebrated his historic 2001/2 grand slam victory at the Four Hills Tournament, he received a total €330,000. Alongside the prize money, the German Ski Association (DSV) would also provide its own cash bonuses, although this is no longer the case today.
"It's simply ridiculous that the tournament pays significantly less money than cross-country skiing at the Tour de Ski, where the winner receives 55,000 francs (€48,000)", says a frustrated Martin Schmitt, a former ski jumper.
When it comes to the ski jumping calendar, the tournament has been left behind, at least financially, by other events. The Raw Air Tournament in Norway has been on the up since 2017. Over the course of ten days, various ski jumpers and flyers compete on four slopes for an overall prize of €100,000. The overall winner receives €30,000, almost double the prize money on offer at the Four Hills Tournament. Even third place comes away with winnings in the amount of €10,000. 
2019 will see the first women's competitions take place at the Raw Air Tournament. However, they can unfortunately only fantasize about the prize money for which the men compete. Because, in contrast to other winter sports like alpine skiing or biathlon, gender equality does not yet have a place in ski jumping.
Instead of the men's €62,700, only €17,400 is allocated to the women. Of that, the winner is awarded €2,600, in other words the same as the man who comes top in qualifying. Ski jumping is still far from equality.
In the winter of 2017/18, Poland's Kamil Stoch discovered just how much money a male ski jumper can make. He did this by winning not just the overall World Cup, but also the Four Hills and Raw Air Tournaments, coming away with a total of €272,000 in prize money.
But even this pales in comparison to how much he received from his sponsors. In his homeland, the thirty-one year old Pole is nothing short of a superstar. According to a study conducted by the press service Monitoring Mediow, Stoch's media presence in February 2017 eclipsed even that of star soccer player Robert Lewandowski. Not content with just this, Stoch's estimated €16 million advertising value and overall media reach in Poland both top the striker's equivalent figures.
Including contracts with sponsors and suppliers, Stoch's annual income following his Grand Slam victory easily exceeds a million euros. On top of this, the Pole even has his own clothing line: Kamiland. With sales from his website https://kamiland.pl/ , the popular skier earns even more.
As such, he is a beneficiary of the gigantic boom in ski jumping which the four-time World Cup winner Adam Malysz started in Poland in the 2000s. This surge in popularity brought not only new infrastructure projects such as the new ski jump in Wisla, but also increased interest in ski jumping among Polish companies. For example, the Polish sportswear brand 4F became a presenting sponsor of the Four Hills Tournament this year. Before them, it was Audi. A change of symbolic character.
Just as Polish firms are jumping on board, Western companies have been turning their backs on the sport for the last few years. Large equipment suppliers, such as ski producers like Atomic or Rossignol, have backed out.
And the times of large lump sums being included in suppliers' contracts with associations and jumpers are over. In the meantime, companies have been making use of bonuses awarded for success, as Martin Schmitt confirmed in an interview with ISPO.
The German ski jumpers are far removed from Stoch's world. Richard Freitag, Germany's most successful skier in the last World Cup season, came away with €119,000 - his best haul yet. And then there was the sponsorship money from his partnerships with Sparkasse, the hazelnut spread manufacturer Nuclossi, and head sponsor Viessman. He ultimately emerged from the winter with a six-figure sum.
Freitag, like most German ski jumpers, is also a soldier. As a member of the German army, he trains in a so-called sports promotion group and receives a regular army wage. The ski jumper also receives support from various associations and foundations. Over the last few years , the Deutsche Sporthilfe foundation provided the winter athletes who currently make up the German 2018 Olympic squad with an average of €630 per month.
Financially speaking, drops in form or injuries can represent a brutal wake-up call for ski jumpers. "Of course he noticed a difference, because he didn't get any performance bonuses. And his planned contract with a new ski sponsor fell through because of his injury," explained Martin Schmitt about ski jumper Severin Freund, who missed the entire 2017/18 season due to a severe knee injury.
Freund, who will make his comeback to the World Cup at the 2018/19 Four Hills Tournament, did not receive a single cent of prize money last season. The jumpers have to find their own health insurance, as the event organizers are not held liable for injuries. Despite this, his two primary sponsors, Manner and IKK Classic, remained loyal to him.