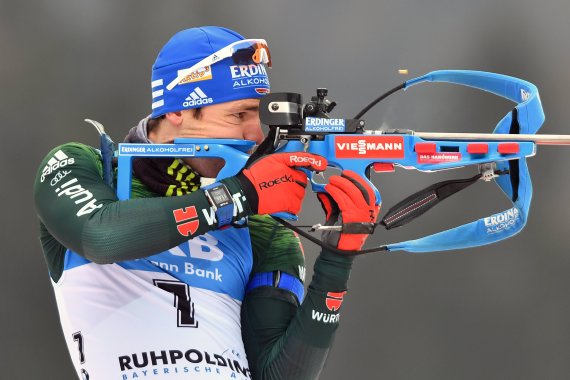 The starting signal for the packed 2021/22 biathlon season was given in Östersund, Sweden, on 27 November. The biathlon elite was competing for the World Cup until 20 March. The 2022 Olympic Games in Beijing were another highlight of the saison. Medal decisions were on the agenda there in eleven biathlon competitions.
The champions: Quentin Fillon Maillet and Marte Olsbu Röiseland
In the men's biathlon, Quentin Fillon Maillet broke the domination of the Norwegians and won the overall World Cup. Fillon Maillet won a total of eight World Cup races. Second in the overall World Cup was the Norwegian Sturla Holm Laegreid. Sweden's Sebastian Samuelsson was third.
In the women's race, Norway's Marte Olsbu Röiseland, biathlon winner, was crowned overall World Cup winner. She won ahead of Elvira Öberg (Sweden) and Austria's Lisa Hauser.
Men's Biathlon World Cup: The winners 2021/22
| Date | Time | Venue | Discipline | Winner |
| --- | --- | --- | --- | --- |
| 27.11.2021 | 15:00 | Östersund (Sweden) | 20 km individual competition | Sturla Holm Laegrid |
| 28.11.2021 | 13:45 | Östersund (Sweden) | 10 km sprint | Sebastian Samuelsson |
| 02.12.2021 | 16:30 | Östersund (Sweden) | 10 km Sprint | Sebastian Samuelsson |
| 04.12.2021 | 15:10 | Östersund (Sweden) | 4x7,5 km relay | Norway |
| 05.12.2021 | 15:15 | Östersund (Sweden) | 12,5 km pursuit | Vetle Sjastad Christiansen |
| 10.12.2021 | 11:25 | Hochfilzen (Austria) | 10 km sprint | Johannes Kühn |
| 11.12.2021 | 12:15 | Hochfilzen (Austria) | 12,5 km pursuit | Quentin Fillon Maillet |
| 12.12.2021 | 11:45 | Hochfilzen (Austria) | 4x7,5 km relay | Norway |
| 17.12.2021 | 14:15 | Le Grand-Bornand (France) | 10 km Sprint | Johannes Thingnes Bö |
| 18.12.2021 | 15:00 | Le Grand-Bornand (France) | 12,5 km pursuit | Quentin Fillon Maillet |
| 19.12.2021 | 14:45 | Le Grand-Bornand (France) | 15 km mass start | Emilien Jacquelin |
| 06.01.2022 | 14:15 | Oberhof (Germany) | 10 km Sprint | Alexander Logvinov |
| 09.01.2022 | 12:30 | Oberhof (Germany) | 12,5 km Pursuit | Quentin Fillon Maillet |
| 13.01.2022 | 14:30 | Ruhpolding (Germany) | 10 km Sprint | Quentin Fillon Maillet |
| 15.01.2022 | 14:30 | Ruhpolding (Germany) | 4x7,5 km relay | Russia |
| 16.01.2022 | 14:45 | Ruhpolding (Germany) | 12,5 km pursuit | Quentin Fillon Maillet |
| 20.01.2022 | 14:15 | Antholz-Anterselva (Italy) | 20 km individual competition | Anton Babikov |
| 22.01.2022 | 12:50 | Antholz-Anterselva (Italy) | 15 km mass start | Benedikt Doll |
| 23.01.2022 | 12:15 | Antholz-Anterselva (Italy) | 4x7,5 km relay | Norway |
| 04.03.2022 | 14:30 | Kontiolahti (Finland) | 4x7,5 km relay | Norway |
| 05.03.2022 | 15:30 | Kontiolahti (Finland) | 10 km Sprint | Quentin Fillon Maillet |
| 06.03.2022 | 14:40 | Kontiolahti (Finland) | 12,5 km pursuit | Quentin Fillon Maillet |
| 10.03.2022 | 14:30 | Otepää (Estonia) | 10 km sprint | Quentin Fillon Maillet |
| 12.03.2022 | 13:00 | Otepää (Estonia) | 15 km mass start | Vetle Sjastad Christiansen |
| 13.03.2022 | 12:30 | Otepää (Estonia) | 4x7,5 km mixed relay | Norway |
| 13.03.2022 | 15:15 | Otepää (Estonia) | Single Mixed Relay | Norway |
| 18.03.2022 | 15:45 | Oslo Holmenkollen (Norway) | 10 km Sprint | Sturla Holm Laegreid |
| 19.03.2022 | 15:00 | Oslo Holmenkollen (Norway) | 12,5 km pursuit | Erik Lesser |
| 20.03.2022 | 15:00 | Oslo Holmenkollen (Norway) | 15 km mass start | Sivert Guttorm Bakken |
Biathlon World Cup: women

-winners 2021/22
| Date | Time | Venue | Discipline | Winner |
| --- | --- | --- | --- | --- |
| 27.11.2021 | 11:45 | Östersund (Sweden) | 15 km individual competition | Marketa Davidova |
| 28.11.2021 | 11:00 | Östersund (Sweden) | 7,5 km sprint | Hanna Öberg |
| 02.12.2021 | 13:45 | Östersund (Sweden) | 7,5 km sprint | Lisa Hauser |
| 04.12.2021 | 13:00 | Östersund (Sweden) | 10 km pursuit | Marte Olsbu Röiseland |
| 05.12.2021 | 12:35 | Östersund (Sweden) | 4x6 km relay | France |
| 10.12.2021 | 14:15 | Hochfilzen (Austria) | 7,5 km sprint | Hanna Sola |
| 11.12.2021 | 14:15 | Hochfilzen (Austria) | 4x6 km relay | Sweden |
| 12.12.2021 | 14:30 | Hochfilzen (Austria) | 10 km pursuit | Marte Olsbu Röiseland |
| 16.12.2021 | 14:15 | Le Grand-Bornand (France) | 7,5 km sprint | Marte Olsbu Röiseland |
| 18.12.2021 | 13:00 | Le Grand-Bornand (France) | 10 km pursuit | Elvira Öberg |
| 19.12.2021 | 14:45 | Le Grand-Bornand (France) | 12,5 km mass start | Elvira Öberg |
| 07.01.2022 | 14:15 | Oberhof (Germany) | 7,5 km sprint | Marte Olsbu Röiseland |
| 09.01.2022 | 14:45 | Oberhof (Germany) | 10 km Pursuit | Marte Olsbu Röiseland |
| 12.01.2022 | 14:30 | Ruhpolding (Germany) | 7,5 km Sprint | Elvira Öberg |
| 14.01.2022 | 14:30 | Ruhpolding (Germany) | 4x6 km relay | France |
| 16.01.2022 | 12:45 | Ruhpolding (Germany) | 10 km pursuit | Marte Olsbu Röiseland |
| 21.01.2022 | 14:15 | Antholz-Anterselva (Italy) | 15 km individual competition | Justine Braisaz-Bouchet |
| 22.01.2022 | 15:00 | Antholz-Anterselva (Italy) | 4x6 km relay | Norway |
| 23.01.2022 | 15:15 | Antholz-Anterselva (Italy) | 12,5 km mass start | Dorothea Wierer |
| 03.03.2022 | 14:30 | Kontiolahti (Finland) | 4x6 km relay | Norway |
| 05.03.2022 | 12:45 | Kontiolahti (Finland) | 7,5 km Sprint | Denise Herrmann |
| 06.03.2022 | 12:45 | Kontiolahti (Finland) | 10 km pursuit | Tiril Eckhoff |
| 11.03.2022 | 14:30 | Otepää (Estonia) | 7,5 km sprint | Julia Simon |
| 12.03.2022 | 15:15 | Otepää (Estonia) | 12,5 km mass start | Elvira Öberg |
| 13.03.2022 | 12:30 | Otepää (Estonia) | 4x7,5 km mixed relay | Norway |
| 13.03.2022 | 15:15 | Otepää (Estonia) | Single Mixed Relay | Norway |
| 17.03.2022 | 15:45 | Oslo Holmenkollen (Norway) | 7,5 km Sprint | Tiril Eckhoff |
| 19.03.2022 | 12:50 | Oslo Holmenkollen (Norway) | 10 km pursuit | Tiril Eckhoff |
| 20.03.2022 | 12:50 | Oslo Holmenkollen (Norway) | 12,5 km mass start | Justine Braisaz-Bouchet |
Mixed relays: The winners so far
| Date | Time | Venue | Discipline | Winner |
| --- | --- | --- | --- | --- |
| 08.01.2022 | 12:15 | Oberhof (Germany) | 4x7,5 km mixed relay | Norway |
| 08.01.2022 | 14:45 | Oberhof (Germany) | Single Mixed Relay | Russia |
Biathlon at the 2022 Olympic Winter Games
| | | | | |
| --- | --- | --- | --- | --- |
| Date | Time (CET) | Discipline | Men/Women | Winner |
| 05.02.2022 | 10:00 | 4x6 km Mixed Relay | Mixed | Norway |
| 07.02.2022 | 10:00 | 15 km individual competition | Women | Denise Herrmann |
| 08.02.2022 | 09:30 | 20 km individual competition | Men | Quentin Fillon Maillet |
| 11.02.2022 | 10:00 | 7,5 km sprint | Women | Marte Olsbu Röiseland |
| 12.02.2022 | 10:00 | 10 km Sprint | Men | Johannes Thingnes Bö |
| 13.02.2022 | 10:00 | 10 km pursuit | Women | Marte Olsbu Röiseland |
| 13.02.2022 | 11:45 | 12,5 km pursuit | Men | Quentin Fillon Maillet |
| 15.02.2022 | 10:00 | 4x7,5 km relay | Men | Norway |
| 16.02.2022 | 08:45 | 4x6 km relay | Women | Sweden |
| 18.02.2022 | 10:00 | 15 km mass start | Men | Johannes Thingnes Bö |
| 19.02.2022 | 10:00 | 12,5 km mass start | Women | Justine Braisaz-Bouchet |