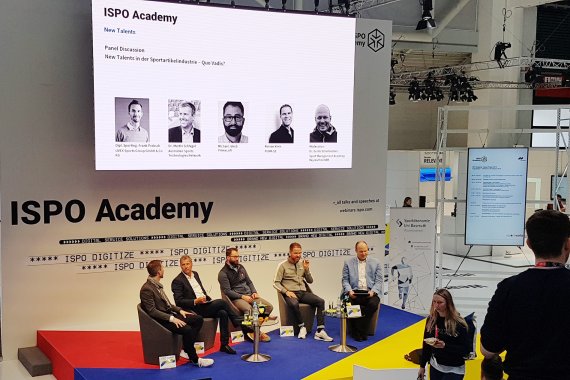 The large grandstand on the Academy stage of ISPO Munich was filled to capacity during the panel discussion on career opportunities in the sports industry. After a tour of the world's largest trade fair for the sports industry, a large group of trainees listened to the presentations of professionals. The audience included wholesale and retail trainees, sports economics students from Bayreuth and marketing students from the FH Wiener Neustadt in Austria.
High-ranking experts such as Roman Klein, Senior Head of Human Resources at Puma, reported on the expectations of newcomers to the sports industry. Most jobs are very popular. In order to compete with other applicants, the following skills are required:
In times of globalization and digitalization, applicants are required above all to have network skills. Loners or individualists are out. "We need people who are willing to cooperate and share their knowledge in order to bring the company forward," said Puma personnel manager Klein. Nowadays, many companies work together in multinational groups and also get external help for new products, for example in the field of digitalization.
"Network competence is in demand here. We have a lot of partners to deal with these days. For example, we are not sensor technicians or IT professionals - but employees need to know where to find them and how to achieve a win-win situation for everyone," explained Frank Proksch, Director of Research and Development at Uvex. Understanding complex processes is also important. "We want to get from the idea to the product faster. So we need young people who have the necessary understanding of the process," said Klein.
Which brings us to the subject of practical experience. A network and an understanding of production processes are best acquired during internships. "At least six months or even better significantly longer - one year," Klein believes. The HR man from Puma also urges universities with sports economics degree programs such as the one in Bayreuth to further increase the proportion of practical work. Frank Proksch of Uvex does not hire anyone "who has not completed at least four months of practical training".
This is the only way to determine how independently someone works. Another advantage for many jobs is a sports background, for example from your own sports career. If you don't have it, you should gain experience as a "volunteer or employee at major sporting events" such as the Olympic Games, World Championships or World Cups, recommended Dr. Martin Schlegel from the Australian Sports Technologies Network. A Bachelor's or Master's degree is still a great advantage, at least in Germany, but practical experience with the same education is often the decisive component. Puma is mainly looking for employees with a background in business or sports economics, Uvex is looking for engineers.
Employees from 60 nations work at Puma's headquarters in Herzogenaurach with an average age of only 33. "It's relatively easy for us to find talent worldwide. Our company language is English - so you can also work in Herzogenaurach without speaking a word of German," reported Pumas HR boss Klein. For a smooth cooperation, a certain cordiality and tolerance as well as language skills and intercultural competence are essential.
The best way to promote them is to spend time abroad. "A semester abroad is always good and if it is possible, you should have stayed in Asia, for example in China or Taiwan. This shows that it was possible to survive a year abroad alone," said Uvex-Mann Proksch. Klein: "It's perfect if you speak an Asian language in addition to English."
No matter whether the topic is sustainability or smart products - there are always new trends and the boundaries between the sports industry and other industries are blurring. "Change is the new normality," said Puma Man Klein. Or as Martin Schlegel, who works in Australia, put it: "Extreme becomes mainstream. What we see as sport will change completely." Accordingly, the sports industry needs more and more border crossers and side entrants.
Just like Puma's personnel manager Klein himself, who used to be a policeman and banker. "For example, we need people who can transfer the NASA model of isolation in the Space Shuttle to the subject of clothing. You have to be able to think 'out of the box'," said Michael Jakob, Vice President of Business Development at Primaloft. Digitalization and products such as wearables are also offering more and more opportunities to employees outside the sports industry. Since trends are changing faster and faster, continuous advanced training is also a must for experienced employees in the sports industry.