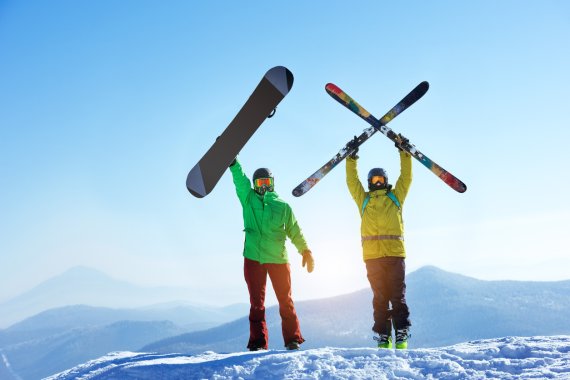 Here, our practical experts Andy Gugenheimer (head of sportyjob.com and cooperation partner of the ISPO Job Market) and personnel consultant Gunther Schnatmann explain the prerequisites that winter sports-loving applicants need to get one of the coveted top jobs designing boards, cool jackets, glasses, or backpacks as industry designers and product developers.
It sounds mundane, but in winter sports it has a deeper background: Enthusiasm for the sport is the most important prerequisite. A product developer or designer for this sports segment should themselves be an enthusiastic skier, boarder, cross-country skier, or ski tourer. This becomes clear every year, starting no later than mid-April. You have to have winter on your mind, even when it's 86 degrees outside.
"If you carry that longing for powder snow or a really cool halfpipe all year round, you can always put yourself in the shoes of the target group and empathize with their needs – a very important attitude," knows expert Andy Gugenheimer. This is aggravated by the fact that not all manufacturers have locations in Alpine regions.
For example, if you work as a digital designer for Alpine sports, you can also have your office in London. But these global manufacturers also make getting excited about winter sports anywhere, at any time of the year a requirement for their job postings. Meeting these requirements is already a very clear advantage.
Design and product development are dream careers, that much is clear. The path there is diverse, not so simply regulated as with marketing people, who need a business administration background. However, relevant training is still a must here, too. This starts at academies, for fashion design, for instance. These institutions usually test artistic and creative talent in their entrance exams.
This training already teaches students how to be creative even under pressure. Say, scrapping a third draft and making an even better fourth draft, with fresh, new creativity. Programs in design at art and technical colleges offer better career and salary prospects. Recruitment expert Gunther Schnatmann advises: "If you want to concentrate on winter sports later, you should either strive for the especially creative art programs so you can draft cool board designs, or pick the fashion route for clothing and accessories, which is offered at several private technical colleges nowadays."
Applicants looking at listings for design jobs in winter sports will find creative skills and sports enthusiasm, as described earlier, among the requirements. However, they're followed by a huge list of other skills having to do with the "business," without which no applicant will be considered. It starts simply with the requirement of keeping an eye on trends, competitors, and important trade fairs - knowing the market, that is. What's then very important, however, is the skill of not losing sight of the "doable." A corresponding job listing for ski goggles and helmet manufacturer Uvex describes it thusly: "Drafting graphics in consideration of technical feasibility."
The post by a subsidiary of the winter sports specialist Scott goes even further: "You are responsible for production planning suppliers." That means: I also have to tailor my newly developed product to what the fabrics for my partners in Asia or other corners of the world can even do! Correspondingly, these job offers also require "confident negotiation skills." Preferably in English.
And to make sure the designer or developer doesn't just pursue their own creative ideas in the "ivory tower," one final prerequisite is that they know and understand customers' needs exactly. Thus, market studies need to be analyzed and work needs to be able to be done in accordance with customer demands. Outdoor manufacturer EASTPAK's current search for a product developer emphasizes that applicants can ensure that newly drafted products "meet market requirements and satisfy customers in terms of quality."
Here, sports business expert Gugenheimer's advice: "Product development and product management do work hand in hand in practice. Developers just need to understand the requirements of the product managers, who are responsible for the successful placement of the sporting goods on the market and need to ensure their sales. That is why a detour into product management – say, in internships or through additional training – is the best path for future designers and developers to acquire comprehensive expertise, which is a huge boost to their career chances!"
Thus, design and winter sports belong very closely together. If you're athletically active, have an enthusiasm for cool outfits and designs, and have a "nose" for trends and what's doable, you'll have optimal career opportunities in this industry!