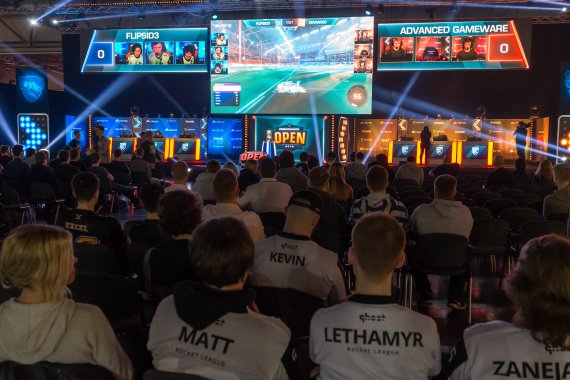 Esports are becoming increasingly prominent in Germany. After the recognition of Esports as a sport in the coalition contract of the German government, the German Olympic Sports Confederation (GOSC) is now also engaging with those who practise digital sports in a working group. As the largest growth market in the sports sector, Esports are challenging traditional sport.
With its motto "Esports on the way to the top", the fourth edition of ISPO Academy Connect also deals with the topic. On 26th April, the event series will be hosted by Campus M21 in Munich. Five experts will be present, and will offer assessments on the development of the sector with specialist lectures.
ISPO Academy Connect aims to approach the topic from various perspectives. Accordingly, Niklas Timmermann, as a speaker at Campus M21, is the Vice President of the ESBD eSport association, the German interest group for the promotion of Esports.
Tim Reichert, Chief Gaming Officer for Bundesliga football club FC Schalke 04, will also be speaking. Reichert is a former footballer: he has an intimate knowledge of both "traditional" and digital sport, and can thus enlighten us on how football clubs are already engaging with the field of Esports. In May 2016, Schalke became one of the first football clubs to establish an Esports Department. Schalke are thus taking on a pioneering role in Germany. Michael Berchtold, Chief Executive of the consulting firm eSportsReputation, will speak about games - and how they are marketed.
On the other hand, Stefan Zant, from ProSiebenSat.1 Sports GmbH, who will be broadcasting the event on ProSieben Maxx and ran.de, knows how to report from an Esport event. Caroline Pilz, Leader of Product Placement and Fashion-Sponsoring for Mercedes-Benz, will give an overview from a sponsor's point of view.
Speakers will consider questions such as: can well-known sports events be overtaken by gripping Esports tournaments and plenty of emotion in the future? What idiosyncrasies, opportunities and perspectives do Esports offer? What role does the media play? How will the market be tackled?
This should also yield tips for the GOSC. It is currently working with 20 experts from sports associations, the games industry, education, law, science and youth orgnanisations on recommendations for dealing with Esports for organised sport in Germany.
"We have heard various perspectives and opposing viewpoints from the specialists. In follow-up meetings, we want to interact with sports associations and gamers to determine points of contact and divergences, and to clarify mutual expectations", says Veronika Rücker, Chairperson of the GOSC.