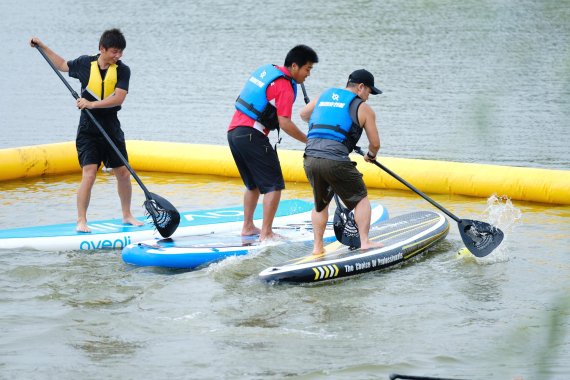 Stand-up paddling tends to be a leisurely affair. However, with SUP water polo, those wishing to spice things up with a little competition won't be disappointed. Those taking part in the ISPO Open Demo Day were given the opportunity to try their hand at the polo variant, still relatively new to China, in the run up to ISPO SHANGHAI 2017 .
The rules are simple: Three vs three, stay on your board...and that's it really. Anything (else) goes – except using your paddle to push your opponents off their boards.
A game is split into two sessions, each 15 minutes long, and paddles have the joint function of propulsion and moving the plastic ball toward the opponents' goal – just like lacrosse.

This transforms what is normally a relaxed sport into a tough competition that requires strength and good balance.
Record number of exhibitors at the ISPO Open Demo Day
New to China, the sport was very popular at the ISPO Open Demo Day, which has expanded considerably since last year with 26 exhibitors and approximately 350 participants. The Direction Kayak Waterclub demonstration joined SUP yoga as one of the highlights of the event.
"SUP water polo is best enjoyed in a pool, but a lake works too," Zhou Jian, COO at Direction Kayak, explains. The club offers kayaking and stand-up paddling in Shanghai, its membership having increased to 300 plus 10 permanent employees in three years.
What's the most difficult element of SUP water polo? "The turn is definitely the most advanced move. Getting yourself into a stable position through good leg- and footwork is very important," says Zhou, who neither lost a game nor landed in the water once during the event – though the same could not be said of his inexperienced opponents.
Symposium for running shoes with Hoka One and Altra
Those who prefer having solid ground under their feet were in good company at the ISPO Open Demo Day's running symposium.

Shoe companies such as Hoka One One, Altra and the sole experts at Vibram presented the latest developments from the world of running shoes to participants, ending with a hands-on testing session in the ISPO Open Demo Day grounds. 
Zhao Fan, distributor for the US company Altra in China, explains why such events are so important for the shoe industry: "The only way for runners to buy the right shoes is to try them on. Nobody is going to find what they need if they can't test the shoes properly. You just can't do that via a smartphone." 
Altra wants to expand presence
Zhao (and his company Tulipsport) has been representing Altra in China since 2016 and already has 20 ambassadors plus Chinese ultra-marathon runner Yun Yanqiao lined up to put the US brand in the spotlight in China.

Zhao already has a few ideas for next year's ISPO Open Demo Day, with which he hopes to make the event even more attractive for the audience from Altra's perspective.
"For 2018, it would be great to ask along two of our professional runners to simulate a mountain run on a treadmill and eventually compete against ISPO Open Demo Day participants. We could also broadcast the event over a livestream in order to reach out to even more people."
22 percent more exhibitors Find out everything there is to know about the opening press conference at ISPO SHANGHAI 2017.