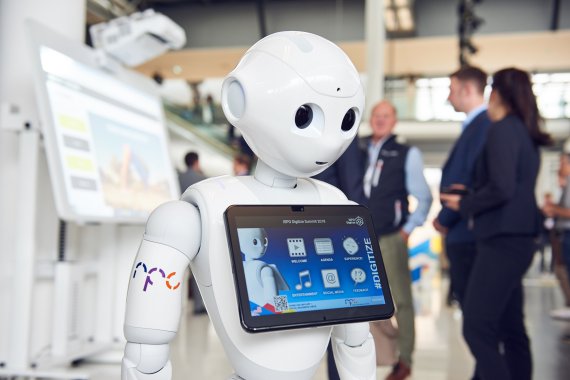 The white robot with brightly colored eyes welcomes customers at the shop entrance. Then he reads their customer card, asks what they'd like, offers them suitable products on his display, makes the payment immediately after the selection, and organizes the delivery home.
This could also be the case at stationary sports retailers in the future. At least that's what Nicolas Boudot, who gave an impressive demonstration of the robot Pepper's abilities on the ISPO Digitize Summit stage, thinks.
"60 percent of customers still prefer to make their purchases in brick and mortar stores. And Pepper helps provide a unique customer experience," touts the man from Softbank Robotics.
Actually, Pepper is also the favorite in the Entertainment area of the ISPO Digitize Summit in Munich. He responds when people talk to him, takes selfies with robots, and even dances on command. One neologism for this is 'retailtainment,' i.e. entertainment when shopping.
The shopping experience is becoming more and more important as a USP in the competition with online retail. Nescafe is already successfully using the computer in its stores in Japan as well as 800 customers in Europe. And naturally, Pepper is being especially well received among children – but they are known to influence many of the purchasing decisions of their adult companions.
Boudot noted that Pepper is sometimes treated even more openly than human employees. "You as a customer know that you're communicating with an object, not a salesperson you might not be able to shake. You know that you're in control." That is why the potential buyers are also prepared to disclose more information about themselves.
Pepper collects exactly this data and can then, for example, specify exactly the age of the customers or the most frequently expressed product wishes on request for a certain period of time. This is also clearly beneficial for stationary retail – just like the linking of all online and offline sales channels by a robot.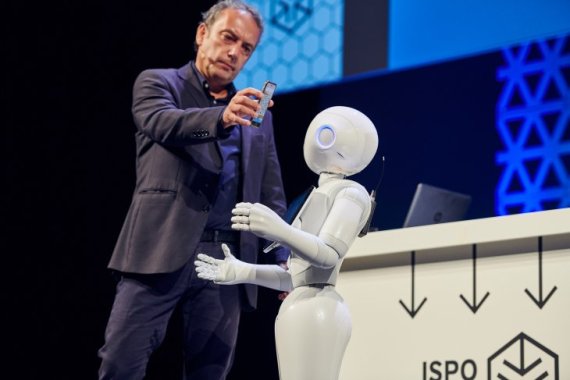 "Another one of Pepper's benefits is that you can present your own omnichannel strategy in your store," says Boudot. A robot that individually accompanies customers on their shopping journey between the online and offline worlds. Multilingual and customized, of course.
Boudot wants to emphasize that Pepper will by no means make people in the stationary business redundant: "The employees can focus more on qualitative, person-to-person interaction." The robot expert believes that, in a rapidly changing shopping world, sports retail must now also bring intelligent helpers like Pepper on board, "otherwise it'll be too late."
One further advantage: According to Boudot, the robots can withstand heavy workloads and come with a three-year guarantee. If a sensor or a metal joint does break down, a new Pepper will be delivered within 24 to 72 hours.
The technical specialists clad in white plastic can also kick – albeit rather awkwardly. Germany actually did become world champion at the RoboCup soccer championship. That made for some laughs in the audience during Pepper's performance at the ISPO Digitize Summit.....