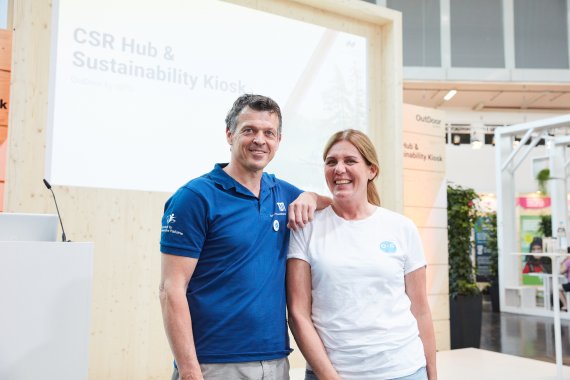 The journalist and mountaineer Petra Thaller was confronted with the diagnosis of breast cancer in January 2015. Out of this crisis, the strong woman developed the Outdoor Against Cancer project.Today, the organisation not only educates people, but also gives regular sports lessons and organises outdoor events for cancer patients. Thorsten Schulz, PhD in Sport Science, developed a special workshop for Outdoor Against Cancer trainers.
In an interview with ISPO.com at OutDoor by ISPO, Thaller and Schulz talk about how sport and exercise can help with illness.
ISPO.com: Ms. Thaller, how did you come up with the idea of Outdoor Against Cancer?
Petra Thaller: I was on a ski tour with a friend during my own chemotherapy. He said to me, "We could go skiing with other patients." At first I was a little undecided, but could not stop thinking about it. Of course, I hesitated because I was in chemotherapy myself. I had founded a company shortly before and invested a lot of money.
You think twice about whether you want to screw something on your leg. But it quickly became apparent that this thing is simply so important for Europe and ultimately also for the world. After the second chemo cycle, I knew that I wanted to do it. In 2017 I decided to close my company and do only Outdoor Against Cancer.
For patients or relatives it is simply important that they meet without this self-help character. They meet outside and just do sports together.
How did your cancer affect you?
Thaller: My personal situation was not a hurdle. That was just the way it was and you have to go through it. I've always said, 'Cancer is like pregnancy to me.' I asked at the beginning, 'How long does this shit take?' The answer was: 'About ten months, maybe a year.' I thought to myself: 'I have two children, that was 18 months of pregnancy, so I can do that.'
My family is always very worried that I work too much and take over too much (laughs). But my daughter's participating now, too. My family is passionate about the subject and supports me too.
Mr. Schulz, your lecture dealt with the topic "Movement against diseases". What is the connection here?
Dr. Thorsten Schulz: In order to explain this, I have to make an effort. Health is something that evolution has put in our cradle. We have genetic defense mechanisms that work against disease. Besides, we are poised to believe that movement is part of life. It starts with a sperm interacting with an egg. There are also countless scientific studies that prove that exercise is good for the body.
What are the concrete health benefits of exercise?
The cardiovascular system is strengthened by any kind of activity. Both through strength and endurance training. The physis becomes better overall, the whole body is strengthened.

The immune defense behavior becomes better. Every physical activity activates our immune system again. Only for a short time, but during this phase it is a little more active.

The third very important aspect is emotional improvement, an improved attitude towards life. This has something to do with hormones and the feeling that you've done something. Those who are emotionally better also feel physically better and vice versa.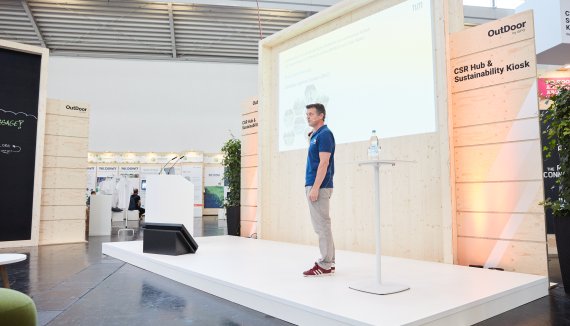 Is there something as "too much sport"?
That always depends on how well someone is already trained. Also of what the basic physical and mental constitution is like. If the mind is exposed to other stresses, it is often "too much" for the organism faster. Normally the body has alarm signals, which it sends out to make clear 'I regenerate'.
These signals can be a form of fatigue, lack of concentration, an increase in pulse rate or heart rate. There are a lot of objective and subjective parameters that you can really measure.
The answer to the question of "too much" is difficult. The question is rather, can the body still recognize the signals?
What do you mean by that?
Unfortunately, society often educates us in such a way that we no longer listen to physical signals because we no longer fully feel them. Actually, you get to know these signals from childhood, you walk out, you move, you feel sweating and you get to know your body.
However, many are protected by parents everywhere, so that one remains in any case always healthy. And that has exactly the opposite effect. More and more personal responsibility is taken away and this body's own feeling is then what an adult lacks in the end.
So that you can no longer say for yourself, "This is the end of it." If this were done correctly, then this "too much" would not happen at all, unless the organism is already damaged.
What are the next projects with Outdoor Against Cancer?
Thaller: We did the first "Nighthike" here in Munich. He was super successful. This is something that we want to launch in early November all over Germany and Austria and from 2020 in all other EU partner countries of Outdoor Against Cancer.
We also want to expand our network of trainers at the university TU Munich. Thorsten has developed a trainer program. Trainers who are already certified can continue their training so that they can play sports outside with cancer patients. We're trying to expand a large network of coaches. We also want to submit another application for funding to the EU.
We are now at the beginning and we want to underpin this so that it can continue. Because we want to work sustainably and for the long term. That's our mission.