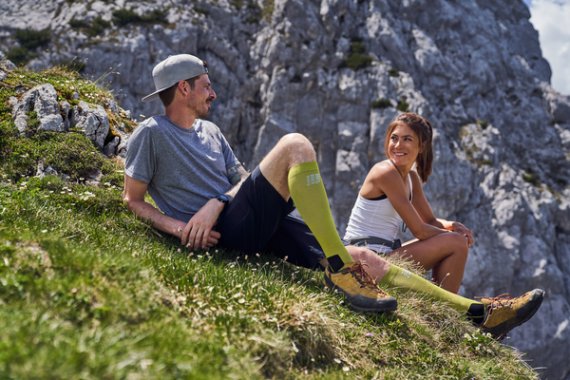 In many places, authorities are easing corona restrictions. Outdoor activities are increasingly not only possible alone, but also with friends and team colleagues.
But to prevent a second wave of the corona pandemic, social distancing is also indispensable when biking, running or on the trail. ISPO.com gives tips for safe outdoor fun in corona times.
The basic rule is: Keep a two-metre safety distance! Fortunately, this is in principle possible for many outdoor activities such as climbing, hiking or mountain biking. However, sportsmen and women should keep a rule of thumb: The faster you are on the move, the greater the safety distance must be.
In case of symptoms such as fever, dry cough, odour and taste disorders, conjunctivitis, mild diarrhoea, tiredness or shortness of breath, one thing is clear: Stay at home!
It is important to avoid grasping the face. Everyone should also drink exclusively from their own water bottle.
Hiking and mountain hiking are relatively unproblematic as individual sports. Nevertheless, the following safety rules are recommended:
Maintain the 2-metre safety distance

Prefer walking on wide paths, which allow you to pass by at a distance

Run on paths and trails in groups one behind the other so that other people can leave enough distance when passing or overtaking.

Only use your own backpack

Always keep pauses and rests at a distance and do not block any paths

Avoid main hiking destinations if possible in order to avoid large crowds
Virtual and yet outdoors - that this does not have to be a contradiction in terms is proven by many virtual Runs that are currently being organized, such as the Challenge Women Virtual Run powered by Garmin: The run will start on Saturday, July 4, 2020 with a joint workout, after which the women will have the opportunity to run or walk five kilometers up to and including Sunday at 10 a.m. The time window is set at 24 hours so that women all over the world can run in different time zones. The tracking is done via an app.
Because of the higher speed, it is important to keep a greater safety distance when cycling, whether on asphalt or off-road. The German Alpine Association DAV recommends a five-metre distance uphill and 20 metres downhill and on the flat when cycling behind.
You should only overtake if a minimum lateral distance of two metres can be maintained. Hands and gloves should be washed and disinfected before and after riding.
The German Alpine Association recommends the following rules of conduct to climbers and boulderers:
Do not climb side by side in routes, but offset

When choosing a route, make sure that there is at least two metres distance to the person next to you

Wash and disinfect hands after climbing

Do not touch the face

Keep as great a distance as possible from other rope teams

Pay attention to possible infection via the equipment: If possible, everyone should use their own equipment

Securing persons should wear gloves while securing
The DAV recommends the following rules of conduct for via ferrata walking:
Wear gloves that also cover the fingertips, so that they do not touch the face

Avoid tours close to your personal physical limits

Keep more than the usual recommended 2-anchor spacing

Only overtake on flat or walkable sections

Do not run into the front man

Do not walk or climb down in the opposite direction
Also on the club and boathouse grounds, especially when maintaining equipment, pay particular attention to the safety distance to others

Trips in crewed boats, such as rowing or canoeing, are to be avoided or reduced to the necessary minimum.

Disinfect grip surfaces on the oars / paddles after use
The German Canoeing Association (DKV) provides further rules, for example for the operation of the club, here.
The German Swimming Association (DSV) has published a detailed guide for club swimming, which can be viewed here. For hobby swimmers without club training the following rules of conduct are recommended:
Keep a distance of at least 3 metres in water or swimming pools

Physical contact should be avoided not only in the water, but also on the shore or pool edge