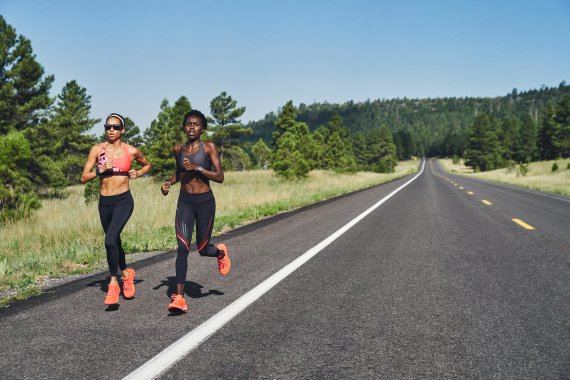 "Connected Fitness" has collected quite a lot of data over the past few years, reported the three Under-Armour representatives at the 7th Running Shoe Symposium in the ICM at the Munich Trade Fair Centre.
Gaylord, SVP Global Sport Category Management, says, "Running is the greatest sport in the world, I'm happy to be in this industry." The US sporting goods manufacturer now has 217 million members around the world (mainly still in its home market of North America) who use the company's platforms. Of course, this brings together some data.
The app "Map my Run" helps every runner individually, no matter if he is a recreational runner or an Olympian, Gaylord promises. "Running also brings new people to sports and we want to help those, too, not just the experienced ones." According to the mission motto all runners should be made better individually.
And thanks to a growing community, the analyses are also becoming increasingly differentiated - according to the old game: the more data the better the results. The app collects two million miles per day from all over the world.
Under Armour was founded in 1996 and for more than ten years, the company has been fully involved in the running shoe business. Since then, shoes and products have also changed massively. In several stages of development, the company has now designed at the Hovr running shoe, which is particularly useful for collecting data.
Because Hovr has a built-in chip in the sole. With its help, the run can be synchronized with the app or a Smartwatch. So far only after the race, but this year the tracking should be possible in real time. "This provides immediate feedback on cadence. As a runner, you can then adapt directly while running," says Carpenter.
With regard to data security and possible fears of users of disclosure, she replies: "This is regulated differently in each country. But in general, we don't sell data."