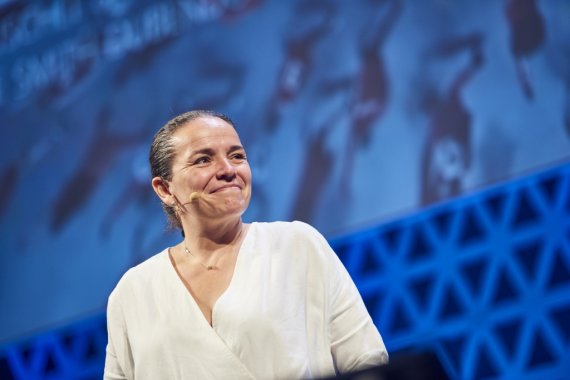 "We want to win", "the opportunities are enormous", "scale" - whoever hears Jacqueline Smith-Dubendorfer speak immediately senses that the manager is on a mission. Or as Adidas CEO Kasper Rorsted puts it: in "full execution mode".
As Vice President Digital Partner Commerce, Smith-Dubendorfer is jointly responsible for the digital offensive of the sports company from Herzogenaurach. While online sales in 2017 were still 1.6 billion euros, this figure is expected to rise to four billion by 2020. Whether via its own online shop, partners such as Zalando, via social media or its own app: Adidas wants to sell as many products as possible directly to end customers to increase the margin.
Some stationary retailers are dissatisfied when, for example, the new jersey of the German national football team is initially sold exclusively on Adidas' own platforms. During the ISPO Digitize Summit ISPO.com had the opportunity to ask Jacqueline Smith-Dubendorfer about the strategic partnerships of Adidas.
ISPO.com: Some of the smaller sports retailers fear that they will not be able to keep up with the pace of Adidas' digitisation. Can you understand these concerns?
Jacqueline Smith-Dubendorfer: Sure. Even the big retailers are afraid. Digital transformation is not only happening at Adidas. But I think it is important to look ahead. If trade is not looking at the dynamics of the market and does not meet the consumer's expectations – then it will struggle to evolve and will struggle to keep up.
The speed at which trade is changing is enormous.
Absolutely. That's why if you don't adapt as distributor or company, you will struggle. And the beauty of digitalization is that anybody can access. There are new entrances, new brands and new retailers. They start small and digitalization allows them to start small and scale fast.
Please look back for us. What was it like when you started creating new and exciting online shopping experiences for Adidas?
With our sales website we started back in 2010, we were only in seven markets at that time, we were small business. 50 to 60 million in sales. When we said that we invest in our own online business to learn and build these expertises, many people turned around and said: Why are you doing this? Well, I explain it today: You can't build something, you can't come and be credible when you haven't done it for yourself.
And you were absolutely right.
Over the sudden you see us now coming into 2018 and we're talking about a couple of billion euros in sales. So we can demonstrate: Yes, we're a big company, but it can still happen fast. That's the beauty of the digital world. If your a small retailer or a small brand, the opportunity is there, but you have to create the conditions to make it happen. And you have to know, where your space is.
What does Adidas do for retailers to take them on the train of digitalization?
We switched gears in our business. At the moment we focus on our existing big partners and want to accompany them even closer. We ensure, that they are successful and translating the offline to online share to win the consumer online. But through that, our expertises are open to all. Our goal is to help to be successful in the transition to online.
Does it already start when offering website integrations or how may I imagine this help from Adidas?
We have systems and tools today that allow us from a single place to distribute content. A single place where you can order and re-order products and replanish. What we're looking to is to continue to invest in the tools we've created for our own business. So we can continue to invest to make it even better.
Let's imagine a small sports shop rich in tradition, whose owner wants to be active in digitization. Can he contact Adidas and ask for support?
Of course there's not unlimited resource. So we have to make sure that the major players today make that transformation first. However, we also try to support small retailers. It is not just about us, it's about the whole sports industry. The most important thing is the consumer who needs know, where he can get the products.
So your advice to this retailer would be to network and build something together with others?
What is digitization about? It is about bringing people in a community together to share and to learn. If you're a big player, a start-up or a traditional retailer: Everyone bears responsibility for our sports industry, so we should be brave, come together, share our knowledge and actively shape the future. We're living in a world of change. The starting point is the mindset.
We heard a lot about the right attitude towards digitization at the ISPO Digitize Summit. How did you like this new format by ISPO?
I think it's a fantastic investment. The sports industry needs this. Bringing people together, creating ideas, having open discussions, challenging yourself, learning about tomorrow, making those decisions, going out and committing to do it – that's how our industry stays profitable and stays in a growth mode. We're one of few industries that are still growing. We're lucky. And we need to keep growing. And formats like the ISPO Digitize Summit create the right conditions to continue growing.