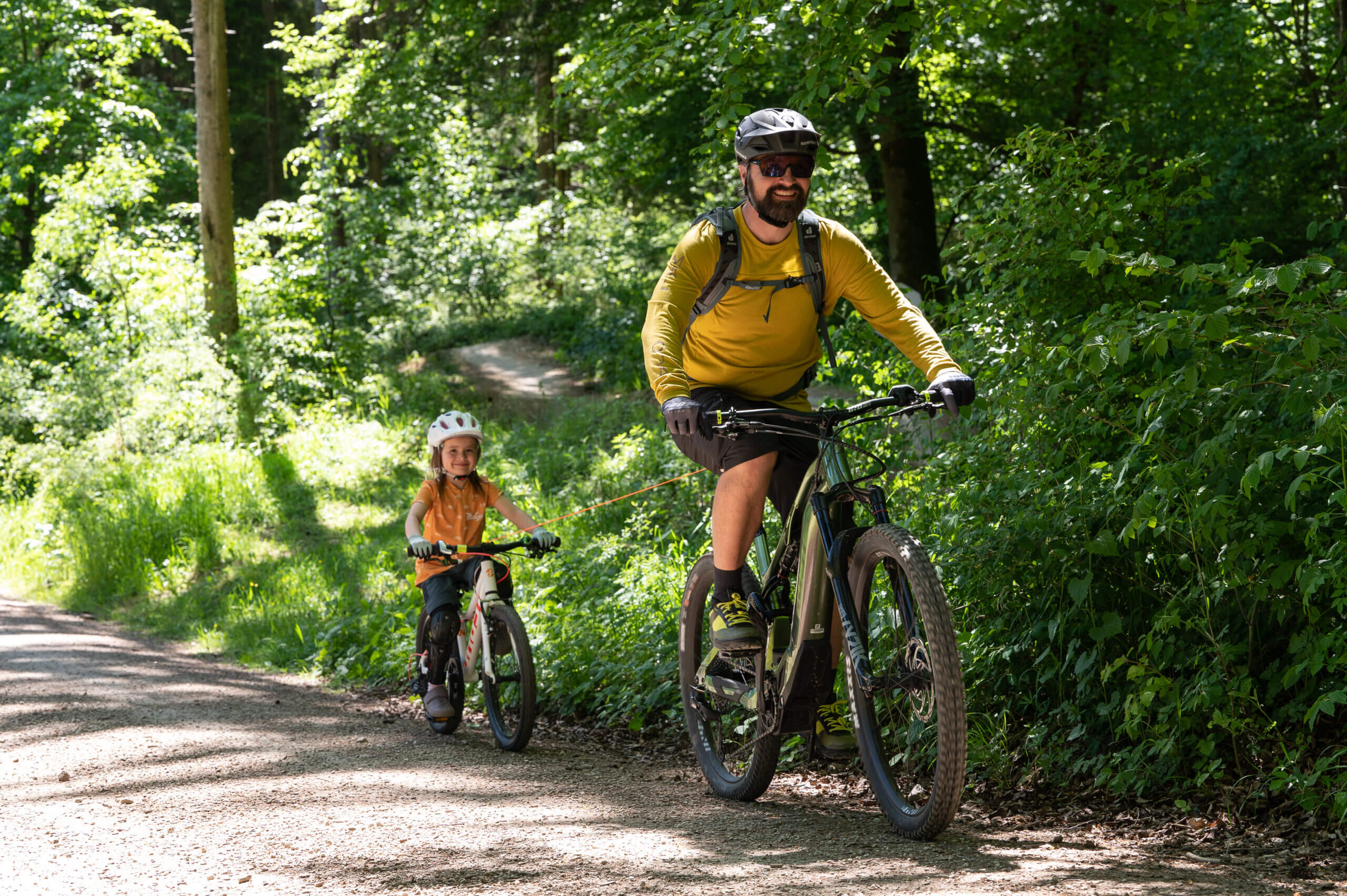 Almost invisible under the saddle, but immediately at hand when you need it: With the kommit® towing system, little cycling enthusiasts get new momentum when power leaves them. The leash of the practical helper is extended as needed and attached to the stem of the child's bike. In this way, parents and children can overcome strenuous climbs or the last few meters to the finish line together. If no more support is needed, you release the leash again, which retracts into its housing thanks to automatic pulley.
The entire kommit® bicycle towing system weighs just 138 grams and can be attached without tools - ideal for switching between two bikes in seconds. It is made of high-quality materials and defies dirt and rain. In addition, the bright orange of the leash and a reflective sticker on the housing provide extra safety. kommit® is compatible with any bicycle and does not impair the riding characteristics in any way. It is perfect for families who spend a lot of time in the saddle and want to master challenges as a team.
Bicycles are becoming increasingly popular for commuting. To help people on their way to work, Dutch company MIK has launched its "SIDE" concept. With this adapter, bike bags can be easily attached to the side of a luggage carrier like the MIK topdeck. However, the universal system is suitable for all types of carriers and can be mounted both front and rear without much effort.
The bag carriers withstand vibrations and remain firmly attached to the wheel during the ride. If necessary, they can be replaced quickly and easily. While MIKE SIDE has no direct sustainable benefit, it does offer the option of using reusable panniers instead of disposable bags. Overall, the concept offers an incentive to get around by bike with low emissions. "We are committed to providing high-quality products to make outdoor experiences even more enjoyable," says Sven Willems, senior account manager at MIK.
With the washing station for professional use, a B2B solution also won an ISPO Award. Where hobby bikers are happy to invest 30 minutes to rid their bikes of stubborn dirt, elsewhere there is often time pressure. In commercial bike rental or in the service workshop, all bikes must be impeccably clean and checked by the next day after being returned - an enormous effort. The fully automatic washing system from Wintersteiger now promises to save a considerable amount of time. And a gentle wash.
During the washing process, low pressure and gentle brush technology ensure that sensitive bike parts and even the electronics of e-bikes are not damaged. There is a separate cleaning unit for tires and rims. No water leaks out during the wash; instead, the dirty water is cleaned and reused - saving costs and resources. Since bikes slide into the unit on a transport carriage and it has four different wash programs, operation is extra easy.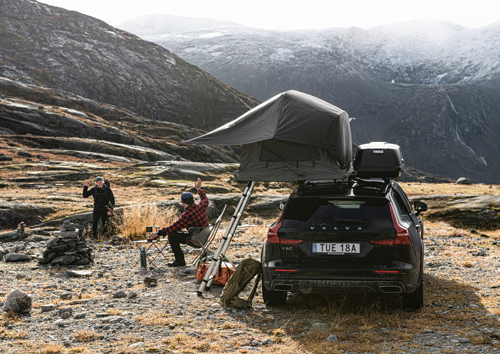 Those who transport their outdoor equipment on the roof of their car often have to decide: Roof tent or roof rack? Both together work in very few cases. Not so with the Thule Tepui Foothill, which easily shares the valuable space above the passengers' heads with their sports equipment. The mobile accommodation takes up only half of the car roof for itself, leaving the other half as storage space for bikes, kayaks or luggage.
Integrated mounting rails help to secure the Tepui Foothill. The tent can be folded compactly and is only 61 centimeters wide in this state, about half the size of most other roof tents. Pitching is easy, even for just one person, thanks to a convenient telescopic pole. The tent has room for two adults and is made of high quality materials, so it can become a faithful companion for camping and on and adventure trips for a long time.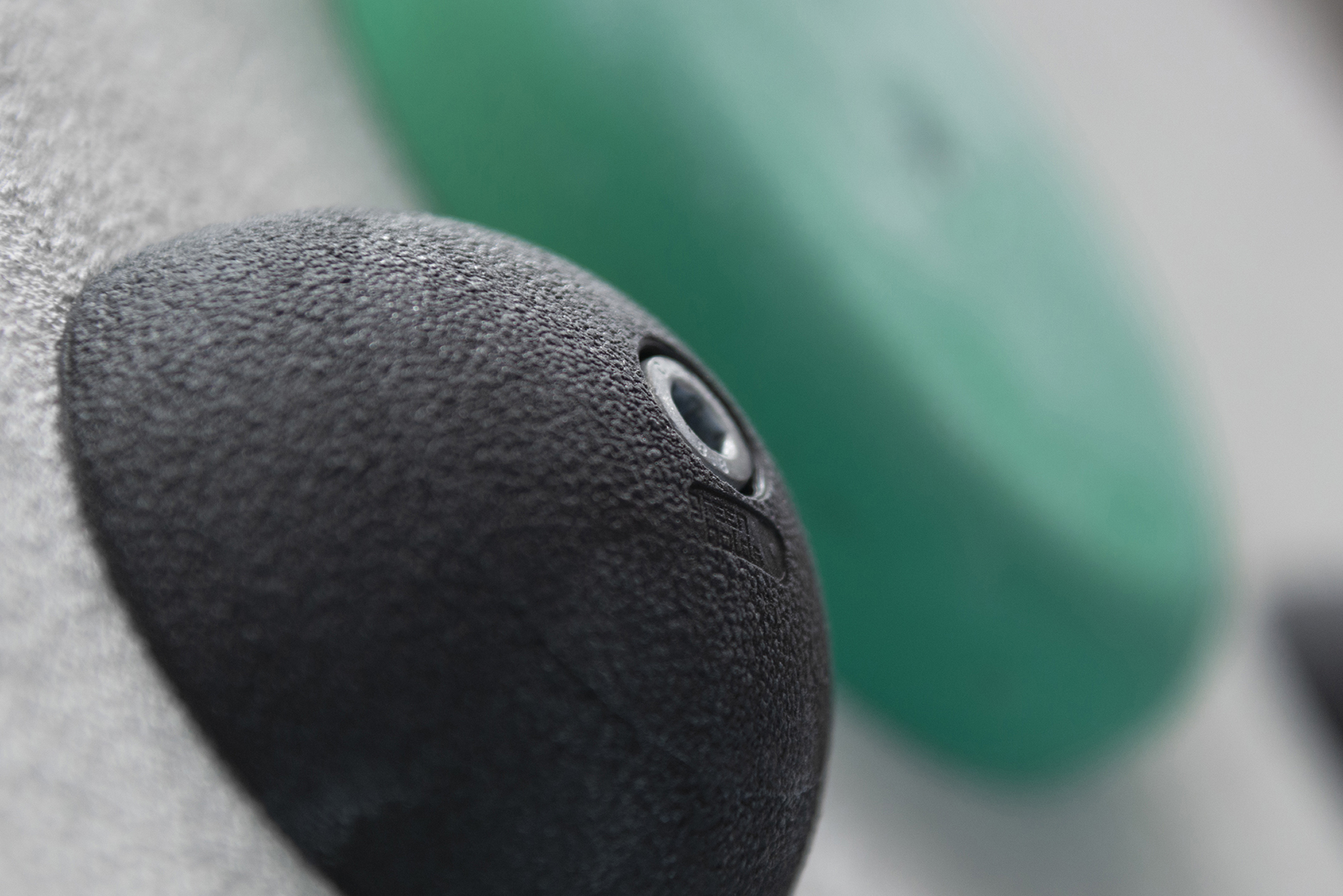 More sustainability in the climbing world. In climbing gyms, the holds are mostly made of plastic, which end up in the trash at the end of their life cycle. Now there's a sustainable alternative for the energy-sapping way to the top: Greenholds are made from waste material and are completely recyclable, while remaining sturdy and grippy. They are primarily intended for climbing and bouldering gyms as well as for home (wall) climbers.
To achieve the best possible result, the development process incorporated feedback from experts in fields such as Materials & Science, Engineering and Circular Economics. In addition, field tests were conducted with climbing enthusiasts of all performance levels. Another benefit of Greenholds is monetary. "The possibility to return used holds and benefit from a price advantage certainly motivates an environmentally conscious, sustainable rethinking in climbing and bouldering gyms," says the ISPO jury.