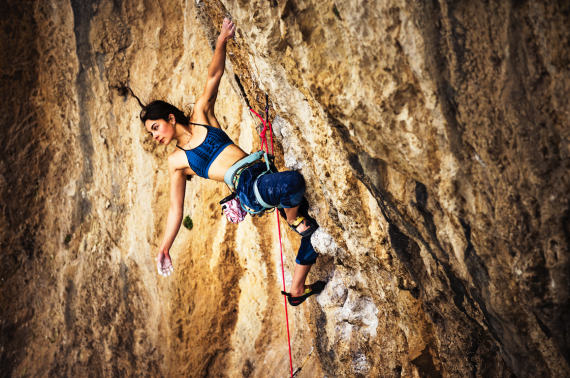 "We're also noticing that women's interest in mountain sports is growing all the time," says Philipp Abels, coordinator of competitive climbing and competitive mountaineering at the German Alpine Club. Due to the heavy demand of female applicants, for example, there has been an expedition squad made up exclusively of women since 2011.  
Ten years ago this had been quite different, says Abels. Mountain climbing used to be a purely men's sport. Today, independent women's rope teams can increasingly be found on the rockfaces. "The gender ratio is almost balanced here and a lot of this also comes down to mountaineering," says Philipp Abels.
But women consume differently than men. What does the industry have to offer female athletes on the mountain? That's what we wanted to know from brands like Petzl, Black Diamond, Deuter, and others in Part Four of our Mountain Sports series. (Part 1 of our series reveals the key mountain sports trends of 2018, and all other parts can be found at the end of the article) 
Alix von Melle is an extreme mountain climber who has summitted seven of the fourteen 8,000-meter peaks without additional oxygen. She's also a media spokesperson Globetrotter in Munich.
Alix von Melle, press spokesperson at Globetrotter and extreme mountain climber: "Women are the substantially more discerning customers compared to men. While men are primarily concerned with functionality when buying equipment and outdoor apparel, women not only pay attention to technical details (women are extremely safety-conscious), but also demand functionality AND fashion.
In other words, besides a technically well thought-out and absolutely functional outdoor jacket, it also has to have a good cut and a nice color. A perfect fit and well-chosen colors are a matter of course for women, which they expect from outdoor apparel on top of function. In autumn, for example, there will be special offers and events for (outdoor) women only."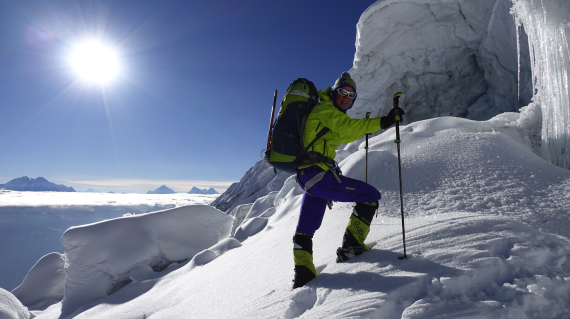 Deuter Sport GmbH sells backpacks, sleeping bags, and accessories, and is headquartered in Gerthofen, near Augsburg, Germany. The company was founded back in 1898. Today, Deuter employs 86 people.
Martin Riebel, CEO: "Women want to be addressed differently in marketing; in addition to technology, emotions play a much greater role in their purchase decisions. These emotions are influenced in part by styling, brand, color, and recommendations from friends. Our Slim Line communication has been a major marketing focus for over ten years. Here especially it's important not only to start a campaign, but also to continue focusing on the topic of backpacks and sleeping bags for women. We have been participating in women's camps for many years, and will continue to do so. This is where we learn about women's desires, demands, and ideas, and can then continue to incorporate them into our product development, which is staffed with women."
Petzl is a manufacturer of climbing and cave equipment headquartered in Crolles, France. The company was founded in the 1970s by cave researcher Fernand Petzl, and employs 700 workers.
Christoph Driever, Country Manager: "50% of customers in a climbing hall (in Germany) are female, and this reality is already strongly reflected in the color scheme, design, and ergonomics of our products. And in marketing, there will be (event and training) formats specially aimed at female climbing fans."
Black Diamond Equipment is a manufacturer of climbing, skiing, and mountain sports equipment headquartered in Utah, USA. The company was founded in 1954, and also maintains global subsidiaries in Innsbruck, Austria and Zhuhai, China.
Stephan Hagenbusch, Vice-President of International Sales: "It is our special concern to offer both men and women equipment of the highest quality, and to meet gender-specific requirements. Examples include our Momentum women's climbing boots, where we have paid particular attention to a special fit for women's feet. However, this commitment is not only reflected in our products, but also in our corporate structure and communication: Our team of athletes is almost balanced between men and women and we at Black Diamond also strive for a 50/50 ratio internally, for example in the composition of our management team."
Red Chili Climbing is a German company that produces climbing boots and climbing apparel. Stefan Glowacz is its co-founder.
Uwe Hofstädter, CEO: "Because of the low – thanks to climbing halls – barrier of entry for climbing/bouldering, these sports have become widely democratized, both age- and gender-wise. At the product level, we're increasingly offering special climbing boots made for women. In addition, we pay attention to balance in our visual language."
Edelrid, a company from Isny im Allgäu, Germany, manufactures climbing and mountain sports equipment. Founded in 1863, Edelrid has been part of the Vaude Group since 2006. The company has 160 employees.
Sebastian Straub, International Marketing & Media: "Women make the same high demands on their equipment as men. Nevertheless, there are subtle differences. If we take them into account when developing products, we can greatly increase comfort for women. One good example is our super-lightweight Ace climbing harness, where the customer can flexibly adjust the size combinations between hip belt and leg loops."
Stubai Sport is an equipment manufacturer in the mountain sports sector specializing in climbing and ice climbing. The tradition-steeped company's origins go all the way back to the year 1897.
Daniel de Pretis, Mountain Sports Product Group Manager: "The biggest difference between men and women in mountain sports naturally lies in anatomy (e.g. body shape). This means that we can offer feminine fits for our products, such as in our 'Stella' women's climbing harness. We also try to implement the differences in other products by means of colors, design, and handling (e.g.: not too high spring force in via ferrata carabiners)."