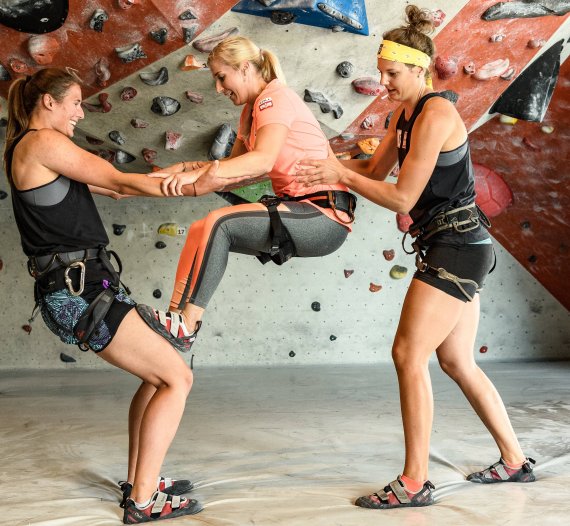 Climbing and bouldering are more popular than ever. The German Alpine Association (Deutscher Alpenverein) expects that more than 500,000 athletes actively practice these sports. The number of halls has also risen sharply. There are now around 500 facilities in Germany. In part three of our Mountain Sports series, our look at the industry shows: Climbing and bouldering halls are important places where mountain sports brands can reach their customers. Cooperating with hall operators is also very important for companies. And what are the brands offering their customers? Deuter, Edelrid, Stubai Sport, Black Diamond, Arc'teryx, and Petzl explain how they're responding to the boom in urban climbing.
Petzl is a manufacturer of climbing and cave equipment headquartered in Crolles, France. The company was founded in the 1970s by cave researcher Fernand Petzl, and employs 700 workers.
Christoph Driever, Country Manager: "I see this on a different level in Europe than in the US, where the development of climbing halls is moving towards 'worlds of experience/climbing parks' and 'adult playgrounds.' I say that with no judgement! Especially in Germany, where a bouldering hall boom is currently taking place, but also where the DAV operates a large number of climbing centers, the development of the sport of climbing has priority. I would attribute a leading role worldwide in terms of experience, safety standards, route construction, and food and service offerings to the German market.
Modern bouldering and climbing halls have also long since become a primarily regional scene meeting place, and usually very "lifestyle-shaped." If you go to a bouldering hall in Hamburg or Berlin today, you'll see customers who used to go to a gym, or who also like to visit a skate park and hit the clubs in the evening. These customers are often accustomed to a different approach. They aren't classic 'outdoors people,' so of course they're going to tick a little differently than the climber who once learned this sport outside."
Black Diamond Equipment is a manufacturer of climbing, skiing, and mountain sports equipment headquartered in Utah, USA. The company was founded in 1954 and also maintains branches overseas in Innsbruck, Austria, and Zhuhai, China.
Stephan Hagenbusch, Vice President of International Sales: "By now, climbing halls have become THE meeting place for the community – for both beginners and experienced climbers. As a leading climbing brand, it's important for us to respond to this trend. In Europe, for example, we're working together with more than 30 climbing halls. We're not focusing solely on logo brandings, we're also developing programs and event concepts that represent added value for climbers and climbing hall operators. The primary goal is to strengthen the climbing community and make it easier for newcomers to access the sport. On the material side, we also offer adapted products for indoor and outdoor climbers. Examples include our sportswear line and our climbing backpacks, which we outfit with an integrated laptop compartment."
Stubai Sport is an equipment manufacturer in the mountain sports sector specializing in climbing and ice climbing. The tradition-steeped company's origins go all the way back to the year 1897.
Daniel de Pretis, Mountain Sports Product Group Manager: "In general, we see this as a positive development that benefits the sport. We can offer ourselves above all as a service partner here, by offering our products for testing directly on site. Naturally, this requires good cooperation with the operators of the climbing offers. We are currently negotiating with a climbing hall under construction in Carinthia and there are some really good things we can give a Stubai focus there."
Deuter Sport GmbH is a manufacturer of backpacks, sleeping bags, and accessories headquartered in Gerthofen, near Augsburg, Germany. The company was founded back in 1898. Today, Deuter employs 86 people.
Martin Riebel, CEO: "We offer backpacks and bags, as well as accessories for indoor bouldering and climbing. One and a half years ago, we introduced our Gravity line with a suitable communication strategy. As a result of the boom in indoor bouldering and climbing, there are now two new consumer groups, some of which never climb outdoors. On the one hand, there are those who use bouldering as a gym substitute and have no connection to climbing and outdoor brands. They go to the climbing hall with sports bags, fashion backpacks, and fitness tights, and are difficult to reach as customers. Then there are people with an affinity for the outdoors who may find their way into climbing/mountain climbing via indoor climbing. They're easier to get excited about purchasing adequate equipment."
Edelrid is a German manufacturer of climbing and mountain sports equipment with headquarters in Isny im Allgäu, Germany. Founded in 1863, Edelrid has been part of the Vaude Group since 2006. The company has 160 employees.
Sebastian Straub, International Marketing & Media: "The climbing hall boom of recent years has turned climbing from a trend sport into a popular sport. We already recognized this trend years ago and developed our own product line for indoor climbing: from hall equipment and products for rental operation, to the PSA app for climbing hall operators. This means that the rental personal protective equipment (PPE) can be systematically checked for defects. Furthermore, the hall is a valuable, direct access to our customers. For this reason, we've been cooperating with select halls in Germany and abroad for several years."
Arc'teryx was founded in North Vancouver, Canada in 1989. The company develops equipment in the mountain climbing, skiing, and climbing sectors, and has 500 employees. Arc'teryx is part of Amer Sports.
James Bronson, Product Line Manager Ascent/Harnesses: "The explosive growth of the climbing scene is helping the outdoor industry. More people are being encourage to live active, healthy lifestyles. We view this movement as a very positive one. We can best help the new clientele in the transition from the hall to the rock. In addition, we support professional mountain guides in training climbers who dare the leap from the hall to the rock."