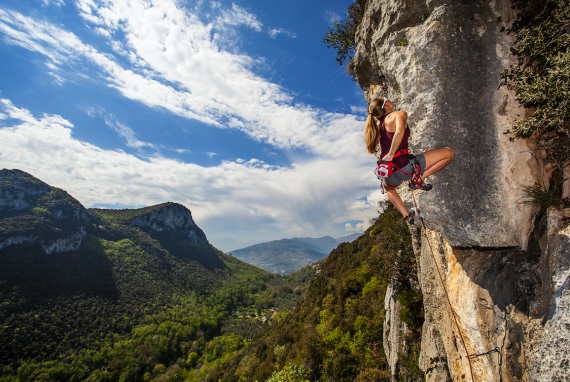 The question of the big trends is the prelude to the ISPO.com series on the subject of mountain sports. We ask the questions, mountain sports specialists will answer. This time it's the representatives for Edelrid, Petzl, Red Chili, Stubai Sport, Black Diamond, Deuter, Arc'teryx, and Haglöfs.
Edelrid is a German manufacturer of climbing and mountain sports equipment with headquarters in Isny im Allgäu, Germany. Founded in 1863, Edelrid has been part of the Vaude Group since 2006. The company has 160 employees.
Sebastian Straub, International Marketing & Media: "Our focus is always on making practice easier and, above all, safer. The topic of sustainability is also becoming more and more important. Edelrid was the first rope manufacturer to get bluesign certification for its products. This year, we brought the first rope with PFC-free equipment to the market. In the future, too, we will constantly question our processes in order to produce them in an environmentally friendly manner without compromising quality and safety."
Petzl is a manufacturer of climbing and cave equipment headquartered in Crolles, France. The company was founded in the 1970s by cave researcher Fernand Petzl, and employs 700 workers.
Christoph Driever, Country Manager: "As a very 'alpine' brand, Petzl still has its focus on regularly serving focus topics like mountain climbing, height touring, alpine climbing, and sport climbing with innovative solutions and products. We've also defined strategic objectives to accompany the 'urban' development in climbing. Petzl will therefore be presenting new products, specially for climbing hall users as well, as early as 2018. Moreover, we are constantly investing in the further development of new ideas meant make climbing a great deal safer."
Red Chili Climbing is a German company that produces climbing boots and climbing apparel. Stefan Glowacz is its co-founder.
Uwe Hofstädter, CEO: "Climbing and bouldering are developing most rapidly in the halls. People can decide for themselves whether this is still mountain sports or just fitness training with the joy of exercise in the vertical. Due to our product portfolio of climbing and bouldering shoes, as well as our matching clothing line, we're benefitting from this trend."
Stubai Sport is an equipment manufacturer in the mountain sports sector specializing in climbing and ice climbing. The tradition-steeped company's origins go all the way back to the year 1897.
Daniel de Pretis, Product Group Manager Mountain Sports: "The development is going in the direction of 'getting lighter,' i.e. products that a mountain climber has on them are getting increasingly lower in weight. Other future topics include the trend towards customization, and sustainability has become an integral part of mountain sports. We see a lot of potential for ourselves here. The same is also true for the topic of digitization. VR goggles are going to play a future role, and tracking for climbers is just around the corner. A lot of things are also happing in the field of safety (e.g. fall simulators). In sporting terms, bouldering is still on the upswing. We're registering this, among other things, in the strong demand for our training equipment."
Black Diamond Equipment is a manufacturer of climbing, skiing, and mountain sports equipment headquartered in Utah, USA. The company was founded in 1954 and also maintains branches overseas in Innsbruck, Austria, and Zhuhai, China.
Stephan Hagenbusch, Vice-President of International Sales: "Mountain sports are evolving more and more into popular sports. This development can be observed above all in the increasing urbanization of typical outdoor sports and the emergence of new training platforms. Indoor climbing sports are booming, and as a leading climbing equipment supplier it's our concern to offer the ideal products for the special conditions in the hall. At the same time, we at Black Diamond see it as our duty to prepare newcomers to climbing for the 'transition' from the climbing hall to the rock face – in order to ensure a compatible interaction with nature."
Deuter Sport GmbH is a manufacturer of backpacks, sleeping bags, and accessories headquartered in Gerthofen, near Augsburg, Germany. The company was founded back in 1898. Today, Deuter employs 86 people.
Martin Riebel, CEO: "As a mountain sports brand, above all we want to serve the formula 1 – alpine climbing – more professionally in the future. On the one hand, with well thought-out and innovative products with Deuter quality standards – but also with better support for athletes and mountain guides. We created a separate position for this purpose, starting in summer 2018."
Arc'teryx was founded in North Vancouver, Canada in 1989. The company develops equipment in the mountain climbing, skiing, and climbing sectors, and has 500 employees. Arc'teryx is part of Amer Sports.
James Bronson, Product Line Manager Ascent/Harnesses: "As in every sport, there will be progress at the top. This requires light and durable products. But even the typical mountaineer wants to go higher; for example, in trail running, there are clear goals in terms of time and distance. Due to the increasing number of climbing halls, there are lots more newcomers to mountain sports. The new generation of climbers appreciates the community concept of climbing and just wants to have fun. The desire for 'extreme' nature, as is typical in mountain sports, isn't so much the focus of this target group."
Haglöfs is a Swedish manufacturer of outdoor equipment with 180 employees. Year established: 1914. The company is headquartered in Järfälla (Kallhäll), Sweden.
Sara Skogsberg Cuadras, Corporate & CSR Communications: "As there is a trend towards faster ascents and descents in mountaineering, we are also focusing heavily on our L.I.M (Less Is More) concept for mountaineering clothing. This means lightweight clothing, but with uncompromising high performance aspects like durability, permeability, and freedom of movement."