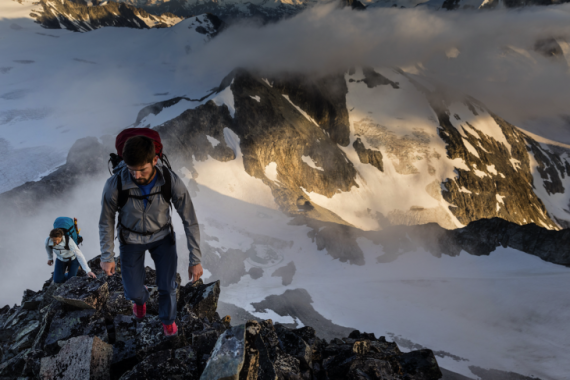 One important finding of our industry analysis: Specialty retail remains highly relevant for companies in the outdoor industry. E-commerce via shopping platforms and direct sales via company websites are increasingly supplementing this business. But what mix do companies prefer for their distribution models?
ISPO.com asked companies like Edelrid, Petzl, Red Chili, Stubai Sport, Black Diamond, Deuter, and Haglöfs: What is your future strategy for collaboration with retail? Read part two of our Mountain Sports series.
Edelrid is a German manufacturer of climbing and mountain sports equipment with headquarters in Isny im Allgäu, Germany. Founded in 1863, Edelrid has been part of the Vaude Group since 2006. The company has 160 employees.
Sebastian Straub, International Marketing & Media: "Retail (stationary and online) remains one of our important partners. Because our products are very technical and require explanation, this will continue to be the case in the near future. In doing so, we rely on the high flexibility of online retail as well as the excellent advice of stationary retail. Both business models are important for us and will be supported by us."
Petzl is a manufacturer of climbing and cave equipment headquartered in Crolles, France. The company was founded in the 1970s by cave researcher Fernand Petzl, and employs 700 workers.
Christoph Driever, Country Manager: "Specialty retail has made a major contribution to turning products into branded products. This will continue to be a characteristic of specialty retail, if they acknowledge this and position themselves accordingly in the market. Hardly any brand or specialty retailer has a future in pure price competition! We don't work directly with so-called platform providers, and have a very clear focus on the specialty retail. We are currently developing new, modern training tools to provide our partners with maximum support in consulting and sales."
Red Chili Climbing is a German company that produces climbing boots and climbing apparel. Stefan Glowacz is its co-founder.
Uwe Hofstädter, CEO: "Over the years, we've built up a complex distribution network together with our customers. We highly value these partnerships and continue to cultivate them through training, climbing events, and other joint activities, regardless of the distribution channels."
Stubai Sport is an equipment manufacturer in the mountain sports sector specializing in climbing and ice climbing. The tradition-steeped company's origins go all the way back to the year 1897.
Daniel de Pretis, Mountain Sports Product Group Manager: "We stand by the fact that we are still 'old-school' out here. Our network of retailers is very well-constructed, and we are focusing on the expertise of personal consultants. In our opinion, this cannot be guaranteed 100 percent on the Internet. For this reason, and also because we don't want to compete directly with our retail partners, we have yet to set up an online store. This may well change in the coming years, because e-business is also subject to various fluctuations. But right now we have no plans to change anything."
Black Diamond Equipment is a manufacturer of climbing, skiing, and mountain sports equipment headquartered in Utah, USA. The company was founded in 1954 and also maintains branches overseas in Innsbruck, Austria, and Zhuhai, China.
Stephan Hagenbusch, Vice-President of International Sales: "For Black Diamond, specialty retail is and remains a central partner whom we, as usual, support to the best of our ability. For that reason, we don't see the launch of our online store in Europe in the spring of 2017 as competition with specialty retail, but rather as a supplementary offer for our customers. This not only strengthens the brand itself, it also allows us to serve individual preferences and provide additional product details."
Haglöfs is a Swedish manufacturer of outdoor equipment with 180 employees. Year established: 1914. The company is headquartered in Järfälla (Kallhäll), Sweden.
Sara Skogsberg Cuadras, Corporate & CSR Communications:: "Both stationary and online retail are growing parts of our business, and essential for our future growth and the exchange of our entire brand history. Moreover, our goal is to deepen our relationships with our retailers and ensure that we work closely together to create a strong customer experience."
Deuter Sport GmbH is a manufacturer of backpacks, sleeping bags, and accessories headquartered in Gerthofen, near Augsburg, Germany. The company was founded back in 1898. Today, Deuter employs 86 people.
Martin Riebel, CEO: "Deuter is not represented by purely online retailers and shopping platforms, due to our selective distribution agreement. Backpacks & sleeping bags are products that require a good deal of consultation to provide the customer with information and advice. The customer should have the opportunity to have their backpack adjusted at the stationary retailer.
If they purchase the product online through a multi-channel retailer, they should be able to seek advice via chat, e-mail, or phone when making a purchase decision.   Deuter will continue to focus on distribution via retailers in the future. We will continue to support sports retailers here, whether online or brick and mortar. Any interested buyer who visits deuter.com is forwarded via the retailer search (with real-time goods availability) either to a local retailer or a retailer's online store. The retailer makes the deal."