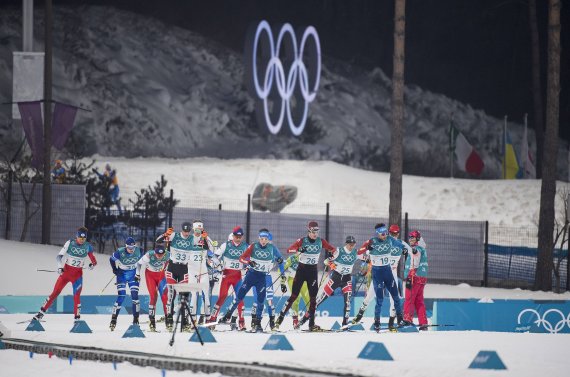 "Good luck, Erik Lesser! We're keeping our fingers crossed for you. #fortunecookie." That's what the DKB Bank posted on Facebook with a photo of Lesser shortly before the biathletes' individual races in Pyeongchang. Also in the photo is a quote from Lao Tse. That's how the bank does things with some of its sponsored athletes, sometimes also on Instagram.
This way, the bank keeps in line with the rules set by the IOC while still showing commitment to its athletes. Nevertheless, many sponsors are keeping out of it entirely. They don't want to make a misstep with the Olympics, preferring not to post anything on Instagram or Facebook.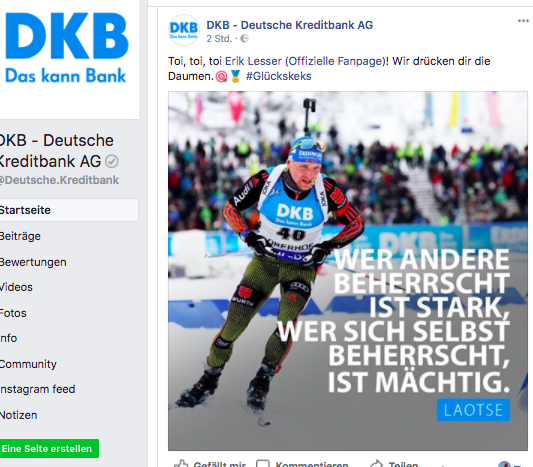 Fischer Sports even notified their followers on the subject in its own post: "We're currently travelling to the biggest Nordic racing event this year. But what happens in South Korea stays in South Korea!" Fischer writes on Facebook.
And furthermore: "Due to strict rules we're not allowed to keep you up to date about our athlete's success! Nevertheless: Keep your fingers crossed for the #FischerRaceFamily!!"
Viessmann has been engaged for German winter athletes since the 1990s, promoting countless athletes and especially junior teams. This is also clear during the Olympics.
Viessmann has also promoted Laura Dahlmeier since she was young. Sometimes several times a day, viessmann_sport posts words of congratulations or encouragement for its athletes on Facebook (77,500 followers) and Instagram (11,300 followers). Of course, the sponsorship pros at Viessmann always strictly adhere to the rules of the IOC.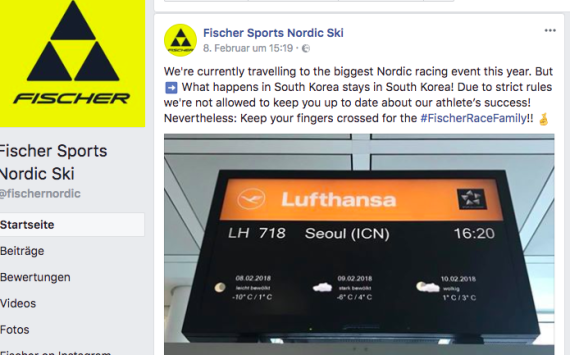 Adidas is the official outfitter of the German national team, and naturally also sponsors several athletes. Of course, they too need to follow the IOC guidelines. That also becomes clear on social media channels. There, the Olympics seem to take place only rarely. Adidas Germany, for example, congratulates Eric Frenzel on his win in Nordic combined skiing.
The snowboard brand Burton is doing things differently. The US company outfits the American snowboarders surrounding Olympic champion and superstar Shaun White, but is completely abstaining from social media, not sharing or posting anything on the subject of the Olympics.
At goggle and helmet specialist Uvex, there are a few posts that can be associated with the Winter Olympic Games in Pyeongchang. Uvex has numerous athletes under contract who will be taking to the starting line with the company's goggles or helmet, once again among them Olympic champion Eric Frenzel.
On the opening of the Games, Uvex posted a graphic with black goggles and golden helmets: It read "Look for a winner," wising Uvex athletes the best of luck.
Laura Dahlmeier and a few other athletes have "Kornspitz" as a sponsor. The company is located in the German and Austrian premises, among others, in Pyeongchang with its own bakery.
It's reported on Facebook and Instagram that contributions are shared and – cautiously – congratulations are sometimes given, for example to Arnd Peiffer after his surprising victory in the biathlon sprint.
Thus, the sponsors have very different strategies when it comes to social posts during the Olympics. But things could change by the time the next Olympic Games come around. In Germany, the Federal Cartel Office is dealing with this matter.
Sponsors' social posts may already look quite different at the upcoming games in Tokyo in 2020 and Beijing in 2022.