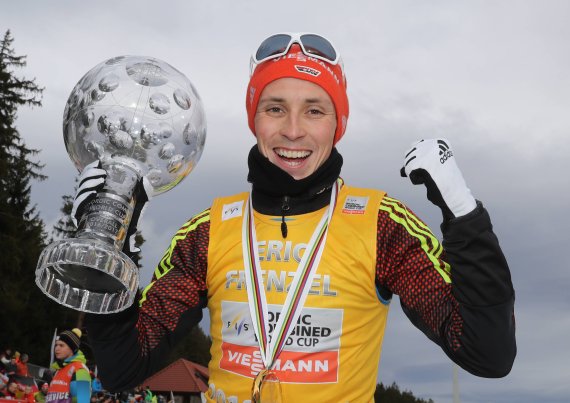 Eric Frenzel won two World Championship golds, one silver, and the overall World Cup in Nordic combined skiing for the fifth time in a row last winter. Nevertheless, the Saxony native stood in the shadow of four-time world champion Johannes Rydzek, who was recently voted Athlete of the Year.
That hasn't really bothered Eric Frenzel – in the end, there's something in his life even more important than all the successes: his own family. He became a third-time father in June – after two boys Philipp and Johannes, he and his wife welcomed little Emma to the world.
A couple of days after the birth, Frenzel celebrated his 42nd individual World Cup win at the last World Cup before Christmas in Ramsau, Austria. Thus, the performance is also good for the Annaberger in the Olympic season.
Achievements:
The last five World Cup seasons have all gone to Frenzel. With his title win last winter, he even overtook Finnish combined skiing legend Hannu Manninen. Frenzel long since hasn't been as dominant at the Nordic World Championships, having won "only" two individual gold medals on top of a few titles in the team in five participations. Probably his greatest triumph was the individual gold medal in normal hill at the 2014 Olympic Games in Sochi.
Social:
Instagram: Over 13,000 followers
Facebook: Approx. 41,000 Likes
Even in the middle of the season, it's family time once again on Eric Frenzel's social media. The insights are well received among fans; Frenzel's presence online feels authentic. In terms of followers, he doesn't come close to the stars of the ski jumping or alpine skiing scenes. But Frenzel leaves his greatest German combined skiing rival, Johannes Rydzek, far behind.
Outfitters / Sponsors:
His head sponsor Viessmann, a heating firm, has been loyal to him for a decade now. The company Metavirulent can be seen as a sponsor on his skis, and he's also supported by Adidas and Saxony-based energy company Eins.
Income:
Frenzel's successes in the World Cup are definitely lucrative: As a record-setting earner among combined skiers, he brought in 135,430 Swiss francs in prize money from the International Ski Federation (FIS) last winter.
"Money isn't the star for me. The title and the wins are in the background. You don't get money until the successes are there," says Frenzel. He stands to make the most money in the World Cup. The Olympic gold from 2014 brought the native Saxon 20,000 euros from the Sporthilfe sports foundation. For big achievements like overall World Cup wins or gold medals, the German Ski Association (DSV) gives a bonus at the end of the season. Usually, that's a sum somewhere between 5,000 and 10,000 euros.  Including sponsor income, that's an estimated 250,000 per year all together. 
Fun fact:
Parallel to his career as a professional athlete, Frenzel is safeguarded by his job in the German Armed Forces. For the time after that, he's focusing on a degree in engineering management in Mittweida. "That way I have every option for the future. Because I'm not going to be set for life at the end of my athletic career," says Frenzel. He's satisfied with what he has, even if some soccer players make more in a week than he does all year: "As an athlete, I'm living a life that others only dream about. I have everything I need: a car, a house, but the most important thing of all is my family."