Data, data, data - and Dietmar Brandl knows them all. At least those who shape the running market. At the Runner's World Running Symposium at ISPO Munich, the market researcher from the American npdgroup presented the latest running trends in Germany and worldwide - and visualised some interesting developments. The results of his work summarized:
The USA leads the global sports market with one third of all purchases.

Germany ranks fourth in the world, making it the largest sports market in Europe.

The running share of the German sports market is seven percent.
According to market researcher Brandl, the global running market has increased by four percent between 2014 and 2017 and then slightly decreased again. Footwear has a market share of almost two thirds.
German runners are becoming more and more open-minded to brands. While in 2004 Asics was clearly the market leader - with three shoes in the top 3 - Adidas and Nike also made it to the top group. Last year, the cloud of the Swiss brand On was the best-selling running shoe, followed by Salomon (XA Pro 3D GTX), Adidas (Ultra Boost 4.0) and Nike (Free RN 2018).
"The fact that running shoes became more and more colourful and stylish has also made them interesting for the lifestyle market said market researcher Brandl in his lecture. Five of the top ten sports shoes are now running shoes and every fifth person wears his running shoes during sports and leisure time. While the so-called stability shoes used to be the most popular, most runners now feel comfortable in the cushion segment. The market shares of the various shoe categories in Germany in 2019:
Cushion: 48%

Trail: 19%

Stability: 17%

Lightweight: 10%

New Concepts (like Free, Natural): 6%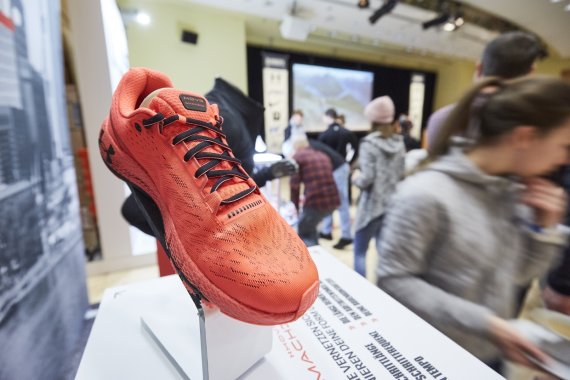 A disturbing but well-known development: "More than 40 percent of running shoes and clothing are now bought on the Internet", said Brandl. "This puts pressure on traders in smaller towns and rural areas in particular." In particular, customers tend to buy more expensive products on the Internet, but are also looking for bargains there.
In sporting goods stores, retailers sell a good one in two running shoes for between 100 and 150 euros; online, only one in five shoes is that expensive. 43 percent of shoes end up in the shopping basket here for 50 to 100 euros.
Dietmar Brandl also analysed the age structure of people who buy running shoes for the npdgroup. In 2019, it looked like this:
Children up to 14: 7%.

14-24 years of age: 23%

25-34 years of age: 24%

35-44 years of age: 18%

45-54 years of age: 13%

55+ years of age: 15%
This means a slight increase in the number of runners over 55 and young runners under 24 compared to 2017.