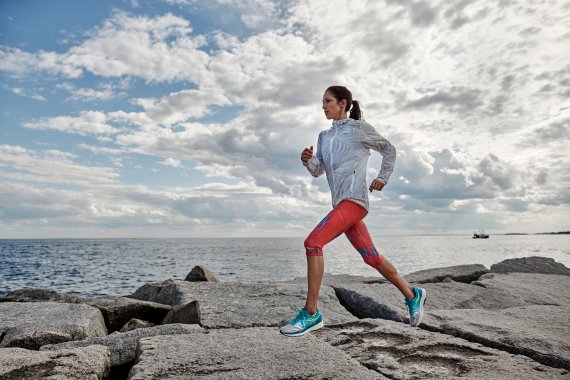 Many factors worth noting – and that's why an expert consultation makes sense for every runner and anyone who wants to become one. But just as running shoe technology continues to develop, so does running shoe consultation. ISPO.com took part in a distributor training session by running specialist Saucony, and reports on the newest insights of running shoe consultation and running style analysis.
Don't just run with your ankles
Three factors occupy center stage in 2016:
Integrated shots for analyzing the runner
The runner's personal circumstances
Shoe rotation to prevent injury
Probably the most important point is departing from the classic running style analysis, which only focused on the runner's ankles. In Saucony's view, this is clearly too little, as the running motion naturally doesn't end above the ankle. Even the angles of the knees and hips, as well as the position of the upper body, play an essential role when running and must likewise be included in the analysis. As a result, simple video recording of the ankles from behind is no longer sufficient. Recording from the side, above all on the joint angles – here, especially the knees and hips – is extremely significant.
Running analysis in a high-tech laboratory
In doing so, technology doesn't necessarily have to be as elaborate as in the Stride Lab by Saucony in Lexington. In this high-tech laboratory, professional athletes are analyzed down to the last detail using cameras from multiple angles and motion-capture technology. For onsite consultation, cellphone video often suffices to get initial important insights about the customer's running style, and thus their needs. Simultaneous recording from three camera angles – from the front, back, and the side – and subsequent analysis using software would be optimal.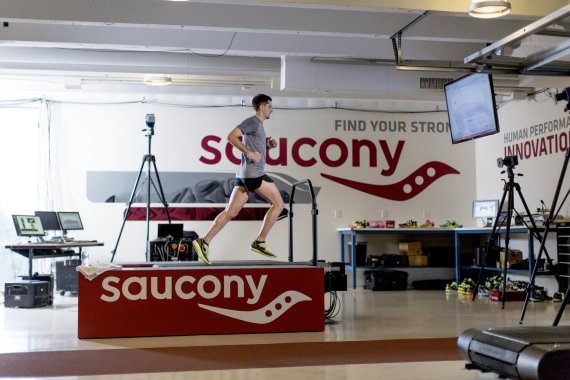 Before it's time to send the runner on a lap through the store, there should be an in-person conversation between the vendor and the customer for initial information. Information about social environment, career, and other habits is just as relevant as the hard facts of workout style.

Varying workouts and running shoes
The third insight concerns the active workout mode and individual choice of running shoe. "You have to offer athletes options; not everyone is in the same state every day. One day you need a shoe with less dampening, on another support is needed through a slight pronation brace," explains Spencer White, Vice President of Saucony Human Performance.
Different muscle groups are also activated or relieved by the different shoe models, whereby the risk of injury is significantly reduced. In a study published in the "Scandinavian Journal of Medicine and Science in Sports," scientists under the leadership of Laurent Malisoux found that the risk of injury went down by 38 percent when the subjects regularly switched their running shoes during the 22-week examination phase.
Saucony is compiling its latest insights with the keywords "Listen", "Consider", and "Rethink", and thus (of course) is addressing retailers first and foremost. Above all, rethinking can also bring new motivations and experiences for each runner. It doesn't always have to be one and the same brand.

Those who thus far have only run with neutral shoes may also like to incorporate a supported shoe into their workout sometime – and a second pair of running shoes isn't a waste of money, but rather an investment in one's health.