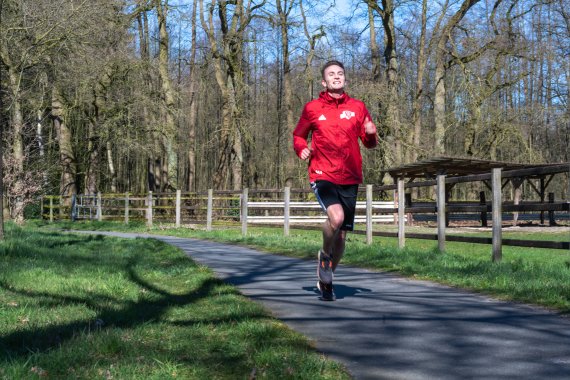 The coronavirus has changed the world: Meetings with more than two people are banned in many countries. When club training is cancelled, the running group is no option and the favourite running buddy is quarantined, many people lose their drive. With these tips the motivation comes back.
You couldn't get yourself together today, but you definitely want to go for a run tomorrow? Then check the weather forecast, put out the right running clothes for the next day and put your running shoes next to them. If everything is ready, it will be easier to get changed and start running.

Telling others about your plans helps to motivate them. Call your best friend and tell her you're about to go running. I bet she'll ask about it tonight.

Goals are important when it comes to motivation. It's difficult to set a competition goal right now, so set something else for the next few weeks:

"

I want to run five minutes longer each time than last.

"

Or,

"

Today I'm going to run the lap two minutes faster.

"

Or,

"

10,000 paces shall it be today.

"
Pick a cool podcast or audio book for your run -  the day before. Not ten minutes before the race starts.

If you haven't done so already, now is the time to download a training app that will allow you to document your running lap and compete with others:

Runtastic

,

Strava

,

Run Club

or

Endomondo

for example. At least runners are still allowed to meet here!

A

Admittedly, in times of a pandemic the app

"

Zombies, run!

"

is a little morbid. Still it is fun. Because you are, as you learn through your headphones, one of the few survivors of an epidemic and you have a mission: You have to make your way to one of the last outposts with people who need your help. So run now!

When team sports are banned and training is only allowed in front of one's own door, the only thing left to do is jogging. And what does that mean for the coming weeks? That you can and will make enormous progress! Document your running sessions via app not only for your friends, especially for yourself! You will see: In three weeks at the latest, your training condition will have improved enormously.

Virtual and yet outdoors - that this does not have to be a contradiction in terms is proven by many virtual Runs that are currently being organized, such as the Challenge Women Virtual Run powered by Garmin.
From now on, the ten-minute rule applies to you. Even if you don't feel like running at all - you still run for ten minutes. If it's still stupid, you can turn around. And you still managed to run a total of 20 minutes.

Even if you are more free than ever in your new home office, it makes sense to always run at fixed times to motivate yourself. For example, use your lunch break to get some fresh air in your running shoes. After a small lunch with carbohydrates and protein, you can return to your desk with a fresh head and satisfied legs.

Take your heart rate monitor with you on the lap, but don't look at it, just run by feeling. If you do this more often, you'll get a good feeling for the intensity and pace you're running. By the way: most people run their loose runs too fast.

Get into the habit of running at least once a week with a deliberately slow pace and the lowest possible pulse rate.

On your home run, take a different extra treat every time you go out so that the route doesn't get boring: Stop for push-ups on a park bench, do pull-ups on the climbing frame of the empty playground, do a faster extra loop through the forest or treat yourself to ten minutes of barefoot walking in the meadow next to the residential area. Or how about a short intermediate sprint every 1,000 metres? There are many possibilities - you just have to discover them!

Many people at this time use

circumstances

and spring weather to run. Use the other runners - without their knowledge - and imagine that you are running in a competition: Are you approaching quickly because you are running faster? Or are you more likely to be overtaken? Next time you won't put up with it! You can playfully incorporate a few tempo changes - of course, only if you have warmed up for 10 to 15 minutes by running loosely.
Think ahead of time if you can't motivate yourself to run: In two hours, will you feel guilty about staying on the couch? I'm sure I will! So: better run.

After running, do you ever regret going out the door? Ex

actly

! Use this fact as motivation before the training: Even if it is difficult to get up - in the end you will always be glad you ran. You should not forget that.

If you really don't feel like it at all, then you have a choice: either you go running now, or you stay at home and do a sweaty trunk

training in the same time. Guess what's more fun.