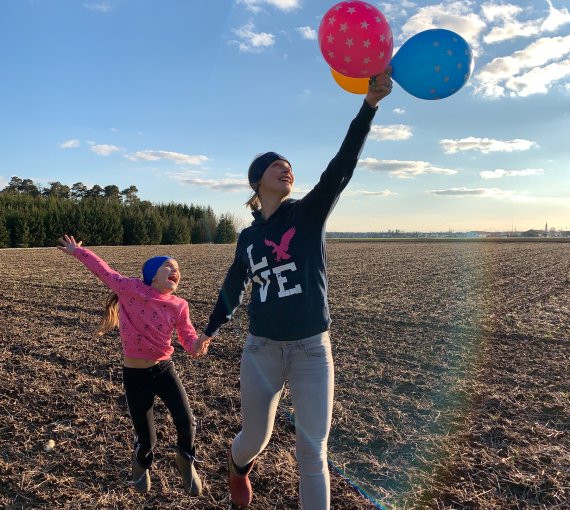 Future scenario: It is the year 2035. Our children or our children's children talk to us about the corona pandemic 15 years ago. They learned from this example that out of everything negative, something positive can also emerge. That solidarity and togetherness are the key to a healthy living together and that sometimes it takes "forced distance" to get closer together.
This is how we want it to be, our future scenario, isn't it...?
Hello dear readers,
my name is Sandra and I would like to speak despite, or perhaps because of our current state of emergency. Not because I think there is not enough reading material yet. Not because knowing better but simply because I want to contribute something positive, because there can never be enough of that.
You, dear readers, are probably often active and sporty and are now anxiously following all the news about gym closures, cancellations of running events or even curfews. At a time you were in top form, just recently pressed five kilos more than usual in the gym or last week during the daily walking round you made an extra round for the first time.
How can I keep my form under the current circumstances? There's good news on that question.
If you train regularly, you don't lose your fitness just like that. Our muscles have a memory effect. This means that movement patterns are stored and made available again after a warm-up for the body by a slow approach to the usual movement patterns over several days.
No matter what your own form, your own sports and leisure time and your personal competition goals: I believe that NOW is the time to turn "I" into "We" - in the minds, in the expressions and even more so in the behaviour. Because: Fighting the corona spread is a team sport! We are a team, a team in which everyone has a task: to strengthen each other by keeping our distance!
It is said that a team is only ever as strong as its weakest member. But a team can only exist if the majority of the team is healthy and fit. So let's recapitulate the saying: "We" are a team; the sum of all. "We" protect the weak and use the strengths of the strong!
And, to push the whole thing even further to the extreme, how about if we see the - albeit involuntarily - decelerated time as a human and sporting opportunity? As a chance to (re)gain humanity. As a chance to learn to appreciate the little things again, as a chance to make people aware. As a chance for team spirit, big hugs and lots of high-fives!
...at least when the virus is history.
Until then we can keep fit from home, keep our muscles on alert and prepare for our next assignment as a team:
How about stretching again or rolling over the fascia roll, even stabilizing? How about looking at the whole time now as convalescence and using it to become really strong again, in the literal and figurative sense - human and athletic.
At this point, a few suggestions for a living room suitable full body workout without equipment, before we turn to the general situation again:
Back to business, or rather non-business; because at the moment many things that we have taken for granted are at a standstill. And I would like to use this platform to say thank you very loudly.
Thanks to everyone who is there for us in this somehow crazy time and who makes sure that the rest of the team can get fit again: Doctors, nurses, supermarket employees, warehouse staff, food transporters, pharmacists, police officers, health system maintainers, information processors, telecommunications service providers and of course all those whom I won't mention here because that's not enough for me.
While I am writing these lines, I am also aware that many of you, especially in the sports industry right now - as much as you may want to try - cannot (yet) think positive about the situation. And you don't necessarily have to. Existences are at stake, nobody can foresee the effects on the world economy.
I am not a futurologist, not an economic expert, nor am I anyone else who has the right to make forecasts or talk shop. And so I would like to close this first text here at ISPO.com with a quote from my favourite author, which I find very fitting despite my economic non-expertise:
Everything is interconnected and has a meaning. That meaning may remain hidden nearly all the time, but we always know we are close to our true mission on earth when what we are doing is touched with the energy of enthusiasm.
Paulo Coelho, The Zahir
With that in mind, my dear team-mates: Stay strong, stay healthy and above all: stay sensible and considerate! To the future scenario 2035!
We'll read, see you soon
Sandra
PS: A sporty idea for all those who have tons of toilet paper at home and somehow don't know what to do with it:
About the author: Sandra Mastropietro is 32 years old, lives with her husband and child (8 years) in the Munich area and is an enthusiastic trail runner. Since she didn't really "go fast", she escaped to the long distances and since then she runs everything between 80 and 168 kilometers - and that strangely enough always with a smile on her face. Sandra is a specialist trainer for endurance sports, a mental coach and, to top it all off, a writer (book Transalpine Run, Delius KLasing 2019 & Läuferleben, Komplett Media 2015). First and foremost, however, she sees herself as a mom.
Among her greatest successes are the 4 times finish of the Transalpine Run, 2x 100 miles at the S1 Corsa Della Bora, the Lavaredo Ultratrail, the Namibia Wild Run and the passing of the hardest race in the world: the Dragons Back Race.