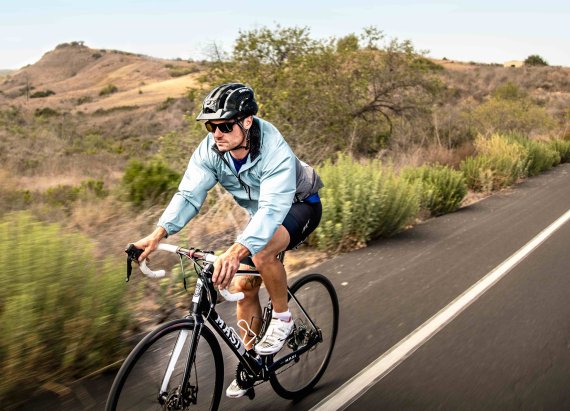 Whether it's sporty tour cycling or urban mobility – the trend towards the e-bike is giving wings to the bicycle industry. A record number of up to 900,000 bicycles with electric drives are expected to be sold in Germany in 2018. But there are also exciting developments in other areas of the two-wheel scene – here are four of the most important ones at a glance.
The bicycle can do much more than transport a person from point A to B in an environmentally friendly way. The innovations in the booming cargo bike sector are proof of that. Canadian manufacturer Wike's Salamander Cycle Stroller offers one especially clever solution: with just a few maneuvers, the $2,500 marvel can transform from a family bicycle into a baby stroller.
German start-up Muli-Cycles' multifunctional Muli, which can hold up to 154 pounds in a practically collapsible basket, has won several awards. It can easily accommodate a child seat, a case of beer, or a shopping basket. Larger cargo bikes can even transport trash cans, or act as a base station for tradespeople or nursing services. "At least 50 percent of transport in the city can be handled in an environmentally friendly way with cargo bikes. The topic of Copenhagen shows that it can also be a better alternative for families. There, 25 percent of families have a cargo bike," says Burkhard Stork, Chairman of the German Cyclists' Association.
Finding the perfect bike with the right frame size for everyone is a great added value that both stationary and online retailers offer their customers. Offering the innovative technology, for example, is the Smartfit system by the German company Radlabor. Their stationary devices start at a price of 990 euros, plus payments for a software license.
A body scan is used to determine the perfect sitting position and frame size for every body shape. The perfect custom bike can then be selected from a bike database of over 100 brands. The online tool is ideal for e-commerce. "This highly useful measurement software incorporates all relevant components. Thanks to a large geometry database of real measured values, the various options for the respective bicycle models are then shown," reads a review from the Eurobike Show.
Digitalization is a megatrend which, naturally, is also palpable in the bicycle industry. Among the latest innovations are helmets networked with navigation devices via Bluetooth, and that can also be used to communicate with other cyclists via intercom. You can also get ongoing information about the tire pressure via smartphone app, thanks American company Quarq's Tyrewiz sensors (two cost $199), which are easily screwed onto the valve.
A Norwegian start-up is offering another exciting development: a pair of glasses with integrated rearview mirror, named the TriEye glasses. A long overdue invention – you don't have to turn around while cycling, especially when you have your children with you. After all, you don't drive your car without a rear-view mirror.
E-bikes and e-mountain bikes have long since made it into the mainstream. But due to technical innovations and a slimmer design, the electrification trend is now increasingly reaching racing bikes, although opinions are very divided among customers. Major manufacturers like Focus, Pinarello, Cube, and Bianchi have presented racing bikes with the new, removable Fazua motor (just a little over seven pounds including battery!).
The Cento1 Hybrid from the Italian company Wilier Triestina proves that electro-doping doesn't have to be visible at first glance. Both the battery and motor are cleverly hidden, and the model starting at 4500 euros weighs less than 26 pounds.