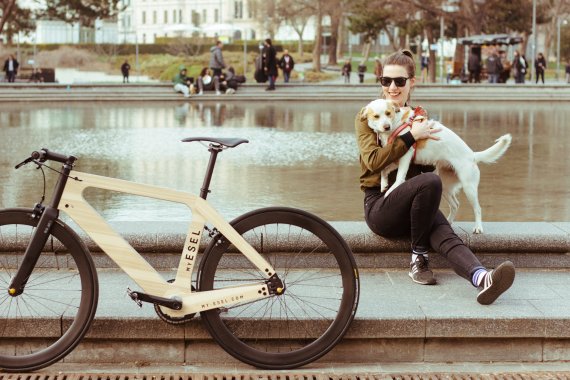 In itself, the possibility of individualising bicycles is not new. Mr. Mayrhofer, what makes the difference with My Esel?
With My Esel, we change the way you configure and buy bicycles. Using the online configurator, the Esel can be configured from home or together with the specialist dealer. Only one single value has to be measured and the body and shoe size entered. Using a smartphone, tablet or laptop, customers can quickly and easily configure their ideal bike and design their individual desires. In just a few minutes you get to your optimised product in such a playful way, and no bicycle-specific know-how is necessary.

Does your software do all this?
An algorithm calculates frame dimensions and the geometry of each bicycle before production individually for each buyer. The production data is created by the software in the same step and enables a custom-made production in spite of serial production. The bicycle is perfectly adapted to the body proportions and riding style of the buyer - a process that until now could only be carried out by hand, especially in the racing bicycle sector, at very high costs. The software was developed in cooperation with the Orthopaedic Hospital in Vienna-Speising, who are proven experts in bicycle ergonomics.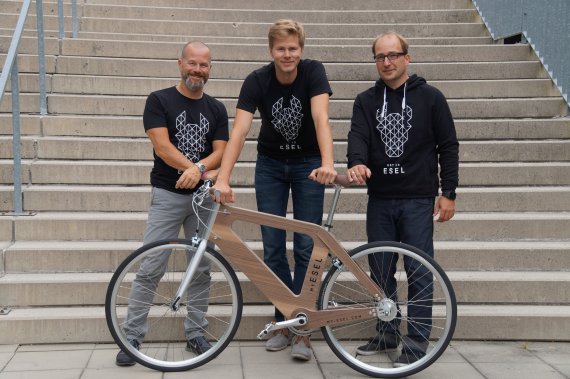 When and how did you get the idea to produce wooden bikes? 
Every good story starts with a concrete problem. Our founder Christoph Fraundorfer rode his bicycle to the university every day during his architecture studies. But there was a big catch: with his 1.95 meters he got back or knee problems with every bike. It soon became clear that a custom-made bike was needed. However, the large amount of time required for surveying and configuration, very long delivery times and high costs were too great hurdles for him. For four years Christoph researched and developed together with the My Esel Team the perfect bike.
And why did you choose wood as the material for the frame?
The material not only looks extremely unusual, but is also exciting from a mechanical point of view. Wood is a fibrous material, very similar to carbon, but in contrast organically grown and sustainable. Wood springs and is still stiff. With the right workmanship, it is absolutely suitable for everyday use in any weather. In short: Wood is very suitable for a bicycle frame.
Digitisation is and will remain one of the major challenges facing the sports industry - to what extent do you provide impetus and how is it anchored in day-to-day business?
The central performance promise of a My Esel lies in the 100 percent adaptation of the frame geometry to the physics of its driver. Therefore, the production data for each My Esel frame is unique. In order to ensure product scalability and short delivery times of four to six weeks, automated generation of this data from the measurements provided by the customer is essential. For this reason, it is impossible to imagine mass production without digitization for batch size 1.
You also offer an e-bike variant - what is the appeal for buyers?
E-bikes are also gaining ground with us. This means that further models are in development and will be launched in 2018.
And what about sustainability? How important is that for the customer?
My Esel brings the bicycle production back to Austria. My Esel bicycles are made of wood, produced in Austria and thought sustainable. Wood is a renewable raw material. The frame, the heart of My Esel, is produced in Salzburg. The bicycles are assembled by hand in Linz, Upper Austria, at the bicycle centre B7, an eco-social enterprise.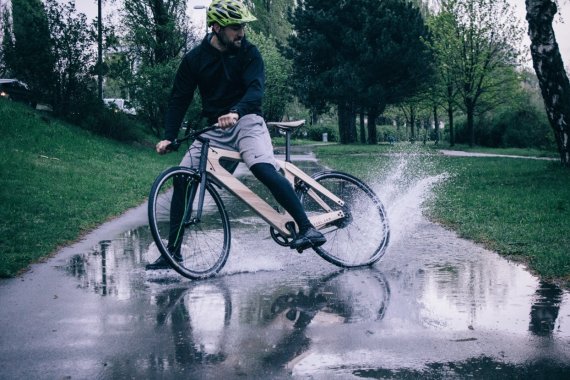 Tell us about the history of My Esel!
Christoph Fraundorfer had the idea of revolutionizing the bicycle market with a completely new manufacturing process in this industry as early as 2014, when he was admitted to the high-tech incubation program of the tech2b 2014 business incubation center, and the Business Angel Bernhard Lehner joined the company as co-founder at the beginning of 2015. With this basis, the first prototypes were exhibited at the Ars Electronica Festival 2015.
In order to meet the challenges of material selection and production processes, I strengthened the team in 2015 - I was previously head of product development Alpine at Fischer Ski, and since then I have been responsible for the technical details of production. And since summer 2016 the My Esel Frames are certified according to ISO standard ISO 4210-6:2014 and approved for sale.
What are your greatest successes so far, what are the biggest hurdles?
In any case, the two biggest successes are participation in the start-up show "2 Minuten 2 Million" including investment commitment on the Austrian private broadcaster Puls 4 - and of course being Overall Winner at ISPO Brandnew 2018. I sometimes find our greatest obstacle to be our impatience. Good things often take time.
What are the next steps in the growth plan and the next planned models?
First and foremost, it is important to us that the My Esel brand gains recognition. As well as the further development and expansion of our distribution networks in Europe. The next planned models were derived from the feedback of our customers. We are planning to expand our collection for the Cross-Bike segment with wider tyres and disc brakes, as well as new e-bike variants to reach more customers.  
What does winning ISPO Brandnew 2018 mean to you?
Emotionally, he means a lot to us, because we were able to impress a jury of top-class specialists with a lot of experience in the sports segment with our product concept. Of course, the award and the appearance at the ISPO Munich 2018 will help our brand to increase awareness. We are looking forward to meeting many people at the fair. Our mission is to tell these people about our product and our future visions and to inspire them with enthusiasm.
More information about the company and the possibility to order an individual wheel made of wood can be found at www.my-esel.com.