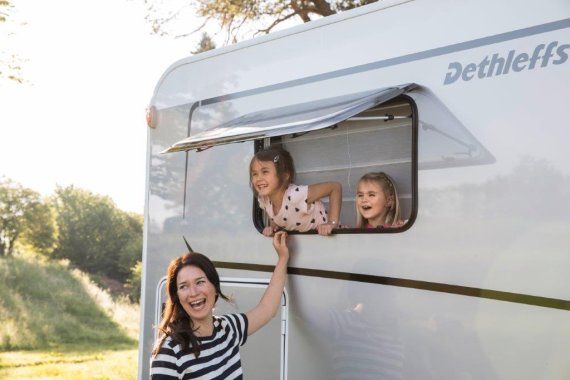 Anyone who has children knows: they love being outside. Since camping mainly takes place outdoors, most kids are born camping fans. We reveal how to turn your camping trip into an experience for the whole family
Camping with kids is growing in popularity, but it's not for everyone. After all, in addition to lots of nature, fresh air and secluded spots, camping means getting along with the family in a confined space. That's why a "trial run" is recommended before the first big trip. A short trip is best. This way, each family member gets a feel for the new situation. In the process, families gain their first practical experience.
What does who in the family (still) need to feel comfortable?

Are the packed clothes and utensils practically stowed in the right place?

Is everything loaded shock-, - curve- and brake-safe?

And how does it work with the electricity, the awning and the stove?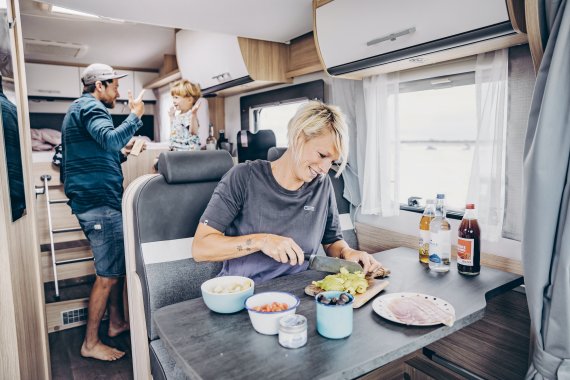 Keyword child seat. Before the big trip, be sure to check whether the child seat will fit in the motorhome. Are the straps long enough? And if you have several children: Will the seats fit next to each other? The child seat should also be comfortable.
Simply set off with the family, towards freedom. Stayed and slept exactly where it pleases and the wanderlust hint drift. But be careful: it's not like that. Wild camping is forbidden in most European countries. Spending the night away from designated camping or camping sites can have expensive consequences. In Germany, however, it is permitted to park the motorhome for one night and for a period of up to ten hours in order to "restore fitness to drive".
To avoid unpleasant situations with children on board from the outset, it is advisable to find out about the exact camping regulations of the destination countries before departure.
The family can travel in a relaxed manner if the stages of the journey are planned in such a way that the children can use part of the journey time to rest or sleep. If the children sleep unproblematically in the car, the nap time is also an ideal travel time with smaller children. Regular breaks every 2-3 hours are important. To do this, visit playgrounds, lakes or other small excursion destinations along the way. The rule is: the journey is the destination - and with children once again: approach plans in a relaxed manner and plan a lot of time buffer from the outset.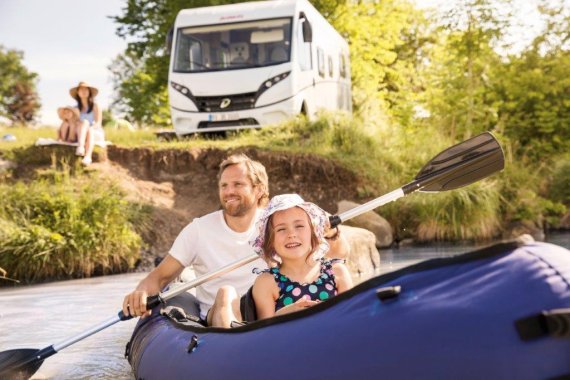 Especially when camping with children, it is important to avoid unnecessary stress. And that comes up quickly when the day was long, the children are hungry and tired, but there is still no suitable free pitch in sight. That's why camping beginners in particular should book campsites in good time and before the trip - especially during the holiday season. At least some key camping stage bases of the trip. This might be a bit contrary to the feeling of freedom of camping, but it's always better than going from place to place with the whole family in the hope of finding one last free spot.
Anyone looking for suitable family campsites will quickly realise that camping is multi-faceted. From luxury camping with pool, slides, wellness, children's entertainment and own restaurants to farm camping or wild places where the pure nature experience is in the foreground, everything is there. It is advisable for camping beginners to have a basic set-up of shopping facilities and medical care nearby.
Camping sites in Europe can be found, for example, at camping.info and book them. There are also a variety of (paid) campsite finder apps for Europe. Like Campercontact, WoMo-Stellplatz.eu or the ADAC Camping- and Pitch Guide.
Tip: Landvergnügen - over 1100 farms offer idyllic pitches
A special pitch tip for travelling with kids in Germany: The Landvergnügen annual vignette with accompanying pitch guide. By purchasing this vignette, campers have the opportunity to stay on over 1100 farms for 24 hours free of charge. Families can visit farmers, winegrowers, beekeepers, cheese dairies, etc. There's almost no more authentic way to get to know the country and its people with your child. For on the way there is there is also an app.
Travel blogger Tanja Klose is the mother of a daughter. Together, the two prefer to travel in a camper van. Her 5 most important tips for choosing a campsite with kids are:
Clean sanitary facilities

are

essential with children! Campsite ratings provide information. Family bathrooms or showers, children's wash basins and a baby changing room make

v

s much easier.

The campsite and the age of the children should match. With small children, a sprawling site, possibly terraced on a slope, is not much fun. Short distances are required. With older children, on the other hand, an extensive, ideally fenced-in facility is advantageous. This way they can roam freely.

Pay attention to child-friendliness: This does not

necessarily

the

full

children's animation program

but

a playground and open spaces should be available. Pool and sports facilities are also popular.

If you plan to stay longer,

the surroundings should be included. A week on a simply equipped site in the middle of nowhere usually does not bring much joy to families. It is better if there are excursion destinations such as the beach, lake or forest for joint activities.

With small children or kindergarten kids

should

before choosing a pitch

a

take a look at the map of the campsite

before choosing a pitch

. Ideal pitches are

near the playground

. There are other children, you can keep an eye on the offspring and quiet-seeking neighbors are not found in these corners.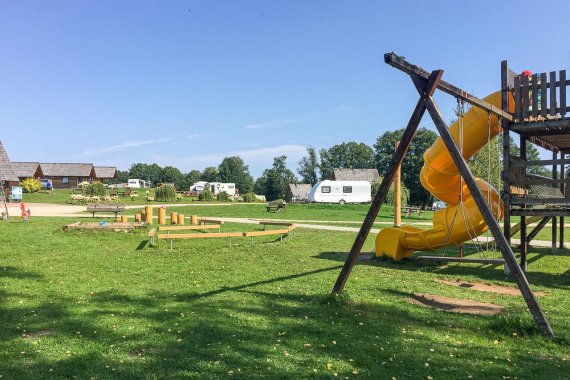 Unlike car or air travel, camping bus trips offer the comfort of always having everything with you. Packing lists help to keep an overview and can look different depending on the family - just like the trip itself. Once the list is created, each family member can work on it in "their area of responsibility".
It is ideal to divide the packing list into bullet points. Definitely these should be there:
Clothes and shoes / flip-flops

Kitchen equipment

Food




Tip:

Hungry kids create stress. Therefore always have enough durable food for simple favourite dishes of the children on board. This means that even spontaneous stops are no problem: if you get hungry, you can quickly whip up something from the "on-board kitchen".

Electric, plugs and adapters

First-aid kit + sunscreen




Tip:

Mosquito spray, tick forceps, painkillers, fever thermometer/juice, bandages and disinfectant especially for kids do not forget.

Toiletries and towels; solar shower if necessary.
Tip:

Microfiber towels are much smaller in volume, saving space.

Important documents

such as children's ID cards, U-Heft, vaccination card and insurance card

Sports and play equipment

Everything about sleeping / the night




Tip:

Don't forget a torch or headlamp. Also for night walks.

Camping chairs and table




Tip:

Common table and camping chair sets usually only "fit" children from approx. 125cm height. If necessary, booster seats or a height-adjustable table can help. Try out sitting together as a family in advance.

Things to do to prevent boredom - even during the journey

Day and children's rucksack, waterproof duffle bag

1-2 favourite things of the children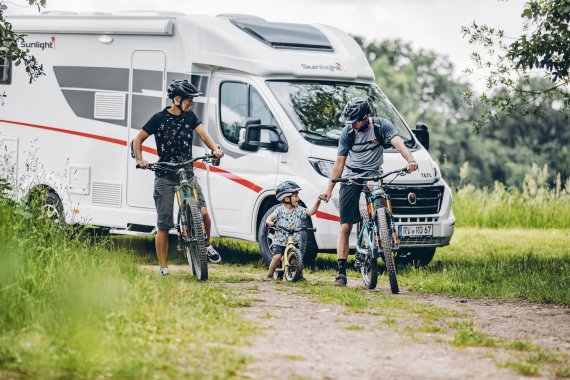 ISPO.com asked professional mountain biker Oli Dorn: He is a member of the SUNLIGHT Adventure Crew and prefers to travel in his motorhome. With him: his family and dog Balu. The man from Allgäu gives 5 tips on which equipment details families should look out for in a motorhome or campervan:
Plenty of space, even upwards. Sure, you can have a good time even in a small space and it is comfortable. But if you are travelling with children, you would be well advised to have a little more space and headroom in your campervan.

Double bed: For children, a double bed in the motorhome is a great place to stay, which becomes a playground, reading corner and chill area for the whole family during the day.

Wet room: sounds uncool at first, but it's worth its weight in gold and makes life on the road easier. "Dad, I have to pee" becomes a breeze with a quick stop.

Room division: our motorhome can be divided into two separate rooms. The open bathroom door becomes a partitioning bedroom door. So the kids can sleep in the back when the evening is just beginning in the front.

Garage: I advise a motorhome with a rear garage. There you can not only store sports equipment, but also toys, so they do not fly around in the vehicle.