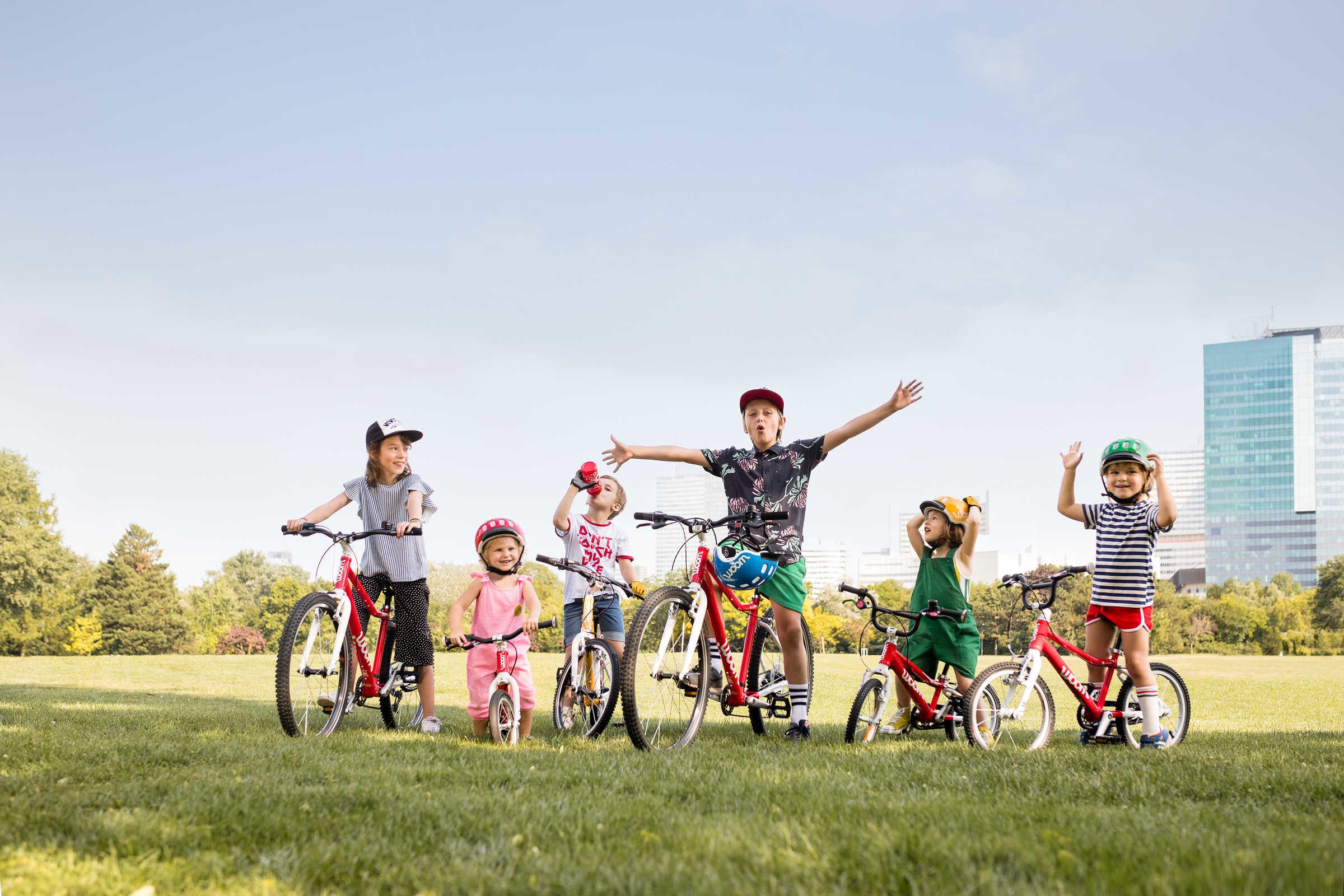 Children's bikes must have geometries suitable for children, stable and high-quality components and an appropriate, not to heavy weight. In favour of more riding fun and safety for the kids - these are the principles brands for children's bikes agree on.
ISPO.com gives an overview: What characterises child-specific bike manufacturers? Which segments do they serve and which ideology do they share?
These five bike brands for kids are presented in this article:
Woom

Early Rider
Mona & Co
Frog Bikes
KU Bikes
Woom was founded in Vienna in 2013 by Christian Bezdeka and Marcus Ihlenfeld. Their goal: to motivate children from an early age to cycle and be active outdoors. Today the fast growing brand is already selling in 30 countries.
Founder Bezdeka explains: "Children are not little adults. For example, they have a different shape of pelvis, shorter legs and fingers and narrower shoulders. We have therefore rethought cycling from the ground up: With our light-weight bikes, which are adapted to the handling and anatomy of children, beginners feel safe right from the start and learn to cycle faster".
Woom attaches great importance to an adapted frame geometry for smooth running and stability. The low step-in makes it easier to get on, the upright seat allows a good overview. In addition, Woom presents details such as the color-coded rear brake or the specially developed handlebar impact limiter, which is designed to stabilize straight-ahead riding and prevent the handlebars from over-turning.
"The wheel weight is also crucial for riding pleasure - it should not account for more than about 35 to 40 percent of a child's weight. This is important for handling as well as lifting, turning, pushing and starting," Bezdeka continues. "We have achieved this goal, among other things, by using a very light aluminium frame, lightweight aluminium rims and dispensing with unnecessary components that are not suitable for children".
The brand now has three lines:
the Woom Original Bikes 2-6 is called "Bike for all cases" - an allrounder for kids from 2-14 years

for children from 6 years there are also MTBs with and without suspension fork: the Woom OFF (Air) Series

since July 2020 Woom also has an e-bike in its portfolio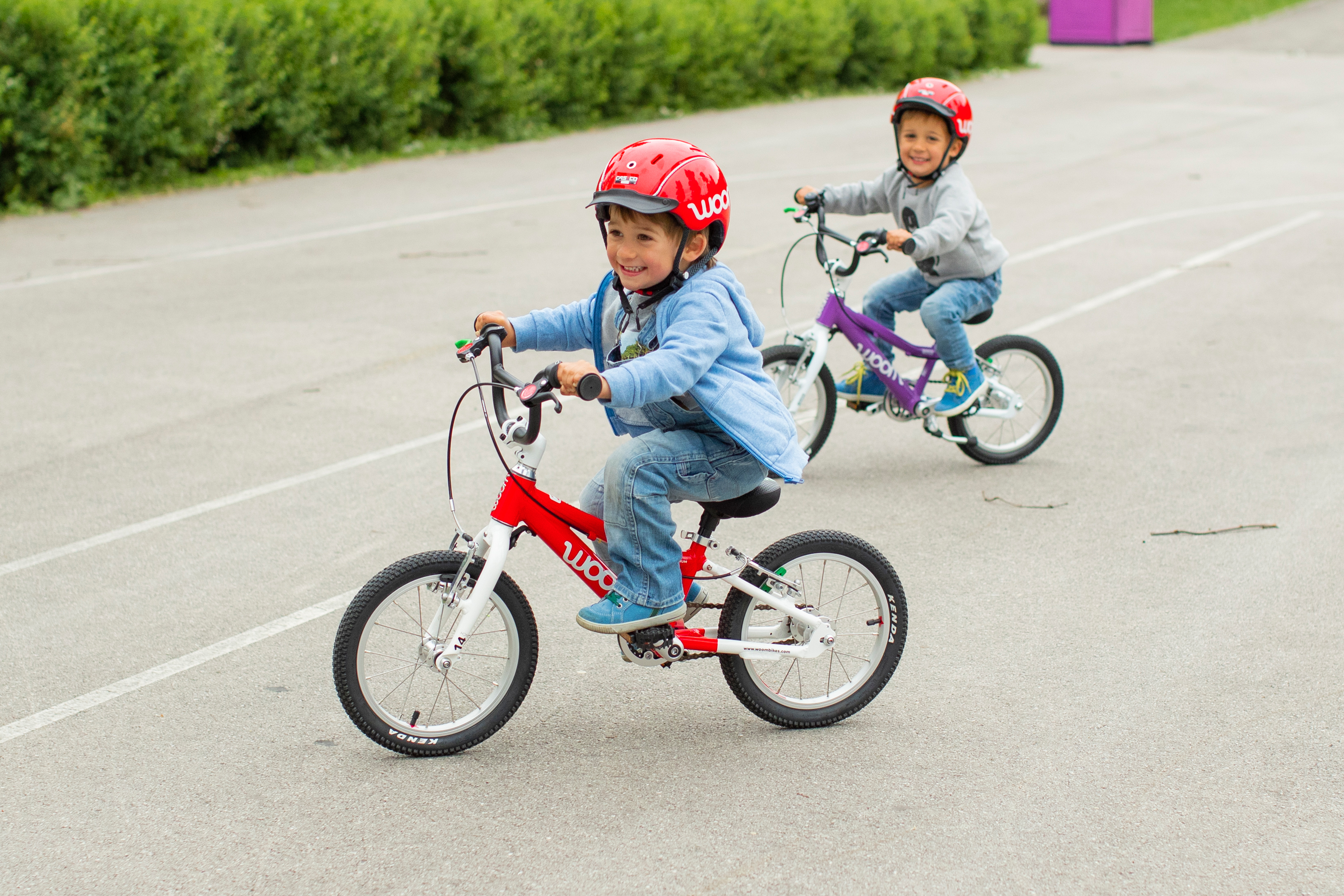 Early Rider is based in Henley-on-Thames, England. The stated aim of the brand, which was founded in 2006: to develop products for adventurers that make their discovery experience easier - and at the same time combine it with style. It is unmistakable with its brushed, clear lacquered frame made of lightweight aluminium and the rivet-trimmed imitation leather saddle. Inspired by the custom motorbike look, there is also a collaboration with Deus ex Machina.
The self-developed frames feature a low overhang height.
Early Rider divides its lightweight 14-24 inch pedal bikes into three categories:
Belter: the Urban line

Seeker: the off-road line

Hellion: the MTB category for the bike park with suspension fork
For all three categories Early Rider exclusively uses Ritchey components in the kids sector with an extra short stem and riser handlebars for better control.
Another special feature of the Belter-Line: the Gates belt drive - according to the manufacturer robust and very low maintenance. And oil-free - also to the delight of parents. The Off-Road and Bikepark models are equipped with lugged tyres and disc brakes and many other well thought-out kids' details.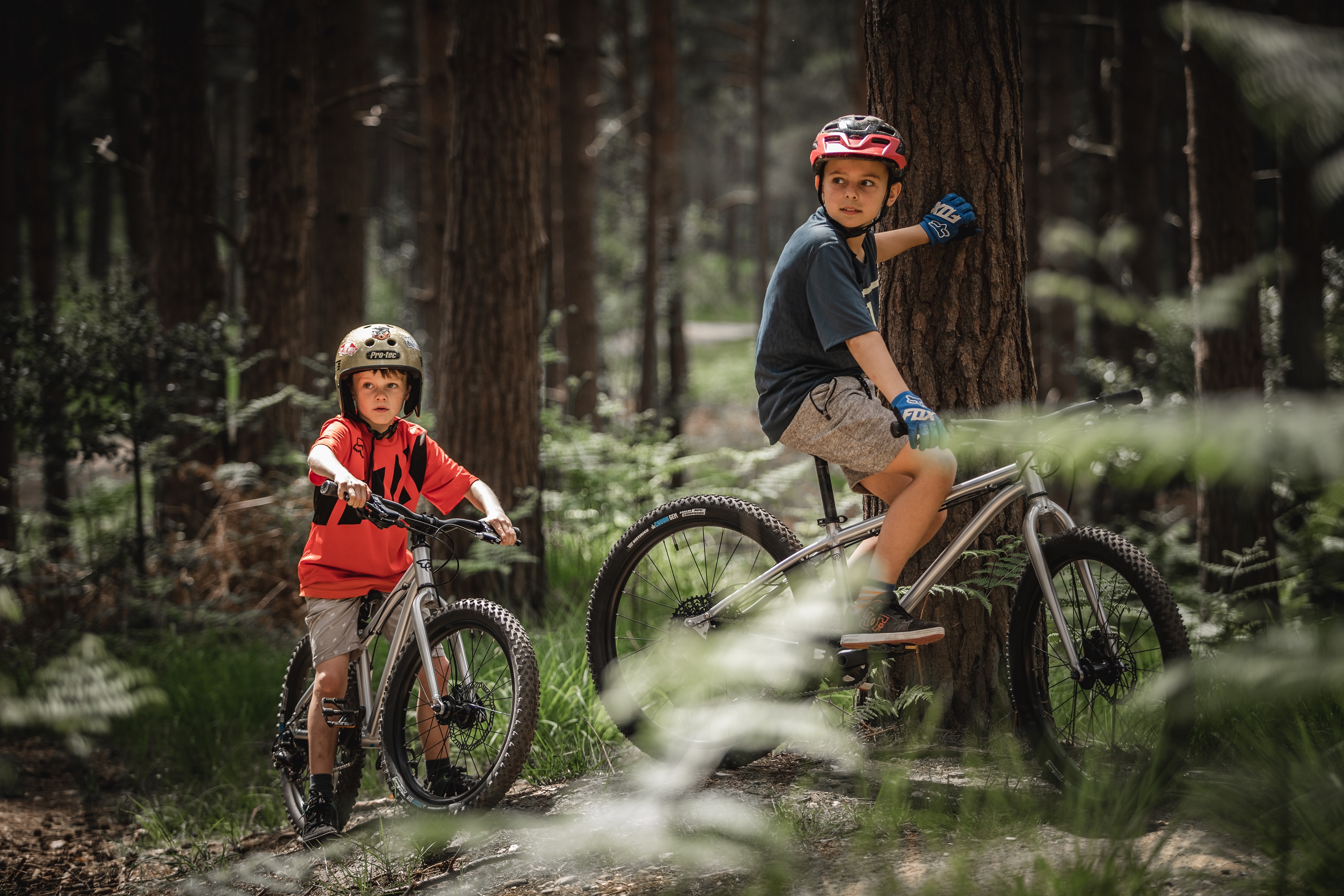 Launched in May 2020, Mona & Co from Munich is a newcomer. Bazi is the name of the brand's flexible first model.
Originally developed by founder Johannes Brunner as a thoroughbred mountain bike, it is intended to be a lot of fun in the city because of its child-friendly design. The components are designed with kids' needs in mind: for example, the hydraulic disc brakes, which require very little operating force, or the lightweight, manually stored wheels - for more acceleration when starting off. For safe "feel-good" driving from the first time you get on the bike Brunner relies on a flat steering angle, a low bottom bracket, long wheelbase and short chainstays.
The frame is made of steel. For the trained architect the optimal choice of material: "Steel absorbs shocks and vibrations better than aluminum and carbon. This makes riding more comfortable and increases the grip" - says Brunner. With steel, smaller tube diameters are also possible - and thus a better proportioned children's bike. "We vary the wall thickness of the individual steel tubes. Stronger only where the load requires it. This makes the frame really light without sacrificing stability. The "Bazi" model weighs a feathery 6.8 kg in the basic setup!"
Bazi can grow quite a bit with the kid. The bike can be adjusted to fit kids from 102 to 128 cm, depending on the settings. Thanks to two mountable wheel sizes (18 and 20 inches) and a 20 mm length-adjustable rear end. In general, many things can be adjusted with a few simple steps. Because: "The bikes should always be optimally adapted to the needs of the child and its riding style at all times, that's how it has the most fun - and so do the parents".
A further model is scheduled to be launched in 2021.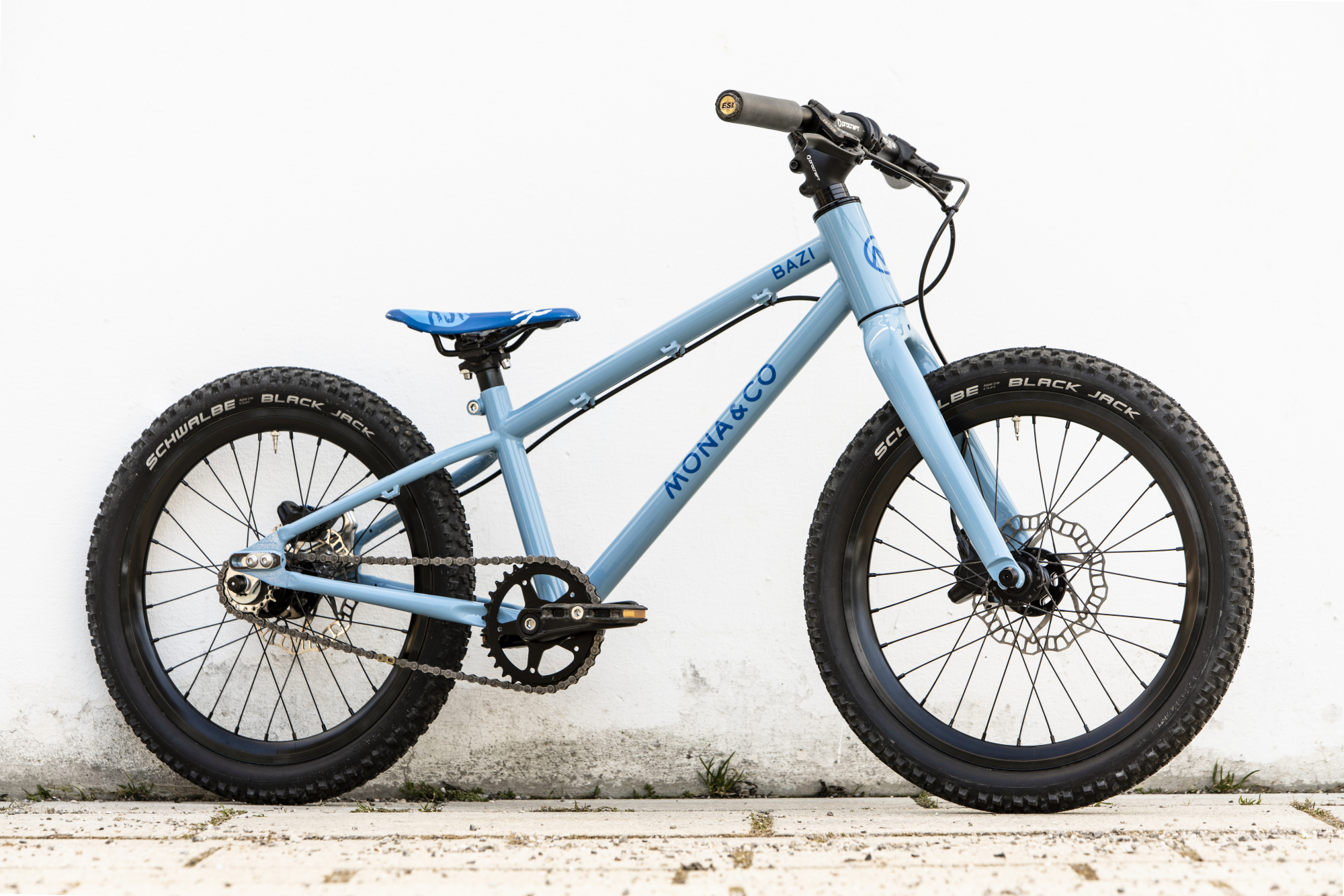 The family business Frog Bikes from Wales has been available since 2013 and offers light and sporty children's aluminium bicycles for 2 to 14 year olds.
In addition to hybrid and mountain bikes, the portfolio also includes racing bikes, which are supplied with a second set of tyres so threy can also be used as gravel bikes. The full-fledged track bikes are then for real specialists.
"With every development, every detail, the needs and anatomy of the kids are the focus of attention. Some of our components are created in our own research department. Like the FrogFit technology cranks with reduced distance between the pedals (Q-factor) to make pedalling more efficient and easier," says co-founder Shelley Lawson.
The brand has recently launched an officially licensed Tour de France special edition of hybrid and road bikes.
The brand also relies on partnerships: from global brands to organisations such as "Bikeability", a training provider for schools in the UK. And in its Blog there are tips on topics such as: "What do you have to consider on the way to school by bike?"
Frog is also concerned about the environment: Their latest sustainability project aims to further reduce their carbon footprint and the use of plastics.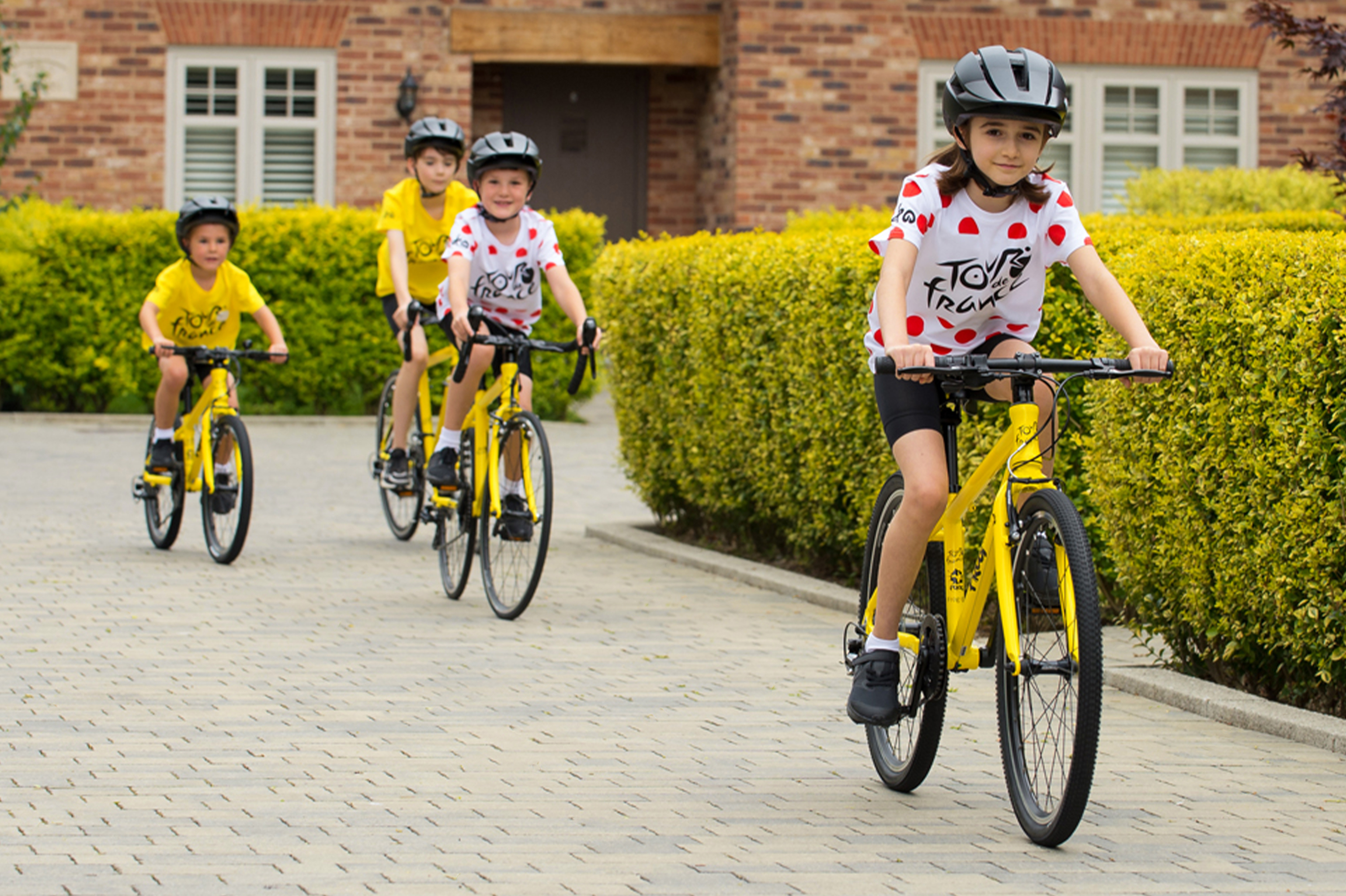 KUbikes stands for the first two letters of the founder's name: The brothers Jonas and Hannes Kuisle. Founded in 2014, the Allgäu-based company aims to build "super-light" bikes and focuses on the individuality of each child. Its children's bikes start at 14 inches and go up to 27.5 inches for youngsters.
In addition to a tour and MTB line, there are bike lines to design yourself: The CustomMade, Trail, Superlight or Carbon bikes offer extensive configuration options.
"For those who like it extremely light, our carbon line is just right. The KUbikes 20L CF for kids from 5 upwards weighs just 5.24kg. No matter which bike you choose, the most important thing is that kids have fun biking. This can be achieved above all with a child-friendly and light bike - and this is exactly what we offer", says founder Jonas Kuisle.
Within the series, the brand attaches great importance to offering only sensible, age-appropriate features. Like a 2-speed Automatix shifting system from Sram on the KUbike 16 (for small riders), which simply shifts up when a certain speed is reached.
From the very beginning, the company philosophy of the managing directors - both of whom studied environmental engineering - also included the topic of environmental protection and resource conservation. To achieve this, they pay attention to the reduction of packaging and the company building itself does not use any fossil fuels for energy supply. KUbikes deliberately does not produce new models every year - and the complete assembly of the bikes is done exclusively in Germany. The company has also set itself the goal of becoming climate neutral.