The days when camping holidays were considered stuffy or outdated are clearly over. Vanlife hashtags populate Instagram profiles and camping is all the rage. For example, the Federal Statistical Office registered 10,460 new camper van registrations in Germany in May 2020. That's a 29 percent increase over May of the previous year, and the trend is also up in the rest of Europe.
Where did the sudden increase in fans come from? The vanlife phenomenon has far-flung roots: social media posts of romantically lit campers in the foreground, the wilderness in the background, public-facing housing debates and minimalism movements. The Corona pandemic has accelerated these trends to boot. Since travel restrictions and accommodation bans have come into force, making holiday planning more difficult, camping holidays have become particularly popular in Europe. After all, it's more flexible.
To ensure that the unlimited freedom you experience doesn't clash with the holiday peace of your fellow campers, that residents or environmentalists don't get on your nerves at the same time and that the most beautiful places remain beautiful for everyone, it helps if everyone sticks to a few simple rules. For this reason, motorhome manufacturer Sunlight has developed a small Vanlife Knigge and we from ISPO have added to it. Whether on the road or on the pitch, with these rules it will be a harmonious holiday.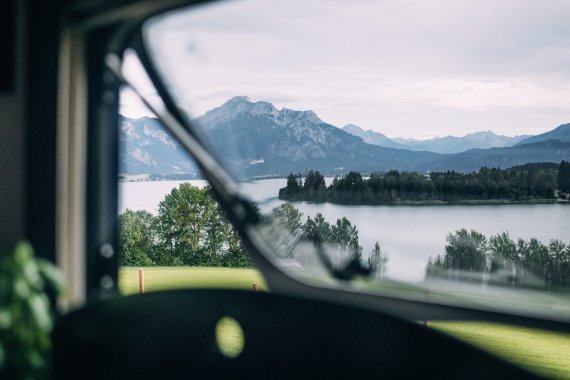 Long-established Bulli drivers know the drill: a quick nod, friendly smile or small hand signal - you greet like-minded people on the road. This applies to drivers of rare vehicles, industry-related professional drivers and also campers who are united by their passion for the cause. It is true that wild flashing lights or sweeping gestures should be avoided so as not to confuse other road users. But friendliness never hurt anyone.
And also on the place is valid unexcited politeness and one greets in the rules the neighbours. Most campers are on a first-name basis and basically very helpful. Of course, this should be based on reciprocity. If you don't move out of your camping chair when your neighbour could do with some help parking or can't manage the poles of your awning, you don't have to expect to be able to borrow pegs when a storm comes up or even some baking powder when the ants invade the motorhome kitchen.
Just stop somewhere and spend the night, whether directly at the lake or with a panoramic view over the national park - generally a romantic idea, but usually not the best idea. In Europe, wild camping or free standing is largely prohibited. Although the various countries all have their own legal regulations, it can often be expensive for wild campers to spend the night away from designated pitches and campsites. In general, you should always check the rules in your country or region.
In Germany, for example, there is a right to stay overnight once in order to be fit to drive. However, this means that all camping behaviour must be avoided. Under no circumstances should you give the impression that you have made yourself at home. That means ramp wedges, table and chairs, awning or even a clothesline have no place outside.
Fortunately, there are helpful tools that facilitate the selection of a suitable place to sleep, for example, parking space guides from ADAC, Promobil and Co. Apps such as park4night, which are kept up to date by a community of active users, can be just as useful. But be careful: Some apps list spots where camping is not officially allowed. So it's best to rely on your own judgement, pay attention to signs, if in doubt, keep a low profile and head for the nearest campsite.
At the beginning of the holidays, all hell is breaking loose on the motorways and people are standing close together. And word also gets around about the special idyll and magic of some campsites and car parks: if you arrive at your desired destination with lots of other holidaymakers after a long, tiring drive, the site can get full during the peak season. Now it is important to be considerate of your fellow human beings so that it does not become uncomfortable with the neighbours. Wrong parking direction, cross parking and keeping too little distance should be avoided. Also for safety reasons, each camper should be given his space and the designated parking spaces should be respected.
In Germany, the fire protection ordinance also prescribes a distance of three metres to the neighbour for official pitches. And in times of Corona, we all prefer a little more distance.
And just like at the pool, throwing out towels to reserve the best spots is frowned upon. Instead, it is better to go the official way and make a reservation at the reception, as simply taking two pitches or stretching a clothesline across the pitch next door in order to make a reservation for the next ones is not really appreciated. In general, the following applies: show consideration, communicate with each other and also pay attention to the little ones, because the neighbour with his 2-man tent may not necessarily want to sleep directly next to the toilet tank of your huge motorhome, just because the view from the window is the best for you.
As far as the noise level is concerned, it is also important to be considerate of each other on full campsites. On many campsites there are fixed lunch and night rest times to which everyone must adhere. This includes banging doors, shouting across the site or listening to the nice camping playlist at club volume. Those who spend the night away from civilization without human neighbors can of course move a little more freely, but should still keep in mind the animal friends in the area, who may feel equally disturbed in their night's rest, but just as during the day.
By the way, many campsites, especially in the south, keep quite strictly to the midday rest. In order not to stand in front of a closed barrier in the midday heat, it is better to calculate the driving time well or to stop at a nearby café on the way, see tip 10.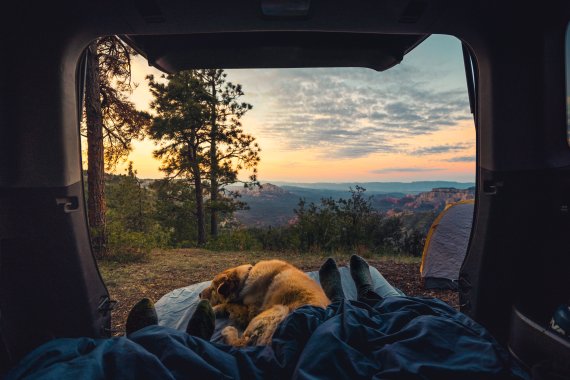 Apropos animal love, also with the company on four paws one or the other should be considered, because not every camping lover is a dog lover. Especially not if he climbs early in the morning on the way to the wash house in a brown leftovers. Therefore, whether camping or wilderness, poop should be collected.
On some places dogs are not allowed, on others certain rules apply like the leash duty. And even if Bello still hears so well, for vacationers with fear of dogs too close contact can spoil quite fast the vacation. If in doubt, talk to the neighbours and if the neighbour is having a barbecue, take extra care so that the steak doesn't end up in the belly of the four-legged friend who strayed across the site and was briefly ignored.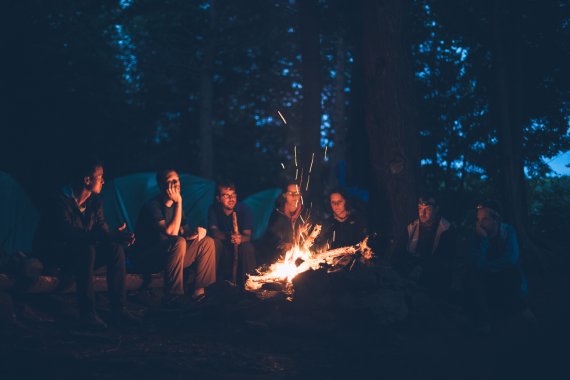 Campfire romance is part of camping? Not everywhere. Open fireplaces are often not allowed and usually this makes sense, because with rising temperatures and falling precipitation the risk of forest fires increases. In general, the legal situation varies from country to country. If you take Germany again as an example, even from state to state. However, there is an overarching rule that a distance of at least 100 metres from the edge of the forest must be guaranteed. Therefore, it is imperative to check the information situation before starting the barbecue and to be on the safe side not to leave behind any scorched earth that could literally fuel less careful imitation. Also on campsites there are different rules, which can be clarified quickly at the reception.
Coffee grounds and potato peels do not belong in the forest, even if they are biodegradable. With the increasing number of campers, otherwise untouched nature will soon become a compost heap. Residual waste should also not be left behind, but collected or properly separated and disposed of.
Clean-up actions are welcome everywhere and are also good for the relationship between residents and campers. In addition, collecting rubbish sends a positive signal to fellow campers and has a direct impact on flora and fauna, so that beautiful campsites are preserved in the long term.
Easy to remember rule of thumb: leave each pitch as you found it. This also applies to the campsite, because it doesn't hurt to wipe out the sink after washing up or to check the communal showers for hair and other residues before leaving.
Another sensitive issue regarding legacies is certainly the following: Many of the DIY campervans do not have a toilet. But what has to, that has to and so nature takes care of business - to the displeasure of farmers, local walkers or even day trippers. In the meantime, there are space-saving, mobile and sustainable toilet solutions and motorhome owners should sincerely ask themselves if they can't find a place on board. What's more, it's much more comfortable at night.
Another tip: If the toilet is installed, don't necessarily empty the full load at breakfast time, because often the tank is at the back and on full sites usually where the neighbour is sitting having breakfast.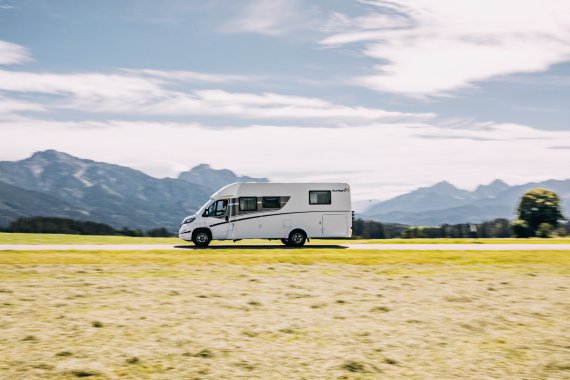 Speaking of disposal: Waste water should only be disposed of at designated places and not dumped anywhere. The vast majority of campsites have special disposal stations and you can also relieve your camper at many gas stations or rest stops. However, if there are two, it is very important not to mix up the hoses, because one is exclusively for flushing out the toilet contents and the other is exclusively for tapping fresh water. Not only is a mix-up unappetizing, but the person who follows may have disease-causing germs in the water tank as a result. So, to be on the safe side, when filling up with water, it doesn't hurt to clean the hose before using it.
Some campers travel through Europe with a self-catering mentality. Those who stock up at discount stores at home, always cook for themselves and only go to the campsite to fill up with water and empty the toilet hardly leave a cent in the holiday region and do not necessarily keep the basic mood towards campers positive. Rather travel sustainably then: visit local shops, stock up on local vegetables and produce at markets, enjoy a meal out now and then or even rent a place with the farmer in the field. Plus there's a real insight into the country and its people. And a helping hand is also welcome at the campsite, whether it's pushing the caravan into the next bay or when the neighbour has left the chairs in front of the tent but it's just starting to rain.
All in all, consideration, common sense and a prudent approach to nature, locals and fellow campers are the be-all and end-all and should definitely be on board for the perfect camping holiday.
More information about the Sunlight campers at sunlight.com.