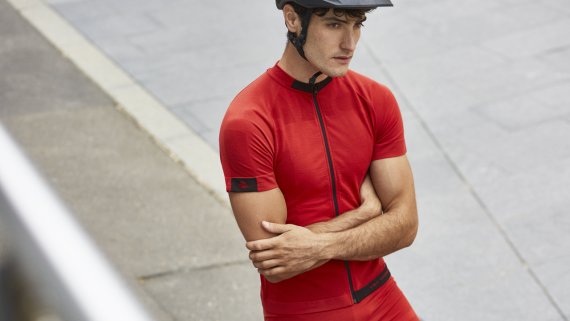 Traditionally, wool base-layer apparel was 'cut and sew' production with limited possibilities for variety. Now however, thanks to advancements in technical know-how and machinery, seamless and flat knitting technologies are being employed to manufacture not only Merino wool base-layer garments, but an extensive range of mid- and outer-layer garments.
Seamless and flat knit apparel are well-suited to stretch related activities such as yoga, running, cycling, climbing, skiing and cross-fit. With the versatility of knit structures and compression panel effects, garments can be engineered with reinforced zones to provide a more technically constructed, functional yet comfortable garment with cutting-edge style.
New patterns have been developed that uses body mapping – a design technique that enables different areas of the garment to be constructed to suit the shape, motion and functional requirements of the corresponding part of the body.
Whilst not a new process, seamless knitting and flat knitting technologies to produce technical, functional garments in Merino wool apparel has been gaining ground during the past few years and it has now reached a point where there are a greater number of options on the market.
Merino wool is enjoying unprecedented interest in this area from brands and designers and thanks to the continued development of new technologies and machinery there are unlimited opportunities for the fibre.
Merino wool is nature's ultimate high performance fibre, suitable for a range of sports and outdoor markets. In almost every activity at every level, and in every climatic condition, sportspeople are benefitting from the extraordinary properties of Merino wool.
Soft next to the skin and breathable, it keeps you warm when the climate is cold yet releases body heat and moisture when it's hot, and it's even odour-resistant too – all of which makes it the perfect choice for lower impact activities such as yoga, to higher impact activities such as running, and adventure activities such as climbing. It helps people perform at their peak, from sea-level to mountain top.
The Woolmark Company has worked closely alongside its partners to take advantage of Merino wool's recent growth in popularity within the performance market, and companies throughout the supply chain are also acknowledging the importance of this new area of growth.
New wool-rich yarns are being developed by the textile industry specifically for seamless knitting, with enhanced yarn strength and abrasion resistance through core or wrap-spun spinning technologies.
This greater engagement by spinners on developing new wool-rich yarns, and more importantly engaging directly with sports brands, reflects the growth in this area and level of excitement for innovations in Merino wool.
And while we live in an era of technical innovations, people still want to connect with nature. In stark contrast with synthetic fibres, Merino wool is a natural, biodegradable and renewable fibre, making it the perfect choice for those seeking clothing that has a minimal impact on the environment.
Furthermore, unlike synthetics, wool does not contribute to microplastic pollution in our oceans or on our land. Wool is also the most reused and recyclable fibre on the planet of the major apparel fibres.
The eco-credentials as well as the technical performance benefits of Merino wool therefore make it the ideal fibre for the ever increasing conscious consumer that buys in the sports and outdoor market.
More information: www.woolmark.com