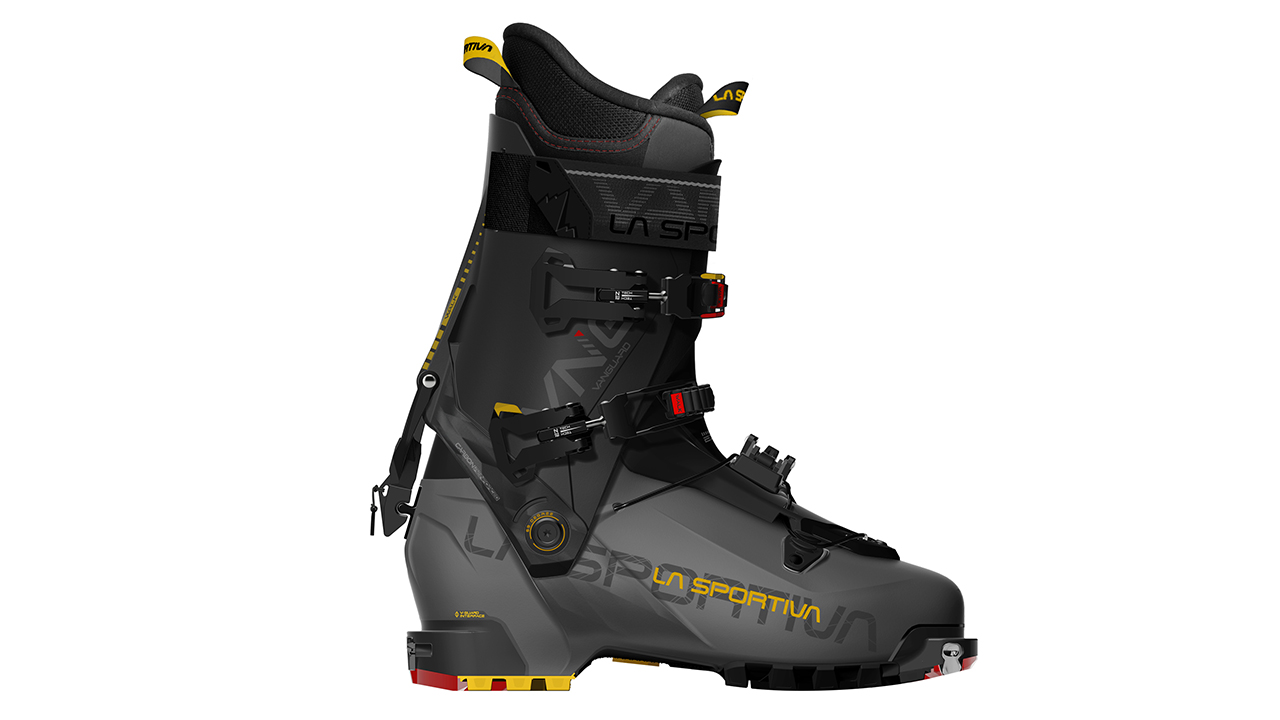 The materials used represent the state of the art technology of plastic materials combined with carbon and glass fibres, taking into consideration the environmental impacts by using bio-compatible material Pebax® Bio Based Rnew 1100. Each construction component allows a perfect transmission of precision and power to the ski, combined with high durability, incredible lightness and an unparalleled elastic response in the category. The heart of the boot is the shell with an asymmetrical V-SHAPE ™ cuff closure that combines a high mobility with a very intuitive fit: easy to put on, position the boot in walk mode and open the front hooks. The ski mountaineer will appreciate the wide fit and an extremely simple cuff closure, which will automatically bring the front tab into place. The exclusive Compact Buckle ™ lever remains adherent to the cuff of the boot in walk mode, reducing volumes with no exposed parts on the outside of the shell: fast and ready to walk. The mobility of the boot is accentuated by the EZ Flex ™ Double Tongue composed of two elements, upper and lower, allow for frictionless walk mode and perfect power transmission in ski mode. The new patented EZ-LOCK Closure System ™ ski / walk mechanism avoids the exposure of mechanical parts to wear and impacts and ensures a safe and quick closure of the boot. The upper lever mounted on the

TWIN-PWR ™ double elastic strap guarantees a comfortable and enveloping closure and allows you to adjust the pressure on the skier's tibia, guaranteeing perfect and precise management of the impulses deriving from any type of terrain: both on hard and powdery snow. Cuff and shell have been studied in detail so as to comply with the UNI EN ISO 9523 regulations in place. The patented, compact and precise Double Release™ closure allows the available volume of the central part of the boot to be adjusted quickly. This closure system derives from our Spider Buckle Evo technical solution which, in addition to containing any bending of the shell in advance, allows a perfect distribution of the tension on the instep by acting on the high resistance Adjustable Cable™. The durability and strength of the shell are increased thanks to the V-Guard Interfaces ™ toe and heel inserts that allow greater resistance on the points of interference with the binding and the ground. The fit is comfortable, enveloping and ergonomic due to the Vanguard Liner in thermoformable material: specifically designed to work in synergy with the shell. Particular attention has been paid to the protection of the malleoli by creating a notch in the liner as a result of differentiations in the thickness of the materials and the use of Ultralon® Performance Foam material. The flex points of the liner also further facilitate general walkability. The package is closed by the Vibram® V-Lug ™ high durability compound sole and designed in compliance with ISO UNI EN 9523: it guarantees grip and wear resistance.
Vanguard: Free the Future!