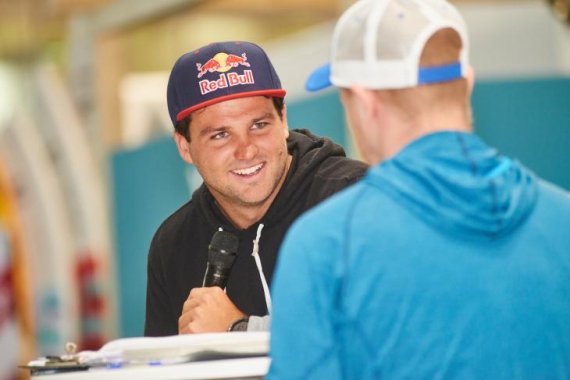 From Down Under, where he won the Lancelin Open Classic and did a photo shoot for his sponsors Starboard and Severne, the German made a brief pit stop at his home in Gran Canaria then headed straight to ISPO Munich 2018.
The 23-year-old was utterly impressed by his first ISPO visit on Monday. "It's a huge trade fair and a big deal for sport. I hope that I can come every year," says Köster. While on stage, the World Champion spoke of his sporting goals ("to be World Champion at least once more"), his difficult recovery from a serious knee injury ("due to rehab, he had to work the hardest for the World Championship title in 2017"), his dream jump ("the triple loop") and his personal records. The biggest wave he's ever ridden was in Fiji and it was "around eight to ten meters high".
Köster thinks it's cool that there's a combined outdoor and watersports area at ISPO Munich. After all, he loves being out in the open air, spending five to six hours out on the water almost every day. Of course, Köster is mostly practicing spectacular new jumps, but he also loves riding waves on a short board and doing stand up paddling (SUP). That's probably also down to the fact that his girlfriend Manca Notar is the SUP Sprint World Champion.
"It's an extremely cool sport, when there's no wind. If you want to keep fit, I can recommend spending as much time as possible on the water and riding a bike," says Köster, sharing his fitness tips. As a windsurfer, you should be able to hold your breath for at least "two to three minutes" – in case you get swallowed up by an enormous wave…