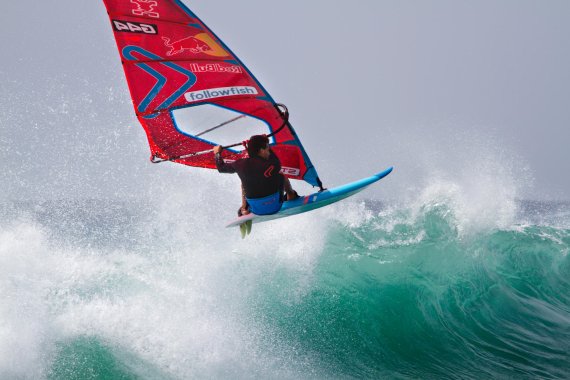 In September 2016, Philip Köster seriously injured his right knee after a six-meter high jump. The 23-year-old surfing pro ripped his anterior and posterior cruciate ligament, the medial collateral ligament, and had a damaged meniscus.

Germany's biggest windsurfing star is now back. He gave the green light for his comeback just two days before the season opening in the PWA Windsurfing World Cup off the coast of Gran Canaria, Köster's adopted homeland. In the single finals Köster claimed the win against the Spanish world champion Victor Fernandez Lopez. 

In an interview, Philip Köster talks about sponsors, money and trends in the scene.
Test the products of the future with ISPO OPEN INNOVATION and give the manufacturer direct feedback. Register here for free >>>
Philip Köster: New splint after the cruciate ligament rupture.
ISPO.com: Philip Köster, you were seriously injured for a long time. Until shortly before the start of the season you weren't sure whether your return to the world cup would really work. How fit are you?
Philip Köster: I recently got a new splint and I am actually fit again, apart from slight pain when I land. So, yes I am going to take part but I won't be in the running for winning the title just yet. I'm looking it rather as a comeback to the world cup, but I'll still try to give everything and challenge my opponents as much as possible.
How much are you looking forward to this after such a long break?
I am hugely excited – but it is a large strain for my knee. I love competitions – but if I realize that I can't give 100 percent, that's when they become less fun.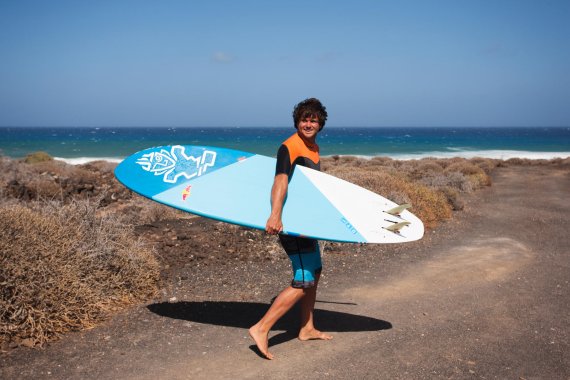 The double loop still entices Philip Köster

Is it difficult to find confidence for the high-risk jumps after such a serious injury?
I got my confidence back very quickly. When the perfect wave rolls in, I get so excited to do the really high, cool jumps again like the double loop. But then I think: 'you're best off taking your time'. The initial period after the injury was quite difficult. Back then I watched competitions on live stream. That wasn't such a good idea because it really hurt not being there myself. This compulsory break made me even more motivated.

You need water and competition?
In the past when I still went to school, windsurfing was always the perfect distraction. When I no longer went to school I sometimes found it more difficult getting out on the water every day. But in my rehab time, I really missed windsurfing.
I watched the others longingly and made videos of them with a drone. Thankfully I can now get back on the water myself. 


Windsurfing sponsors put you under no pressure
Have your sponsors put any pressure on you in your comeback.
No. My sponsors don't put any pressure on me, rather they think I should go slowly and go with my own feelings. They say: 'Take the time you need. It's better if you come back 100 percent fit'. I have a very good relation with my sponsors.
And the fact that you regularly put up advertising posts on social media...
That's part and parcel of it all nowadays. I used to be against all of that, but over time I have started to do it too even though I don't particularly need it. I can also do a journey without my cell phone without any problems, while most people would probably have withdrawal symptoms. Sponsors nowadays also look at likes and followers.

Just like lots of your fans...
That's right. Volkswagen turned a double loop into a quadruple loop in one of their adverts. And lots of people believed it and congratulated me. I've been trying for years to manage the triple loop and film it (laughs).

At Volkswagen and Followfish trade fairs
What else do sponsors ask of you?
In the time where I couldn't do any competitions I was at lots of events. I went to the IAA (International Motor Show Germany) for Volkswagen and I even went to an organic fair for Followfish. They generally don't ask for much more.

You are being marketed by your own family...
Our experiences with sports managers are rather negative and so far it's being going great as it is.

Does that men you're going to become a multi-millionaire?
No (laughs). Obviously I earn much less than say a soccer pro would. But I can live from it and finance my competition and training journeys with it.

Do you ever get jealous of the top soccer stars who could earn more than ten million euros each year?
Of course it would be nice to earn more money. But surfing isn't a sport to watch live on TV. Everything depends on the wind and the waves so there are days when nothing happens at all. It goes without saying that it is more difficult for broadcasters and sponsors to get involved. But I also don't like putting windsurfing in a hall. Then you lack the nature and the spectacle.

How important is money to you?
Money is important to survive. But it's a much better feeling to win a title.
Ferrari guys? Philip Köster is nothing like Robby Naish
Are you the kind of person who saves money or do you like to spend?
I want to build up a reserve with my sport for later. I'm not the type to spend my money frivolously and buy a yacht or a fast car. You can't drive fast on Gran Canaria anyway.

Are there such Ferrari guys on the cool surfing scene?
Robby Naish is that kind of guy. But otherwise it's rather rare. I prefer to go on a nice trip away.

What kind of new trends are there on the scene?
A lot more material is filed. Everything is becoming more and more light, a lot of carbon is used.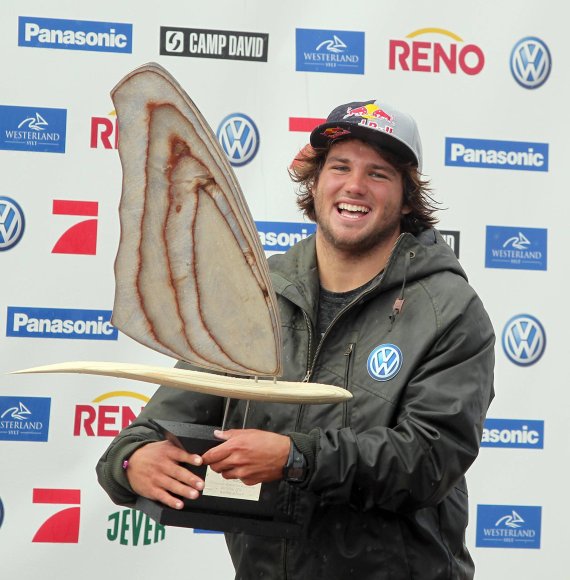 Encounter with a great white shark
And are there any new super difficulties? 
I've been trying for two years to do the triple loop. Perhaps I'll manage it in November at Red Bull's Storm Chase. They look at a world map to see where the largest storm is and then they fly the world's best surfers there. It's a huge event.

SUP is also a trend on the scene... 
For me that's more of a recreational sport for when there is no wind. It's also good for the small muscles. Eight years ago I was the first to do it here on Gran Canaria, now loads of people do it. My girlfriend too. So I can't get around it (laughs).

Does that mean you're not a huge fan of it?
It has it's advantages. I like doing it in the waves. You always come back to it very quickly, while you need forever with windsurfing. However, I've seen sharks a few times while I've been doing SUP. When I go windsurfing I frighten them away with the noise.

Have you ever had a bad shark experience?
They haven't bitten into the board yet. But in western Australia I took part in an SUP race and fell into the water four or five times. Suddenly a three or four meter long great white shark popped up next to me and looked whether I could be a tasty meal. Otherwise I've only ever encountered hammerhead sharks which are harmless.

Test the products of the future with ISPO OPEN INNOVATION and give the manufacturer direct feedback. Register here for free >>>
VIDEO: How ISPO OPEN INNOVATION works

Co-edited by: Gunnar Jans