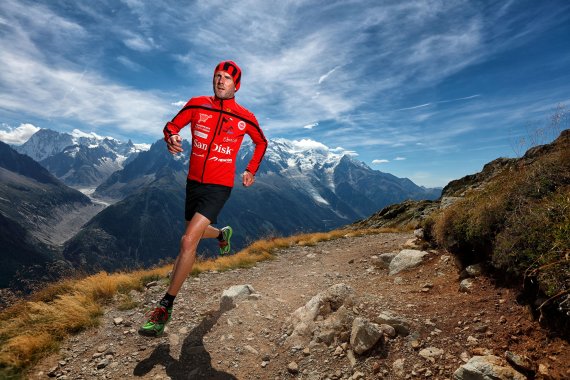 Elmar Sprink's second life begins on 8 June 2012. The UEFA Euro preliminary round match between Russia and the Czech Republic is on TV when the good news comes: a suitable donor heart is available for him. Here we go. Elmar Sprink has been waiting for half a year, now it's a matter of minutes. Because a heart transplant is a race against time. If this race is lost, if the heart withers, all the effort is in vain.
One afternoon in July 2010, Elmar Sprink - Ironman finisher, ski tourer, runner and generally: sportsman - collapsed on the sofa without warning and for no apparent reason. A series of coincidences saved his life. That he made it to transplantation at all was a stroke of luck. Because in Germany there is a massive shortage of donor organs. That's why every third candidate dies before a suitable new heart is found.
Two days after the operation, Elmar wakes up and makes his way back to life. Three weeks after the transplant, he celebrates his first triumph: he manages to walk 400 metres without help; it takes him half an hour. After 197 days he is discharged, enjoys the fresh air! A month later, he is sitting on a racing bike, building up fresh muscle mass, pedalling himself fitter every day on the ergometer.
Before the cardiac arrest, Elmar was an iron man, swimming 3.8 kilometres, cycling 180 kilometres and running a marathon at the end. His best time back then was just over ten hours. Today Elmar Sprink says the training helped him, of course. No, athletes are not fundamentally tougher than others. And sport can't prepare anyone to cope better with such strokes of fate. "But the experience as a competitive athlete still helped me a lot," says Elmar Sprink. That's because athletes learn to set a goal and pursue it consistently. "I wanted my life back. Sport was not only an incentive, but also my vehicle on this path," says Elmar Sprink.
At the end of December 2012, he is running again. This time it's just under 700 metres. At Easter 2013, he takes part in his first competition, the 10-kilometer run in Paderborn. He crossed the finish line after 58 minutes; seven months after he had to relearn how to walk.
Almost a small miracle. Because after the surgery, it was really just a matter of survival. "I had resigned myself to the fact that sport would no longer be an issue," says Elmar. The racing bikes - all sold, the plans - rather short-term. The old dreams of the Ironman in Hawaii - infinitely far away. But the many small successes on the way back gave courage. The Dalkeman in Gütersloh was his first triathlon with the new heart; on June 9, 2013, the anniversary of the surgery, his new birthday, so to speak.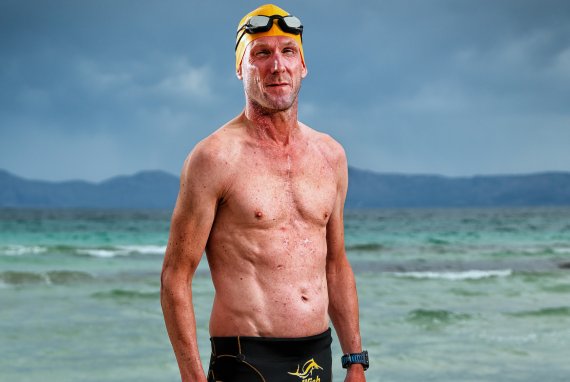 Today, Elmar Sprink is considered the fittest heart transplant patient in the world. And he has now also fulfilled his dream of the Ironman World Championship: in 2014 he finished in Hawaii. "Of course, that's far more than anything I ever dreamed of," he says. He's well aware that he'll get some flak for it. But the vast majority of letters and comments are positive and motivating, he says. And not all doctors have always considered his sporting ambition to be unproblematic. "One even told me once that I was a potential suicide". But Elmar Sprink proved them wrong. In the meantime, the doctor has apologized.
Records are no longer an issue for Elmar Sprink. Not even that of the longest life with a new heart, at least not at any price. "I want to use the time I have sensibly and intensively, to experience it consciously," says Elmar Sprink. If it should therefore end a little earlier with him, "then that's just the way it is".
Which does not mean that he is careless with his new life. Like all transplanted patients, he has to take medication every day to prevent his new organ from being rejected by his body. This weakens his immune system and he has to be extremely careful about hygiene. What many people only internalize during the Corona pandemic has been routine for him for years: keeping his distance, washing his hands, using disinfectant.
"My favorite things are outdoor parties," says Elmar Sprink. And he also always rides his bike to the stadium of 1. FC Köln, for which he has held a season ticket for many years. In principle, the Corona crisis has made it easier for transplanted people, after all, you can now find disinfectants everywhere - "and people actually wash their hands".
But despite all precautions, the virus also caught him, probably on the way back from the Cape Epic in South Africa. Symptoms? For the time being, none. He did have problems keeping up with his training partner, but that was it. The technology warned him: the sleep analysis of the pulse watch reported unusual data. And when he couldn't smell anything while chopping onions a little later, he sounded the alarm.
Maybe it was sport and his fitness again that helped him. Or maybe Elmar was just lucky again. He overcame extreme fatigue, high blood pressure, after eight days he could smell again. "We always talk about protecting the elderly in particular, that's certainly true," Elmar says. "But athletes also have to take extreme care of themselves and get tested more often when in doubt."
Because the problem, he said, is the long-term effects. "You have the virus, don't necessarily even notice it and train normally". He sees how dangerous this can be at the TU Munich, with which he has projects from time to time. Performance diagnosticians there have observed a drastic increase in heart muscle inflammation since Corona, Sprink says. "That's probably where some people went back to training too soon - or overexerted themselves when they didn't even know they had the virus. That can end careers, and in the worst cases, it can end lives."
That, by the way, applies to the Sunday league football amateur as well as the World Cup athlete. So Elmar advises caution. Because there is one thing that hardly any sportsman knows as well as he does: "Our health is the most important thing we have to protect as a society," says Elmar.
When the pandemic is over, he looks forward to a street party again. And to visits to the stadium in Cologne. Sporting goals? He still has plenty of them anyway. And so he waits with burning patience for things to start again.