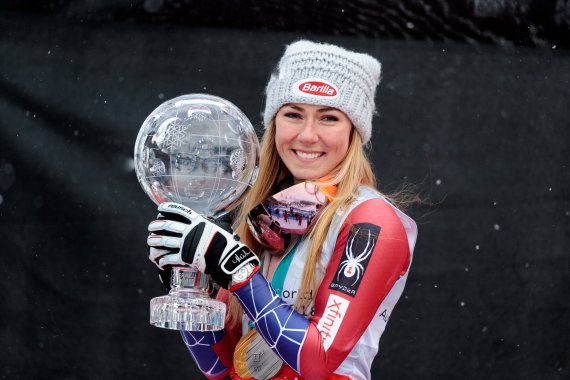 Mikaela Shiffrin has always been an exception: Even as a child she won the most important races in the world.
And she continued this tradition with the adults: For the third time in a row in the 2019/20 season Mikaela Shiffrin earnings replenished by the most prize money of all ski racers in the World Cup - a total of almost 366,000 Euros. And all this in a season that is rather mixed by Shiffrin's standards, with third place in the overall World Cup.
According to Forbes, Shiffrin has the potential to remain the focus of the sports scene and industry for another entire decade and earn 30 to 50 million US dollars in the process. Tiger Shaw, CEO of the US Ski and Snowboard Association said of Shiffrin 2017: "She is by far the most interesting personality to have started winning races so early.
Well, after the resignation.by Lindsey Vonn Shiffrin owns the US market almost exclusively. And with 66 individual World Cup wins, she is also only 16 away from record winner Vonn.
This is Mikaela Shiffrin: Successes, Fans, Sponsors
Successes:
Mikaela Shiffrin is just 25 years old. It's easy to forget that when you look at her achievements: three overall World Cup victories, two Olympic gold medals, five World Championship titles.
Already at the age of 18 Shiffrin won the Small Crystal Globe as World Cup best in slalom, her favorite discipline.
Mikaela Shiffrin fanclub is constantly growing as she is a role model for young people around the world.
Social:
Instagram: approx. 1 million followers
Facebook650.000 subscribers
Instagram: Guitar Lesson and Private Insights With the Ex-Boyfriend
Mikaela Shiffrin focuses on authenticity in her social media appearances. She gave her Instagram fans insights into one of her hobbies in Corona lockdown times: playing the guitar.
When one of the most important pillars of her life, her father, died in February 2020 after an accident, Shiffrin shared her pain with her followers.
Mikaela Shiffrin Instagram photos are always sincere, depicting her friends and boyfriend Mathieu Faivre, also a ski racer. But since summer 2019, Mikaela Shiffrin dating ended in a breakup and now she is considered solo.
Sponsors and Suppliers: Shiffrin Is an Adidas Athlete
Mikaela Shiffrin sponsors

:

Adidas

 Barilla

 Visa

 Longines

 Bose

 IKON Pass

 Oakley

Suppliers:

Atomic

Reusch

Leki
In 2019 Shiffrin signed a contract for an unknown amount of money as the worldwide advertising face of the sporting goods manufacturer Adidas. None other than CEO Kasper Rorsted is said to have been involved in the talks with Shiffrin and its management.