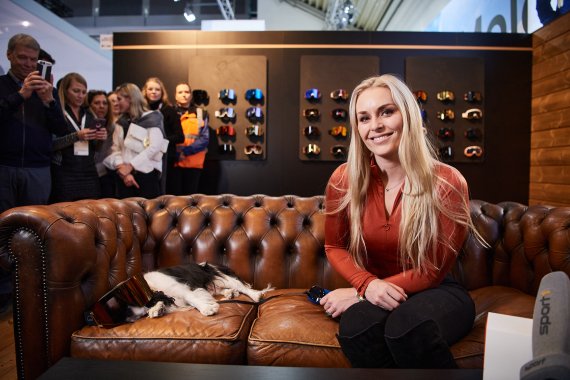 When the tall blonde woman with a strikingly bright jacket in red and gold appears with her dog Lucy on her arm, there was an audible whispering and excitement that swept through the audience at the stand of helmet specialist Briko. The real sports world star Lindsey Vonn visits ISPO Munich for the first time. And the most successful female alpine ski racer in history, Olympic and two-time World champion, at least in terms of the number of World Cup victories (82), presents herself in a very popular way: she patiently gives hundreds of interested people autographs and takes selfies with fans.
"There are a lot more people here than I thought. Finally I am at ISPO Munich. This is a great first time for me," enthused Vonn later during her visit to the luxury eyewear provider YNIQ. The US-American has been a stakeholder of the Swedish company for a few weeks now.
This is part of her new life as a businesswoman, after she ended her brilliant career on the world's ski slopes almost a year ago after numerous injuries. Klaus Dittrich, Chairman of the Board of Management of Messe München GmbH, came in person to welcome what is probably the most dazzling sports star on the world's largest platform for the sports industry.
Here in the exhibition halls of Munich, she arrived straight from the legendary Hahnenkamm race in Kitzbühel after a "short night". The day before, she had been happy like a little girl that she was allowed to play the flower girl at the award ceremony after the men's downhill race on the Streif.
Vonn was able to visit the course and also went down the most important downhill course in the world a few times, which she was never allowed to race down as a woman in competition. The pain reminded the 35-year-old of why she had to resign. But the return to the skis has also made it clear to her what she has lost.
"I've been into skiing since I was two and a half years old. I've been skiing for over 30 years. My life is different now. It's great, but different," says Vonn. Her radiant smile disappears when she says these words, but she hasn't quite arrived in the new business world yet: "I have to replace the adrenaline, find something that gives me back that feeling like skiing. I haven't found it yet," says Lindsey Vonn.
She takes home a golden helmet from her sponsor Briko from ISPO Munich. The gifted "drama queen" and social media millionaire puts it on the head of her dog Lucy just for fun. Lots of pictures are taken. Lucy acts as an anchor, helping Lindsey Vonn to come to terms with this new life. "Besides, I am engaged and will be married soon," she says during question time. Canadian ice hockey professional P. K. Subban is the future husband of the ex-athlete, who has also been involved with golf star Tiger Woods.
"I must find my balance again, learn many things anew. This is a process," says Lindsey Vonn. This includes that she now inspires people at ISPO Munich and no longer on the ski slopes of the world...