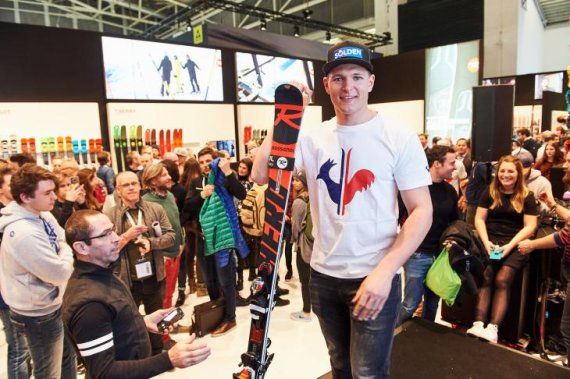 Before the guests could concentrate on the small, exquisite delicacies made by two-star cook Edouard Loubet, there was good news right from the top. Right at the top, that is the small podium on Rossignol's stand in hall B6, and at the end of the first day of ISPO Munich 2018, it wasn't just the South Tyrolean Christof Innerhofer, the Ski Association athlete Linus Strasser and Stefan Luitz (who is currently recovering from a torn ligament) all standing there, but the new "Big boss of the Streif" too: Thomas Dreßen.
And he announced, at this best possible place, that he had just extended his contract with the French ski-maker Rossignol by a further two years. Whereupon the hostess enthusiastically proclaimed: "And now, champagne!"
The director of the ISPO Munich Exhibition, Markus Hefter; had brought along a suitably sized bottle. But if you thought that the newly crowned ski legend would spray the exquisite bubby around like a rock star, over his yelling fans, well you don't know Thomas Dreßen very well. With a restrained pop, the cork flew into the crowd and you could watch the audacious conqueror of the Streif, quietly pouring the champagne, taking great care not to spill any. It was probably quite expensive.
These are not just special days for Dreßen, after all it wasn't just the young German who triumphed on the Streif, for the day after it was the just as young Norwegian Henrik Kristoffersen, who succeeded in beating a local hero called Marcel Hirscher on the Ganslernhang run while also on signal red Hero skis made by Rossignol. About 250,000 pairs of these skis are currently out on the piste around the world – a success story which many would not have credited to the manufacturer which had been struggling for quite a while.
Four years ago, before the Olympic Games in Sochi, the French had created the "band of heroes", a collection of Rossignol athletes from all types of sport and from all generations united in one thing: passion for competition. The first joint hero photo was taken in Val d'Isère, which is now being followed up at the starting house, high above Kitzbühel – a location which was not so easy to organize for the French company.
In April last year, the feat was actually accomplished of collecting 34 top professionals together for two days in Kitzbühel, so as to take this different, rather unique group photo. In the picture, Streif hero Dreßen is in a climbing harness, hanging from a balcony on the starting house and he seems to be having a good time. But he is a cheerful soul and is almost always in a good mood.
Every second, this 100 kg man signs autographs on the Rossignol stand, jumps up for selfies, sits down again, asks the next fan for their name and dashes off the next autograph – to then jump up again for the next photo... It's no wonder that after he'd done all that, that he sits down and does the next hundred selfies sitting down.
"Thomas, can I take a picture with you?" asks a young fellow. "Sure, come here," calls Dreßen in his friendly dialect and grins away. "January was quite strenuous," he said after trying to suppress a hearty yawn, "I'm looking forward to a few quiet days before it all starts in Korea." Pyeongchang, his first Olympic games. He doesn't feel under pressure, of course not: "Well you know, I'll see that I perform my best and that'll be OK."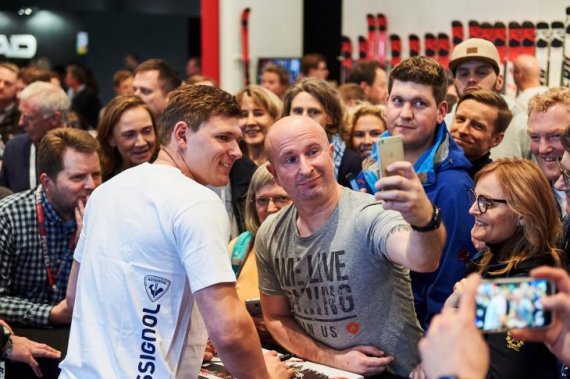 You could listen to his great mixture of dialects for hours. He grew up in Mittenwald (Upper Bavaria), went to school in Stubaital (Tyrol) and in Saalfelden (Salzburger Land) and now he lives with his girlfriend on the beautiful Traunsee lake (Upper Austria).
It's almost a pity that he was supposed to comment on his victorious run down the Streif in English, which of course he was happy to do: "Arriving at the Oberhausberg..." At some point, around about the finale traverse just before the end, he finds it all too silly and drops back into his native dialect: "Dann hob i dacht: 'Jetzt druck i das Ding oafach obi.' Und dann ging's nur noch dahii!" (Then I thought, I'm just going to go for it now, so I did).