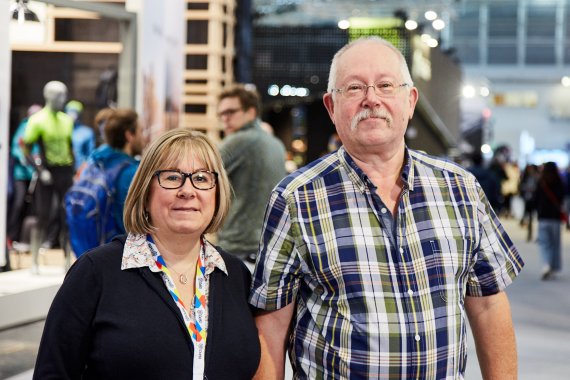 ISPO.com: Mr. Webb, the sun is shining, the snow is glistening – a worthy setting for your anniversary: It's your 50th ISPO Munich! You are the only visitor who has been present at every winter sports fair. Congratulations!
Peter Webb: Thank you very much! Yes, you can say that we like to come to ISPO Munich. (laughs) My wife Helen is already there for the 35th time, our daughter Danica accompanies us now for the fifth time.
How did it come about that you entered the very first ISPO Munich in 1970, when you were just a teenager from the London area?
In 1969, at the age of 17, I was skiing in Austria for the first time. I was totally thrilled and wanted to know how skis were made. So I wrote a letter to the ski company Hagan. As an answer, I received an invitation to the first ISPO Munich. I would be able to find out everything there, they wrote to me.
You accepted the invitation – the starting point of an extraordinary career.
Yes, you can say: ISPO Munich has changed my life. At that time, the sports fair was still in the city centre, there were only five halls, if I remember correctly. But I was already very impressed by the range of events on offer back then. From England I only knew ski fashion in a few colors, everything quite monotonous and boring. There was hardly any choice. On the ISPO Munich 1970, however, everything was top modern.
And then you got directly into the sports business?
I remember talking to a ski boot manufacturer, San Giorgio, and asking them about prices. And when they told me, I was calculating the figures in my head and I thought: Wow, I could make a good living with that! During my visit to the fair, the idea matured, also because I was repeatedly asked by other manufacturers whether I wanted to sell their products in the UK.
So you spontaneously started importing ski articles to England.
Webb: A very bad time, because it was April, when the first goods arrived for my newly founded Ski-Ing Imports (GB) Limited. My first business year was accordingly bad. But I still had my normal income, I was employed by IBM until 1973, when I opened the shop Europa Ski Lodge. The ISPO Munich was always set for me, here I experienced the newest trends and cultivated my contacts.
If you come to ISPO Munich today and compare it with the past: What are the biggest differences?
Well, ISPO Munich used to be much, much smaller and of course felt more familiar. At every corner there was someone you knew. Of course, that's no longer possible with these numbers of visitors and exhibitors today. I really like the new modern halls because you can move between them very well. In the meantime, many of my fellow countrymen and women have come, but that's clearly diminished. Of course, we always meet a lot of old friends and acquaintances here.
Meanwhile you only sell the products on the Internet. You and your wife run a professional shop on Ebay. How's it going with "Skiing Imports Direct"?
Oh, pretty good. But it's not like we have less to do today than before. The whole logistics is a lot of work, we ship our goods all over the world and with that success we now run an Amazon Store which is now as busy as the Ebay Store.
How much is business and how much is fun during your visits?
(laughs) I would say fifty fifty. We have always kept it that way: From 9 a.m. to 5 p.m. it's business and the rest is holidays. My wife and I love Munich and enjoy our free time in the city. Helen loves to go shopping and I especially like the good food in Munich.
Next year, ISPO Munich celebrates its 50th birthday – can we count on you again?
I strongly assume that. Maybe I'll bring a small birthday cake. (laughs)